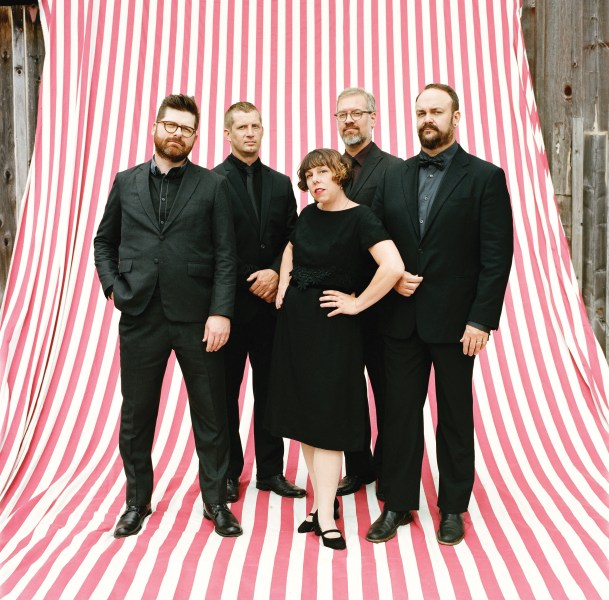 It's been four years since The Decemberists embarked on a full-length record. As a follow-up to 2011's The King Is Dead, Colin Meloy, Chris Funk, Jenny Conlee, Nate Query and John Moen are back with the raw, emotional What A Terrible World, What A Beautiful World. With down-tempo, smooth melodies recalling everyone from Leonard Cohen to George Jones, it's their most melancholy album yet, a sound Meloy admits is "hard to nail down." What is apparent is that The Decemberists' latest, a reflection on adulthood, family and love, is a masterpiece—something that may be attributed to more introspection that comes with age from 40-year-old Meloy.
We caught up with lead singer Colin Meloy recently to discuss the band's changing songwriting process, growing up and busking in Brooklyn.
How is the record different than your previous ones?
I think the approach was radically different than anything we'd done before. Time constraints dictate things for a lot of bands. It can be a little conveyor-belty. A good record can lend itself to that kind of work, but we never really did it any differently. This time, since we had so much time since we were taking this break, I figured rather than wait until all of the songs are completed, why not record each song as they came along without any kind of deadline and/or record label expectations. It kind of came together piece by piece.
One of the songs on your record is titled "12/17/12" and is about the Newton school shooting. Can you tell me a little bit about why this particular incident fueled this track? There are obviously a lot of negative events that have happened in the media over the past few years.
"12/17/12" wasn't necessarily written as a response or a statement about the shooting itself, but it was probably a sentiment that people felt at the time—how do we make sense of these events? We as people who are so far removed from the incident itself. How can that shit happen, and why are there tragedies brought out on other people? The common refrain is take stock of what you have and take the opportunity to bring your loved ones closer to you.
I know you came to busk in front of the record's mural in Williamsburg. Did you come up with that idea? And do you think other famous musicians will start busking more? I know Erykah Badu recently did the same thing in Manhattan.
It was a very spontaneous thing. I was in New York doing a lot of press stuff and they were unveiling this mural at the same time. The label said, "Oh, why don't you show up at the mural and we'll get some footage of you standing in front of it. It's good to have content." The label just consumes content. I was going to go stand there with a guitar and pose in front of the picture, but I felt so silly doing that. I thought, why don't I just bring an acoustic guitar and I'll tweet out before that I'll be busking. I just felt more comfortable doing that rather than getting my picture taken in front of that mural. There was a genuine concern that we might be arrested, but we threw caution to the wind, and we didn't get arrested.
How has having a family helped your songwriting change or evolve?
Initially, if anything, it's pushed me into darker places. A lot of The Hazards of Love—which I think of as being our darkest record—was written after the birth of my first son. I was doggedly insistent on not being someone who would write songs about their kids all the time. I also tend to write songs that didn't involve me as a character in the songs because I didn't find my life very song-worthy or interesting. Once you have the consideration of having a family and being a real grown-up, there's plenty of stuff to mine from. Whether or not I'm literally writing songs that reference my family, at least it does it in form as the songs take shape.
What has been the biggest challenge you've faced in becoming a "grown-up?"
I think the biggest challenge is trying to behave like a real grown-up, which is something I don't know if I'll ever quite manage. I'm still a bit of a fuck-up like I was at 13. When do you become a grown-up? I think as a kid you assume it's like taking off old skin. I think some people manage the magical thinking that when you become a grown-up you ditch your childhood self completely, but mine has followed me like a chain around my neck.
The Decemberists' What A Terrible World, What A Beautiful World was released yesterday, January 20, 2015.