This fall, the billionaire Jeff Greene, who made his vast fortune on the housing market crash, listed an opulent 25-acre Beverly Hills estate for $195 million, making it the most expensive listing in the United States;  The New York Times  dubbed it "a Hearst Castle of the second Gilded Age." Which at first glance, might seem an apt comparison, considering the 12 bedrooms, 23 bathrooms, 2 kitchens, 24-car garage, vineyard, guesthouse, stunning view of the Pacific, and entertainment complex with its own bowling alley, rotating dance floor, D.J. booth and 50-seat theater.
But despite the property's many accoutrements, including a "Moroccan room"—carved and painted by craftsmen who work for the king of Morocco—Mr. Greene's estate, which bears the unfortunate name of Palazzo di Amore, is more spec home than glittering trophy, an asset whose primary purpose is to be flipped rather than enjoyed by its creator.
Whereas William Randolph Hearst spent nearly 30 years building his castle to precise specifications, to be used by himself and his guests (though he died a mere four years after its completion), Mr. Greene listed his estate shortly after the contractor departed. Perhaps the seven-and-a-half years of work it took to complete were "a labor of love," but the vanishingly small window between completion and listing would suggest otherwise.
It may seem a minor distinction, but spec mansions and flips undermine the whole allure of buying a trophy in the first place. One is a pleasure palace, a monument to a man and his extravagance, and the other a rather characterless investment. Who, after all, wants to spend an unequaled sum on a manor custom-built to the specifications of someone who does not himself want to live there?
After all, we buy houses not only for our immediate needs, but because we like the stories they tell—about their previous owners and by extension, the people that we, their current owners, would like to be. A spec mansion tells no such stories, save for the success, or lack thereof, of its sale. It is a bespoke creation crafted for no in particular, which makes the specificity of details like lizard skin-clad doors, i-pad-controlled fountains and a $130,000 "candy wall" (in another Beverly Hills spec mansion listed for $85 million) surpassingly odd. Nonetheless, the practice of building spec houses or conducting renovations with only profit in mind has become increasingly common in the highest echelons of real estate.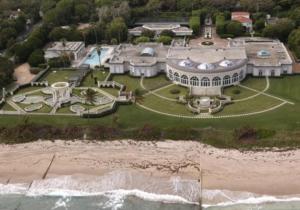 While such bland creations have long been the province of the middle class, those with money eschewed them in favor of places where they could leave their own aesthetic stamp (think Bunny Mellon). But now many of the country's most expensive properties carry the distinction of having been built or renovated for nobody special.
For example, Petra Ecclestone bought L.A.'s Spelling Manor in 2011 for $85 million—a home very much occupied in showy fashion by the Spellings—and quickly set to work renovating, hiring 500 workers for the task, according to Forbes. But shortly after Ms. Ecclestone's handiwork—which included installing a custom coat of arms designed for the heiress by Gavin Brodin and a Marc Quinn sculpture of twin, bikini-clad Pamela Andersons—was finished, she quietly listed the place for $150 million. The Spellings owned the property for some two decades. Ms. Ecclestone put it on the market after only three years, much of them consumed by construction.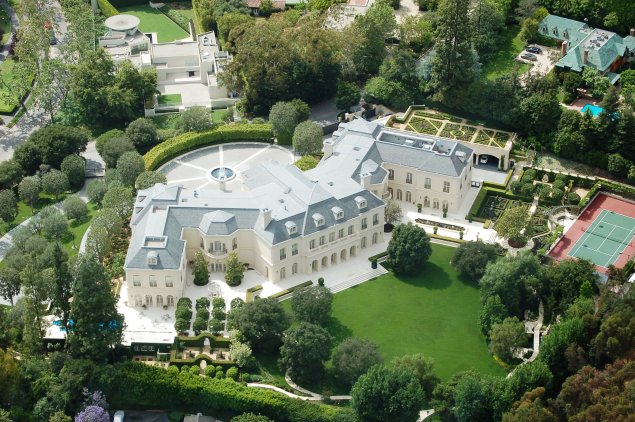 At One57, it's assumed that very few of the development's new owners have any long-term plans for their condos besides selling; hedge funder Bill Ackman has admitted that he's buying a condo for $90 million there with some other investors to flip. And maybe, just maybe, they'll host a party of two in the meantime.
Meanwhile, our favorite Russian billionaire, Dmitry Rybolovlev has made a habit out of setting real estate records—$100 million for Donald Trump's Palm Beach estate, $88 million for Sandy Weill's 15 Central Park West penthouse, each occupied only briefly or not at all by their owners. (Mr. Weill bought his penthouse in 2007, but his residency was quite short given the major renovation he undertook before selling in 2011; Mr. Trump also owned the  Palm Beach estate for a mere four years, during which time he oversaw some minor cosmetic renovations.) Rumors that Mr. Rybolovlev's unprecedented buys were really about hiding money from his soon-to-be-ex-wife not withstanding, there is something distinctly depressing about two of the most expensive homes in the country being largely unoccupied financial pawns.
At this point, some wealthy buyers are so checked out they don't even want to bother hiring a decorator to pick furniture and gewgaws for the sprawling homes that they'll hardly visit anyway.
Don't the world's wealthy have more interesting things to do than pretending they work for Toll Brothers? Isn't at least part of the point of having vast sums of money being able to enjoy houses, cars, couture and rare vintages of wine rather than hoarding them for resale?
As Mr. Greene boasted to the Time, all the more extravagant details in the Palm Beach estate where he actually lives, can be resold for a possible profit at auction. "I'm very careful with how I spend my money," he told the paper. "When I spend money on houses, I'm not spending. I'm investing."
But what's the point of having more money than you can ever spend if you don't actually spend it?
Of course, lavish real estate has always been an important asset among the rich, but it was, also, a possession intended for personal use, sometimes at the expense of being a good investment. There was, for example, the 121-room mansion at 962 Fifth Avenue built by copper baron William A. Clark, a residence so opulent that it was considered "worthless" and indeed, was torn down just two years after his death. (Hearst Castle might have met the same fate had it not been deeded to the state.)
Likewise, many of the Hudson River and Newport estates were such white elephants—seemingly oblivious to even the idea of another owner—that they, too, were turned into museums rather than attempt the sales market.
And say what you will of Florida's unfinished Versailles, at least it was built (or almost built) in the same spirit of solipsistic extravagance, with a 500-person ballroom, 11 kitchens and three swimming pools, where owners Jackie and David Siegel did once intend to live. (And may well in the future—last we heard, the financially-troubled construction project was back on its feet.)
Not that we're advocating for more aesthetically-questionable, quasi-French chateaus with bowling alleys, discos and more bathrooms than even a hotel would know what to do with. But so long as we're going to be reading about $135,000 candy walls, one-ton bathtubs carved from single marble slabs and 24-car garages, we'd like to think that the owners will actually be enjoying these properties, that they're papering their powder room walls with gold snakeskin in an act of joie de vivre rather than a grim exercise in bolstering resale value. That the most rarefied real estate in the United States, enviable or tacky as it may be, is nothing so dreary as just another investment.