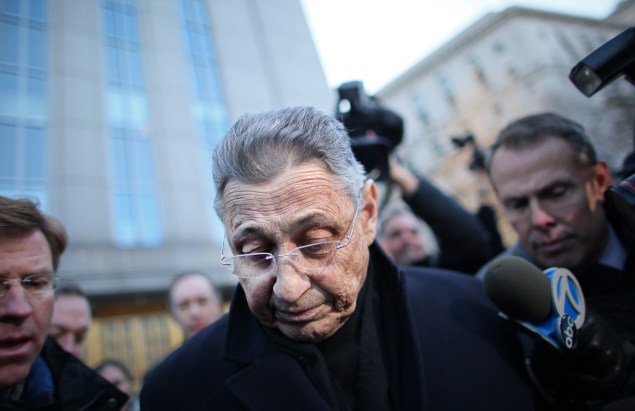 Assembly Democrats struck a deal tonight to elevate Joseph Morelle, the Democratic majority leader, to temporarily replace the scandal-scarred Sheldon Silver, the longtime Assembly speaker. Mr. Silver will need to resign or be expelled from his post by Monday, Mr. Morelle announced.
"He will not impede the transition, he knows about it and has asked me to say that he will not impede the transition," Mr. Morelle said of Mr. Silver. "We are confident we can go forward in terms of budget and do the job we were elected to do."
After many hours of deliberation, Democrats in Albany settled on Mr. Morelle, a popular Rochester lawmaker, to temporarily lead the Assembly until February 10 when the 150-member body will vote on a new speaker. New York City members dominate the Democrat-controlled Assembly and many city elected officials, including Mayor Bill de Blasio, have said they want the next speaker to be from the city.
Mr. Morelle's announcement marks what is expected to be the stunning end of Mr. Silver's reign as speaker. Mr. Silver, first elected in 1994 to the speakership, was arrested last week on corruption charges and initially appeared to have the support of his colleagues, but many Assembly members called for his resignation after further examining the charges against him.
On Sunday night, Mr. Silver tried to preserve his power by cutting a deal to allow five members to temporarily lead the chamber during budget negotiations while he kept his title as speaker. The deal fell apart, however, because it did not have the support of rank-and-file members.
Assembly members Carl Heastie, Keith Wright, Joseph Lentol, Catherine Nolan and Mr. Morelle himself are all said to be interested in permanently replacing Mr. Silver.
Mr. Silver's office did not immediately return a request for comment.
Updated with comment from Mr. Morelle.