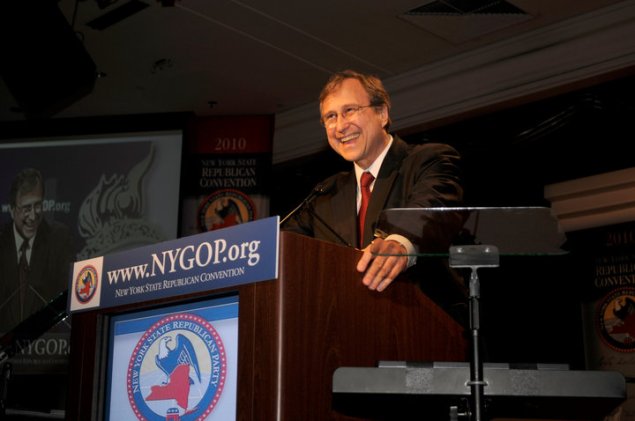 New York State Republican Party Chairman Ed Cox ripped into leading Democrats over the arrest of Assembly Speaker Sheldon Silver yesterday.
Speaking to Geraldo Rivera on 77 WABC Radio, Mr. Cox disputed Mr. Silver's claim that he "will be vindicated" in the criminal proceedings for allegedly taking millions in kickbacks from law firms in exchange for referrals of clients with business before the state. The Republican noted that the Democratic speaker failed to report most of that income in his financial disclosures.
"Look, okay, maybe there's presumption of innocence, but it is absolutely clear that he did not put these huge sums that he was paid by a law firm on his ethics form. He's a Speaker of the Assembly. He should be careful," he said. "How could he not put it on his ethics form?"
Mr. Cox demanded Mr. Silver step down from the powerful perch atop the Assembly that he has held for 21 years, and castigated Democrats who decided yesterday not to vote the speaker out of his post. The state party leader also slammed Mayor Bill de Blasio's characterization of Mr. Silver as a "man of integrity."
"The fish rots at the head, he's the head and he should resign as the head. And the fact that every, except for two Democrats, one would be Charles Barron, and another one, every other member, every other Democratic member said, 'Oh no, he's great we want to keep him on and Speaker,'" he said. "And Mayor de Blasio, 'Oh, no, he's a man of integrity.'"
He recalled Mr. Silver's decision to pay women allegedly sexually harassed by former Assemblyman Vito Lopez state money in a legal settlement in exchange for their silence.
"Man of integrity? We know the facts that he is not, that he has had ethics violation after ethics violation and now the U.S. Attorney has said, 'no, he's a criminal," he said.
Mr. Cox then tore into Gov. Andrew Cuomo for his controversial decision last year to shut down the anti-corruption Moreland Commission—files from which formed the basis of U.S. Attorney Preet Bharara's case against the speaker.
"Why are the feds bringing this indictment? Why isn't the attorney general and the governor? They have to do it together as a matter of public integrity," he said. "That was what the Moreland Commission was about. Why did they terminate the Moreland Commission?"
The Republican then alluded to a New York Times report that top aides to the governor pressured the commission to drop its investigations into organizations linked to Mr. Cuomo—despite the governor's earlier insistence that the panel would enjoy total independence.
"I think the Moreland Commission was getting too close to people who were supporting them," Mr. Cox said. "Now they have bagged the speaker of the Assembly, Shelly Silver, and who knows who else they're going to get?"
"Let me say the governor has got a criminal defense team," he added.
The Moreland Commission was formed in 2013 over a legislative impasse on ethics reform, and was dissolved after just 18 months after the State Senate and Assembly agreed to an ethics package—though most good government advocates found the statutes in the final deal lacking. Leaders in both legislative bodies attempted to block the commission's probes through lawsuits, which led Mr. Cuomo to claim yesterday that the U.S. Attorney's office was better suited to look into ethical violations.
Mr. Cuomo maintained after the Times report surfaced that, because he appointed the commission's members, he was at liberty to dismiss or dissolve it as he pleased.
The governor's office declined to comment on Mr. Cox's remarks.