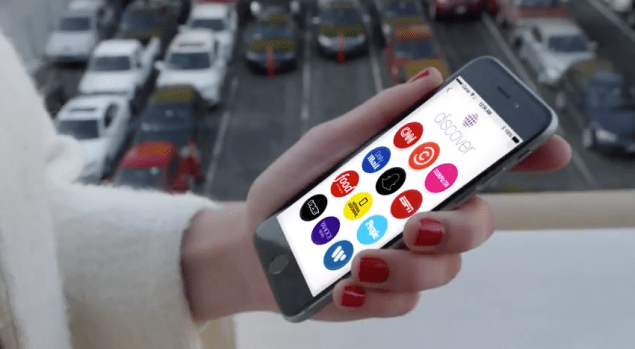 There's a lot of uncertainly about what the future of news will look like. As of today, it looks like it might involve Snapchat.
Yes, Snapchat: the notorious ephemeral messaging app popular amongst millions of young'ns. In Snapchat's endless quest to compete with all other apps ever (the app even introduced a Venmo-esque payments system in November), they've now debuted "Discover," a platform for news organizations to share easily-digestible stories. Now, besides swapping selfies, users can also check out videos from CNN or cake recipes from the Food Network.
"Snapchat Discover is a new way to explore Stories from different editorial teams," the company announced on its blog. "It's the result of collaboration with world-class leaders in media to build a storytelling format that puts the narrative first. This is not social media."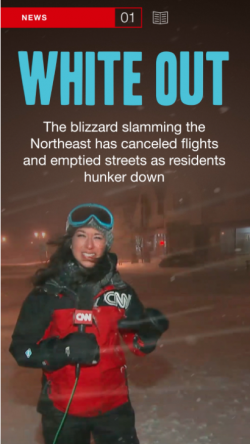 Once they open the Discover tab—for existing Snapchatters, it's located in the top right corner of the "Stories" page—users can choose to explore content from the following organizations: CNN; Comedy Central; Cosmopolitan; the Daily Mail; ESPN; Food Network; National Geographic; People; VICE, Yahoo! News; and Warner Music Group.
Within each organization's channel, users can swipe left to browse a series of around five headlines, and, should a headline intrigue them, swipe up to discover the full story. Each channel will be updated every 24 hours, "because what's news today is history tomorrow," Snapchat, evidently the world's newest media guru, said.
"We're always seeking out new audiences and advertisers, and it's more important than ever to tailor content to suit the platform," Andrew Morse, SVP and GM of CNN Digital said in a release. "Snapchat is one of the most engaging platforms out there, and we're excited to be able to program content specifically for that audience."
It's easy to dismiss Snapchat Discover as frivolous, or an insult to the people publishing ~real news~. But as more and more people consume news online—and, more specifically, on mobile, we have to give props to the organizations grabbing the bull—or, rather, that cute little Snapchat ghost—by the horns.
And besides, the content on Snapchat Discover is good—ideal for anyone looking to scan a few essential stories on their way into work (or as they procrastinate once they've finally reached their desk). It's fun to use, too; each story is comprised of concise bits of text and a healthy number of photos and videos, making them visually appealing and easy to digest.
And hey, it might come with an added bonus: perhaps, in between rounds of duck face, a thirteen-year-old user might suddenly discover what "news" is.