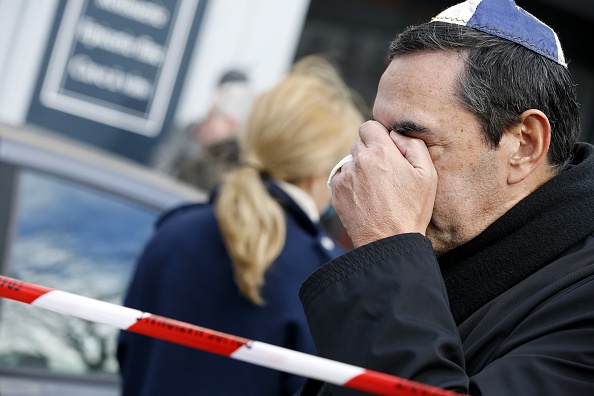 It had to end with the Jews. Even as I read of the horrible, despicable carnage at Charlie Hebdo, and the twelve innocent victims murdered, I wondered: "Where is the Jewish dimension? This is France, after all. How could the terrorists have overlooked the Jews?"
I soon discovered they did not.
Just as the two terrorist brothers were finally cornered by police to the North of Paris, their monster-in-arms fellow terrorist took hostages at a kosher supermarket teeming with pre-Sabbath shoppers demanding that the Charlie Hebdo murderers be left alone. By the time police stormed the Kosher Market, four hostages—all Jews—had been murdered. Further reports indicate that between 15 and 30 terrified Jewish shoppers were spared by hiding in a meat locker, where a heroic Muslim store-employee named Lassana Bathily had directed them.
During the summer I took my family to Israel to show solidarity with the Jewish State as it battled the Hamas death cult. On the streets and beaches of Tel Aviv, one did not hear Hebrew, but French. Israel is now filling up with French Jews running from the exploding Jew-hatred in their native France.
In the last year, one percent of the French Jewish community moved to Israel. That would be the equivalent of 60,000 American Jews moving to Israel in a single year. Expectations are that these numbers will only increase. For the first time in Israel's history, the leading country of origin for immigrants was France, with French citizens comprising 7,000 of the new arrivals. That's more than double 2013's number of 3,400. With the trajectory rising, one can easily conclude that, within a few years, there may be no Jews left in France. A community that currently numbers 500,000 and goes back at least to the early Middle Ages may choose to make itself disappear.
And who can blame them?
During the holocaust one fifth of French Jews were deported to concentration camps and murdered through the collaboration of the French Vichy government. Fast forward seventy years and anti-Semitic attacks against French Jews are commonplace.
In 2006 Ilan Halimi was kidnapped. He though he'd be meeting a girl for a date. An accomplice to the kidnapping, she was only the bait. He was captured and brutally tortured for three weeks and then murdered. The motive: he was a Jew.
In 2012, a terrorist on a motorcycle in Toulouse rode up to Ozar HaTorah day school where he shot and killed three Jewish children and a teacher who was the father of two of them. The other child, an eight year old girl, was caught by her hair and executed at point-blank range.
The whole world watched as a pogrom raged outside a Paris synagogue this past summer, amid the giant marches against Israel accusing the Jewish state of being Nazis. On July 20, 2014, a demonstration against the Israeli ground invasion was organized in Sarcelles, a suburb of Paris known for its large Jewish population. It quickly devolved into an all-out anti-semitic riot, with Jewish-owned businesses being broken into and looted by several hundred local youths armed with metal bars and wooden clubs. A kosher grocery was set on fire.
And then, just one month ago, a woman in Creteil was raped in her home because, as the attacker himself explained, "You are a Jew."
These are just the highlights.
There are other examples. Jews are verbally and physically assaulted on a regular basis, and wearing a yarmulke has become an invitation for jeers and even fists. My son lived in Germany for two years, and visited Paris every month as part of a Chabad Program. He told me that, on many occasions, Jews would refuse to lay tefillin in public lest they be followed home and attacked.
To all this, the official French government response has been to push for international recognition of a Palestinian state, thereby rewarding Hamas and the Palestinian Authority for terrorism and constant anti-Jewish incitement.
France just voted at the Security Council for a universal Israeli withdrawal from the West Bank by 2017, a move that would leave Judea and Samaria to become Gaza East, with a genocidal Hamas government squeezing Israel with murderous rockets from both sides.
The message this sends is that France sides with and rewards terrorists over righteous democracies.
France has to decide what it wishes to be. It can continue to be a haven for Islamic terrorists, responding and taking action only when the kind of murderous outrages like Charlie Hebdo occurs. It can continue to allow its society to descend into an anti-Semitic nightmare of Jew-hatred. However, should it choose to do so, it should be aware that its inaction also imperils non-Jewish citizens, who will likewise be targeted by Islamist murders.
Or, France can live up to its revolutionary ideals of equality and liberty for all.
A good start would be for the French government to state openly and unequivocally that it stands by Israel in its war against Palestinian terrorism. That it understands Israel's unequivocal need to respond ferociously to Hamas terror and rockets. France can join the United States at the UN in standing staunchly behind Israel, the besieged Western democracy on the front lines against Islamic terror.
The French government must also begin a sweeping crackdown on hate groups, in particular those who incite violence against Jews. The French government must post police and security at Jewish communal institutions—it appears that they're off to a strong start in this department, posting thousands of police to protect Jewish sites—to show they stand resolutely for the security of their Jewish citizens.
Otherwise, France can continue to show only antipathy and passive aggression toward its Jewish community, and watch as its last Jews depart.
Rabbi Shmuley Boteach, "America's Rabbi," whom Newsweek and The Washington Post calls "the most famous Rabbi in America," is the Founder of This World: The Values Network, the  leading organization defending Israel in the media. Follow him on Twitter @RabbiShmuley.