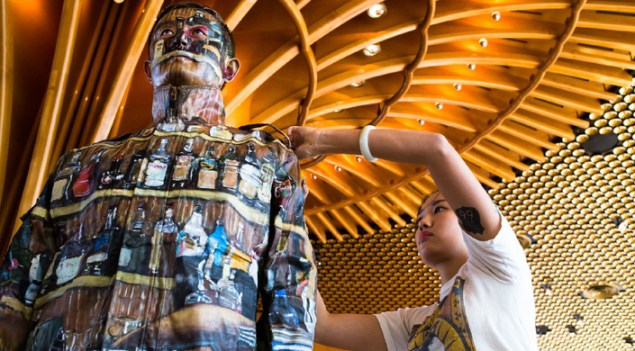 This morning I walked into the office to find a mysterious silver tube that had been sent to me from The Standard, the line of hip hotels in New York, Miami and Los Angeles. Now, I'm not in the business of opening mystery tubes, but The Standard's always been pretty cool, so what the hell. Maybe it was wine or something!
It was not wine. It was actually about a hundred puzzle pieces, along with a card informing us that we now have a "specially-commissioned, limited edition work" by the Chinese artist Liu Bolin. And because it's a Friday in January, it's about zero degrees with wind chill and there's a horrible tragedies unfolding by the minute in Paris—what the hell, let's do a jigsaw puzzle, people!
After dumping the pieces out on the ground, this is what it looked like.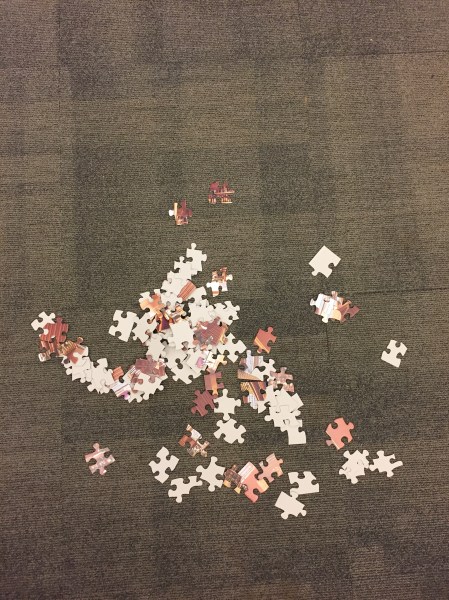 Yeah, I got this, I told myself as I knelt to the ground. This is going to be so easy, a child can do this, I'm going to have my own Liu Bloin edition in, like, minutes. 
An hour later, I was nowhere. I realize I don't think I've done a puzzle in maybe 20 years. I was 6 then. 6-year-old me is just clowning 26-year-old me at puzzles. A take a lunch break, eat some sushi, go back to the puzzle. Still nothing. I contemplate giving up, I contemplate throwing the puzzle out the window, I contemplate throwing myself out the window. It's getting very dark and colleagues are starting to wonder what I'm doing on the floor all day. And then, a breakthrough. And another. And another. I realize that I'm simply putting together a picture of the Boom Boom Room, which was a little disappointing, because I associate the Boom Boom Room with questionable decisions made by me and cocktails thrown by Lindsay Lohan. But hey, if it's a puzzle of the Boom Boom Room I'm starting, it's a puzzle of the Boom Room Room I'm finishing.
And then, when the puzzle was finally complete, it became clear that the commissioned work was part of Mr. Bolin's "Hiding in the City" series, where a man is photographed wearing clothes painted exactly like the surroundings, creating a surreal camouflage effect. (You can kind of see it there, but go to Standard Culture for a better look)
And this is how pretty it looks when the puzzle is done: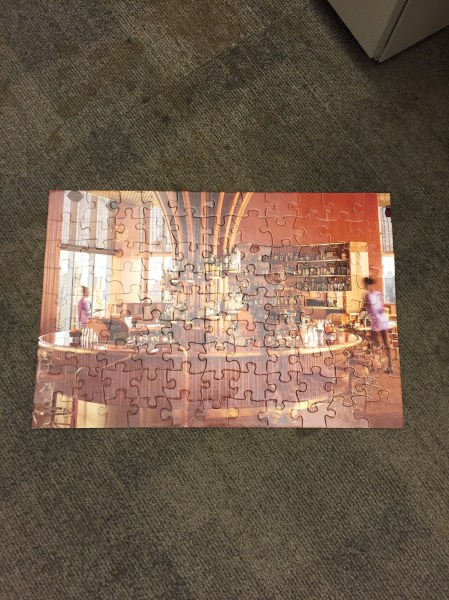 But it did pretty much waste my entire day, so thanks for that, Standard.