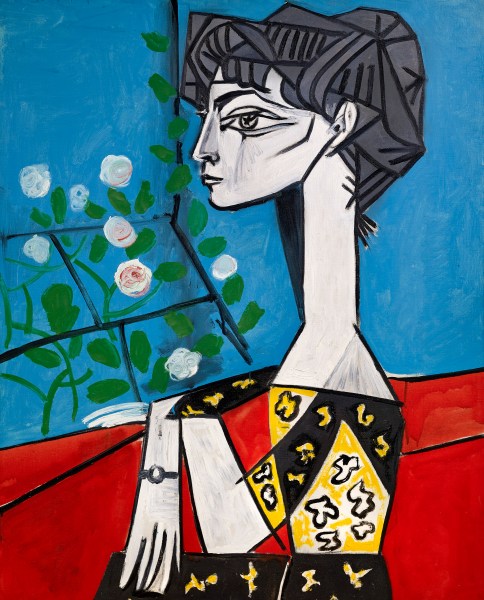 Art historians have deduced that Hortense Fiquet (1850-1922) was what we call today a "high-maintenance" woman. There's not a trace of an expression of love or even a hint of tenderness, let alone erotic overtones, in any of the 24 iconic oil portraits of her by her husband, Paul Cézanne, currently on view at the Metropolitan Museum of Art.
Yet the extraordinary exhibition "Madame Cézanne," along with two more exhibitions currently on view in New York featuring Pablo Picasso and his final wife, Jacqueline Roque, prove that the best artists need look no further than their own home to find inspiration for some of their greatest works.
The Met show, on view through March 15, is the first-ever exhibition focused on the post-Impressionist master's portraits of his wife, Hortense, who was the mother of his son and his most frequent model other than himself. The show contains 41 oil paintings, watercolors and drawings, plus three rarely exhibited sketchbooks by Cézanne (1839-1906), spanning more than two decades. Included in the exhibition are most of the 29 known portraits of his wife.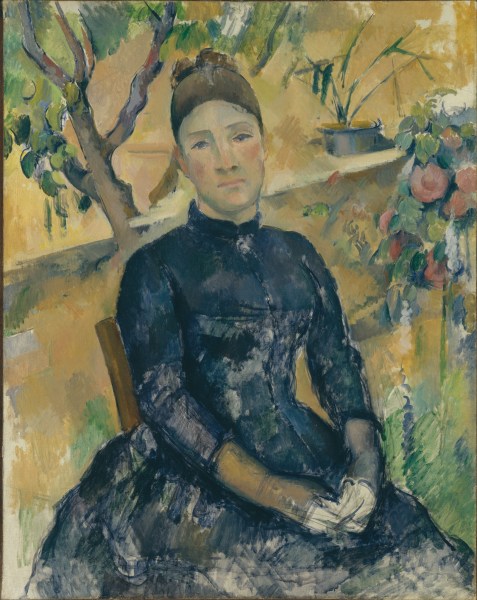 These trace the artist's relationship with the woman he first met in 1869, when she was working for a bookbinder. She began posing for the painter when she was 22. Fearing the disapproval of his father, who supported him financially, Cézanne kept his relationship with Hortense a secret. They often lived in separate residences in and around Paris, and spent much time apart. Yet despite their hidden relationship, they somehow remained devoted to each other, and when they were together, Hortense sat patiently for the painstaking portraits that Cézanne slowly produced. Their son Paul, born in 1872, was also kept a secret from friends and family for many years. Quite scandalously, the couple did not marry until 1886, when Paul, Jr. was already a teenager. No wonder, perhaps, she appears cranky to historians. But there are surprises in store.
Organized by Dita Amory, acting associate curator of the Met's Robert Lehman Collection, with help from research assistant Kathryn Kremnitzer, this is a gem of an exhibition, which encapsulates by means of portraits and studies a concise overview of key developments in Cézanne's landmark achievement that eventually ushered in the modernist era. Ms. Amory, in her essay in the exhibition's excellent catalogue, points out that over the years, art historians have judged his wife's character based on the way she looks in the portraits as "ill humored, discontented, remarkably plain, sullen, remote and disconsolate."
Seeing most of the extant portraits of Hortense in person, as this unique exhibition allows, the negative assessment of her personality seems quite unreasonable. From the outset, Cézanne was clearly disinterested in a simple exploration of his wife's emotional states. He was more concerned with formal aspects of painting the figure, color and composition. In each work, one can trace the evolution of Cézanne's art, from the early Symbolist-related style to his Impressionist modes, and the later preoccupation with geometric forms in space.
Indeed, during the course of the show, Madame Cezanne eventually becomes nothing more or less than a thematic motif, not unlike the recurring images of apples, Mont Sainte-Victoire, or other subjects that Cézanne painted in series. Sometimes the artist's cool reserve in his approach to the model, and the way the canvases are hung in rows in the exhibition, call to mind the serial images of Marilyn or Liz that Andy Warhol produced nearly a century later.
That is not to say that Cézanne objectifies or dehumanizes the figure in any way. In fact, major portraits, such as Madame Cézanne in Blue (ca. 1888-90), on loan from the Museum of Fine Arts, Houston, one of the finest in the show, bear a significant amount of emotional impact. Here, the stately image of a partner, wife and mother, seated, wearing a pale blue, high-neck, long-sleeve dress, her hair pulled back tightly, and with a rather forlorn expression, seems stoic and resigned, a monument to human strength and forbearance.
A particularly arresting group of paintings shows Hortense in a bright red dress seated with hands folded on her lap. A diagonal tilt of her body, and a gold-toned upholstered chair adds dramatic energy to the composition, as if she were about to stand and move about the room. There is plenty of life, if not love, evident in this woman's almost regal countenance.
By contrast, Cézanne's aesthetic heir, the titan of 20th century art, Pablo Picasso (1881-1973), created images of his final wife Jacqueline Roque that are full of passion, lust, ardor and lots of humor. But the works correspond in many ways to Cézanne's, not least as an obsessive homage to the women who were central to their lives.
Until this weekend, January 10, two of Pace Gallery's New York spaces—one in Chelsea and one on 57th Street—are devoted to these Jacqueline images by Picasso, who often referred to Cézanne as "my one and only master."
This exhibition is the first to examine in great depth the influence and inspiration of Jacqueline in the last two decades of the artist's life. "Picasso & Jacqueline: The Evolution of Style" is a sprawling—and stunning—two-part show. It highlights some 140 paintings, sculptures, ceramics and works on paper, plus documentary material, demonstrating Picasso's mastery of a wide range of styles and techniques in portraiture, from nearly abstract late Cubist experiments to precisionist line drawings.
Picasso met Roque in 1952. She was 25. He was 70. She worked in a shop in Vallauris in southern France, where Picasso was busy producing ceramic works at the time. The couple lived together for some years before they married in 1961, and remained together for the rest of Picasso's life. After Picasso's death, in 1973, at age 91, Jacqueline slipped into a descending depression, and took her own life with a revolver in 1986, age 59.
Unlike Hortense, Jacqueline was by all accounts warm, accessible and outgoing, often sharing in the limelight that Picasso certainly relished in the last decades of his life. In the exhibition catalogue, a quote by the late Museum of Modern Art director of the department of painting and sculpture William Rubin explains, "Jacqueline's understated, gentle and loving personality, combined with her unconditional commitment [to Picasso] provided an emotionally stable life and a dependable foyer over a longer period of time than he had ever before enjoyed."
During their time together, some 20 years, Picasso created more than 400 portraits of Jacqueline. A quarter of them are in this exhibition. Major works, such as Jacqueline Seated with her Cat (1964), and Jacqueline Seated in an Armchair (1962) are direct descendants of Cézanne's portraits of Hortense.
Painted in a quasi-Cubist style, in tones of gray, blue and black, the former shows Jacqueline seated in an ornate chair. Her stoic glare and upright posture conveys a similar monumental presence as Cézanne's best portraits of Hortense. The latter is a more emotionally wrought study, featuring Jacqueline in a red dress, with a look of consternation or apprehension.
Throughout the exhibition, Jacqueline appears as both a playful collaborator and a willful protagonist. At the same time in these works, Picasso continued his experiments with techniques, materials and form, aiming toward a state of pure, unmitigated expression. Largely thanks to Jacqueline, Picasso's late works comprise an exuberant crescendo to a long and remarkable career.
Both of these shows offer fresh approaches to familiar subjects, as all the works on view are not only laden with biographical significance but fraught with psychological depth.