There's a quote by Friedrich Nietzsche that goes, "The advantage of a bad memory is that one enjoys several times the same good things for the first time."
That quote also works in reverse, and can totally be applied to last night's Millionaire Matchmaker episode—i.e., "The disadvantage of forgetting about really annoying people, like Spencer Pratt and Heidi Montag, is that one must repeatedly undergo the pain of realizing they exist for the first time."
Yes, folks, the show for celebs desperate to revamp their careers Millionaire Matchmaker recruited Stephanie Pratt, Spencer's previously drug-addicted, shoplifting sister who also used to star on The Hills. Stephanie says she's better now, but she's still drawn to bad boys. "Part of me still loves the fast life," Stephanie says, as Bravo shows B-roll of her, Spencer and Heidi getting fro-yo.
(Oh yes, Spencer and Heidi will be present for the majority of the episode because, as Heidi squeals, they're all going to double-date so Stephanie's new BF has to be someone they like, too. RUN WHILE YOU STILL CAN, POTENTIAL DATERS.)
At Stephanie's initial meeting with Patti, Patti determines she "only likes those who don't like her." Spencer, wowed, asks if they're "on the psychic show." GOOD ONE SPENCE.
Patti also asks Stephanie if she wants to go for looks or money. "Looks is sex, money is security," Patti says, subtly indicating that "money" is the right option. Yeah, because ultra-rich guys are known to be SUPER respectful and awesome towards women. Anyway, Stephanie is open to Patti's suggestions, and everybody acts like she's just vowed to get sober.
Our second millionaire this week—woah, does that mean Stephanie Pratt is a millionaire?!—is Kari Whitman, a 45-year-old interior designer to stars like Jessica Alba and Kristen Bell. In her opening confessional interview, Kari says men are intimidated by her success. Ummm really Kari? Because I think it might actually be your F***ING GIANT DOG.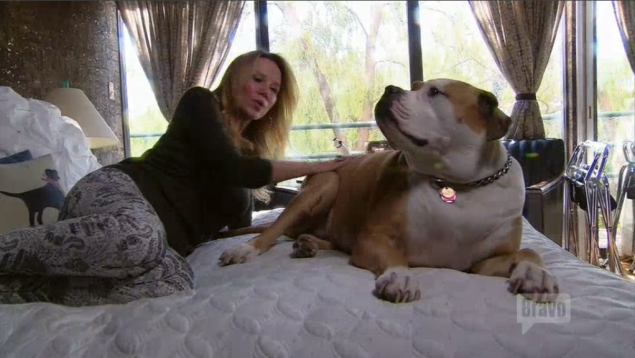 At a lunch date with Patti, Kari reveals she's been engaged four times, but never married. She's also still friends with her exes. According to Patti, that means she's a "collector"—she stays too connected to her ex-boyfriends, and it prevents her from moving on and finding love. Patti gives Kari homework: She has to write a letter to her exes, telling them she's cutting them off because she loves herself first. Cute.
Just when you thought this show couldn't be any more of a thinly-veiled promotional opportunity for random sort-of-celebs, Patti decides the perfect person to coach Kari is her "friend" Tracy Anderson. Patti describes Tracy as "the queen of mind, body, soul and balance." Really, she just watches Kari do like two seconds of aerobics before telling her she's carrying stress in her hips and "has to be good to herself." Umm, okay?
Also, here is an actual thing that Patti says: "It's a big deal that you get your body and your mind connected to the physicality so your feminine can shine through." L.A. is weird.
Totally by coincidence and not at all because this is an ad for Tracy Anderson, the recruiting session for Kari takes place at Tracy's studio. The men do something weird with colorful hanging straps that I don't really understand.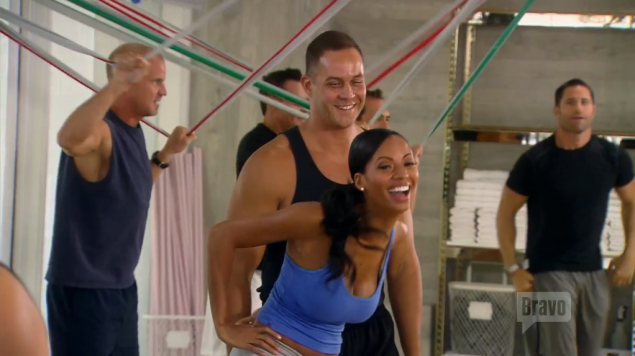 After some uncomfortably sweaty interrogations—one of them with that super sexual guy Thomas, who asked Sonja Morgan to eat pork off his face—Patti settles on five potential guys for Kari.
Next up is the recruiting session for Stephanie. They do it in the old-fashioned Millionaire Matchmaker way, where Patti parades the potential daters through her office and humiliates them one-by-one. She, Spencer and Heidi choose five potential matches for Steph—two Europeans, one personal trainer, one sweaty bro who runs a watch startup, and one guy named "Dutch."
Before the millionaires can meet their matches, we need to take a break from regularly scheduled programming so Kari can burn that stupid letter she wrote to her ex-boyfriends. Kari, Patti and Steph all hold hands as they watch the letter burn, at the bar. I'd like to have gone to bed at 10 p.m. but instead I stayed up to watch this.
Anyway, after meeting their men, Kari chooses Emilio, a Brazilian mixologist, for her master date. Steph goes with Trevor, the sweaty startup bro.
At long last—no, seriously, why has it taken so long?—it's time for the dates. Don't they know this is the only part anyone cares about? Kari's up first. Emilio has planned an adorable date at a pottery studio. Can part of each Millionaire Matchmaker episode involve coaching these people what to wear on their dates? Because I'm concerned: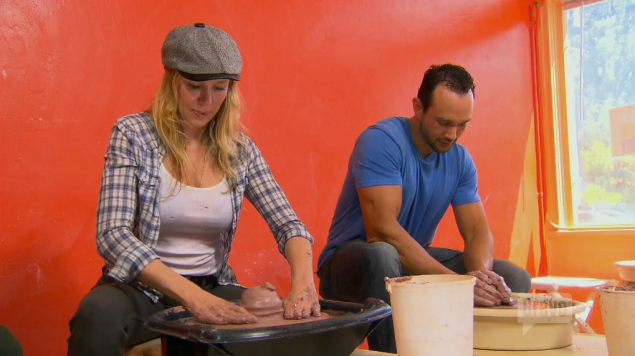 Unsurprisingly, Emilio tries to putt that move from Ghost—but not before nearly knocking Kari's horrible hat off and awkwardly sniffing at her neck.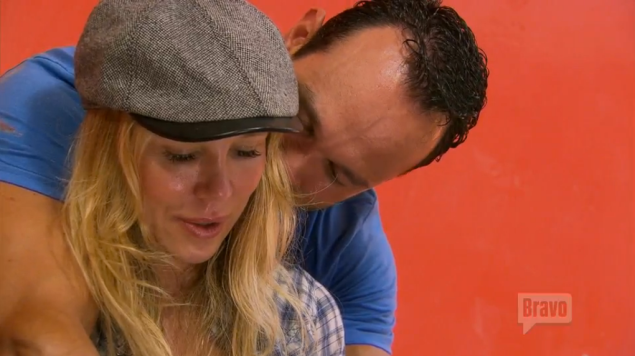 Meanwhile, Trevor has taken Steph for drinks near that pier in L.A. with all the carnival shit on it. He brought Steph one of his company's watches, because what's a romantic date without a convenient plug for your burgeoning tech company? As they sip drinks, Trevor tells Steph how he's all about living in the moment, because his mom passed away. Steph says, "Aww" and kind of giggles, in a way only a former Hills star truly can.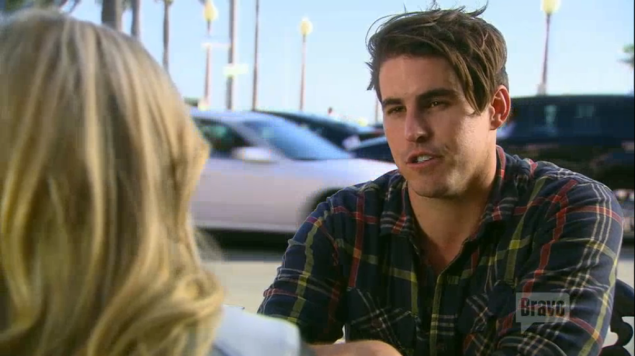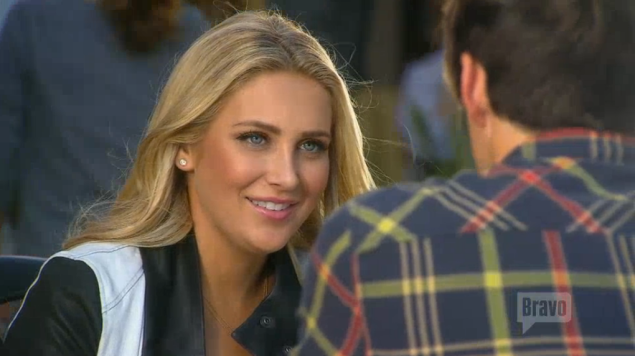 Meanwhile, it's time for Kari and Emilio to get something to eat. Emilio feeds Kari oysters, and Kari says she "can't remember the last time somebody's fed her oysters," as if it's as commonplace as, like, having the door held open for you.
Then, since he's a mixologist, Emilio mixes Kari a drink. It has a burnt piece of orange on top, and Kari says she likes the fiery taste. "I'll show you some fire," Emilio says, before pulling her in for a make-out sesh. No, I did not copy-and-paste that from a 50 Shades of Grey fan fic.
Back at Steph and Trevor's date, Trevor takes Steph down to the pier to play some arcade games. Steph is gushing that this is the best date she's ever been on, and that Trevor has paid for everything. Uh, yeah, because this date is basically free. You're playing Whac-a-mole. Anyway, they go on the ferris wheel and, at the top, they kiss. It looks a little awkward, but that might be because there's at least one cameraman squashed in there with them.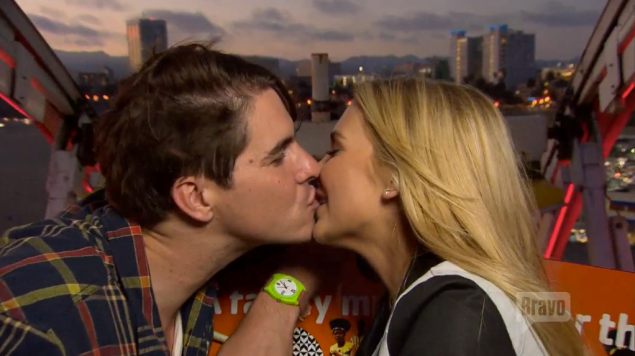 Both dates seemed to go great, right? Um, WRONG. As we learn from the epilogue, Steph and Trevor are still in touch via phone and text, but she's traveling in the U.K. right now and they, like, might meet up when she's back. Let us know when that happens.
As for Kari, her epilogue texts is as follows: "Kari's date helped bring romance back into her life. She can now separate her past… from her current love life." There is no indication of what happened to Emilio. Like, nothing. WTF happened to Emilio?? EMILIO!!!!