Okay everyone, Spencer and Heidi are gone. You can come back to Millionaire Matchmaker.
This week's first millionaire is 47-year-old Marysol Patton, star of the Real Housewives of Miami. I like Marysol, you guys. She's here because she actually wants to find love, and not because her band is going on tour or because she needs to repair her shitty public image. It makes me think I should actually start watching the Real Housewives of Miami, instead of just googling videos of Marysol's mom, Mama Elsa.
Anyway, Marysol's had two failed marriages, and is still on the hunt for the perfect guy. She wants someone she can talk to, but also someone with whom she can do this: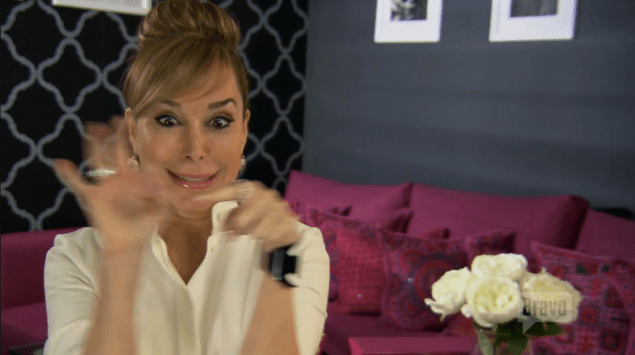 Because it wouldn't be the Millionaire Matchmaker without at least seven billion plugs, Marysol has brought along fellow Bravolebrities Alexia Echevarria and Reza Farahan, because a new season of Shahs of Sunset is debuting March 2 Patti says Marysol "doesn't listen" unless her friends are there encouraging her, too.
But I can't really complain, because I like Reza, too. "You need to realize that you're attractive and men are looking at you," he says to Marysol, when the foursome meets at an L.A. hookah bar, obviously. Patti promises to find Marysol a rich dude who's chivalrous and has a career.
Next up is our second millionaire, who again is a ~sports person~ and therefore someone I don't know: UFC fighter Luke Rockhold. Besides punching things for a living, Luke is also an emotionally immature bro. He wants a woman who's "figured herself out" but who also has "a nice solid ass."
Luke is 29 and claims he's finally ready to settle down. "In my sport you have to be so focused, and you kind of put your blinders on to the outside world," Luke says. "I've sacrificed everything, and it's all to be the best in the world."
According to Wikipedia, Luke is not, in fact, the best in the world. He's ranked #5. Maybe he should up his sacrificing game.
Anyway, Patti calls bullshit on Luke being ready for marriage. His last relationship was nine years ago, and since then he's been "sampling" women everywhere he travels. BRB, gonna go puke. Patti feels the same. She agrees to fix him up, but ensures him his "balls will come off" if he doesn't take it seriously.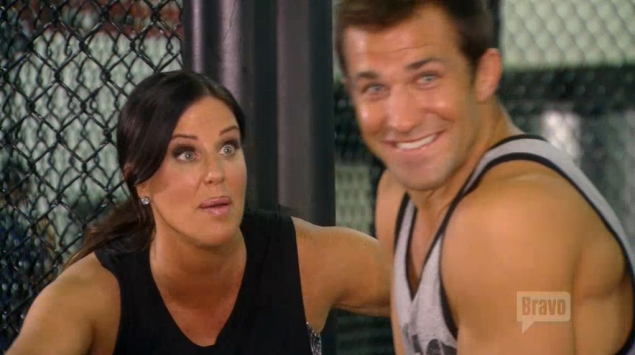 Now it's time for the recruitment sesh. Alexia and Reza are here, too, because sure why not? For Marysol, they pick three potential dudes: Scott, a restaurant owner, Wesley, a slightly-creepier restaurant owner, and Robert, a real estate developer. For Luke, Patti also makes three picks: Talia, a yoga instructor, Emaan, a hair dresser, and Tiffani, who does something boring-sounding with mortgages.
Next, each millionaire will have a sangria mixer with their three potential matches, because PATTI HAS CONVENIENTLY JUST LAUNCHED HER NEW LINE OF WINE. I honestly CAN'T EVEN with this show (jk, I definitely can even).
Remember Patti's theory about judging a man by the way he prepares food? Wesley and Scott are very proactive when it comes to inserting fruit slices into Marysol's sangria, and Patti, therefore, is certain they'd make fabulous husbands. Marysol should NOT go near Robert, who definitely didn't cut a single lime. That asshole. Ultimately, Marysol chooses Scott.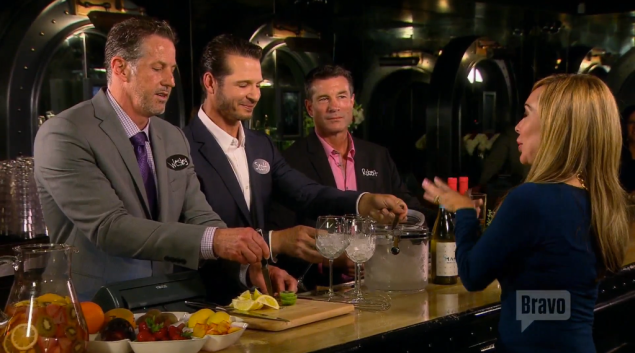 There's something different about the way Luke's wine mixer is set up—namely, some hot mixologist named Kara has randomly appeared. Who the f*** needs a professional mixologist to help them insert lemon slices into a glass of wine? It quickly becomes clear that Luke wants to bang Kara the mixologist, and isn't interested in the three women Patti has selected for him. In a shocking twist—but most likely something Bravo had planned for all along—Luke asks Patti if he can take Kara out, instead. Ten bucks says Kara the mixologist is the star of an upcoming Bravo docu-series about Patti's burgeoning wine empire.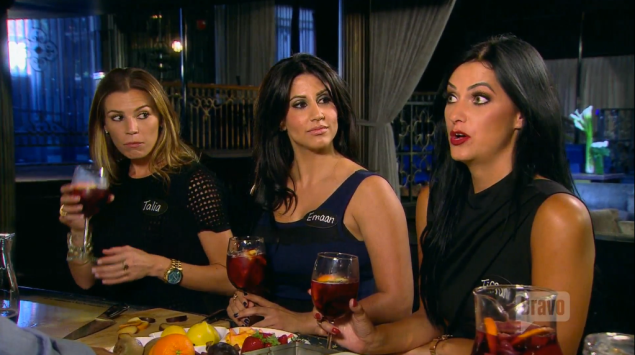 Time for the dates! Scott is taking Marysol on a helicopter ride over L.A. You guys know I love Marysol, but I am seriously questioning my girl's choice of face accessory: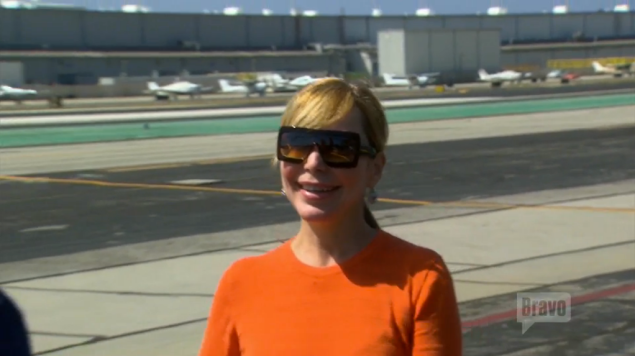 Marysol and Scott get into the helicopter. Have you guys ever stopped to think about helicopters? How in God's name do they stay up? Anyway, Marysol and Scott are totally adorable as the fly over the city. "Ooooh, the propeller sounds very sexy!" Marysol cries. Scott says he feels chemistry between them.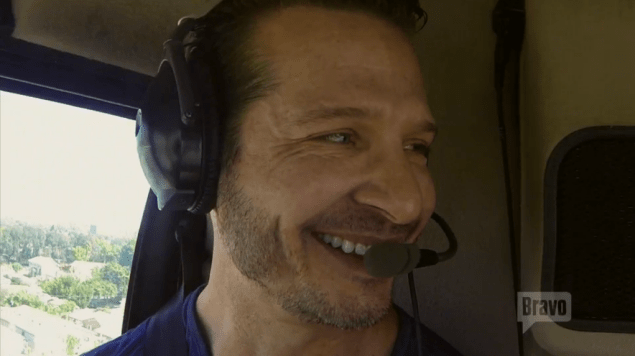 Meanwhile, Luke is taking Kara the mixologist to ride a jet-ski. Everything he says makes me nauseous, such as: "Are you gonna sit side-saddle or are you gonna handle that thing?"; "I don't like to make a plan too far in advance, you know?"; and "We'll let the man finesse it in, alright?"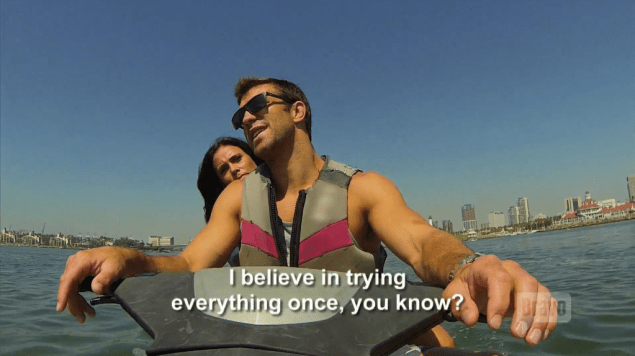 Ugh, take me back to Marysol please. Scott has taken Marysol to do a wine tasting—one of her fave activities. I honestly and un-ironically love watching them together, and it's not just because I'd like to devour the meat and cheese plate that's currently on their table.
Scott tells Marysol she has a beautiful smile, and she blushes. BE STILL MY HEART. They announce they'd like to kiss each other, but don't want to do it in front of the cameras. "WE'RE DOING OUR OWN SHOW!" Marysol cries, before the two of them run off around a corner to make-out.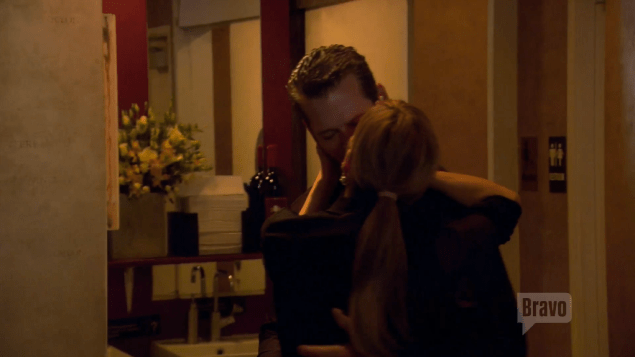 I can, however, make PLENTY of sarcastic comments about Luke and Kara's date, which proceeds to go from bad to worse when they go to a yacht to drink champagne. "Any time is cocktail hour," Kara says, completely and utterly dead in the eyes.
Then, as if Luke hasn't said enough repulsive, bro-y things on this date, HE ASKS KARA IF SHE SPITS OR SWALLOWS.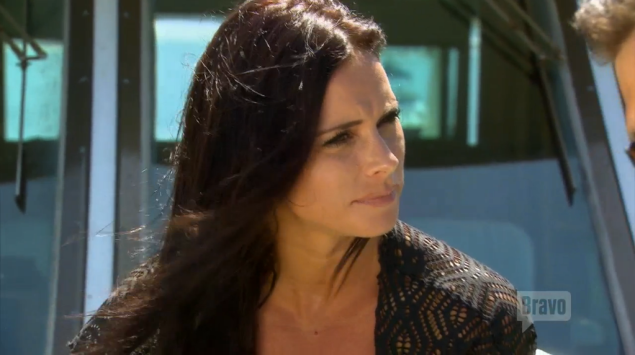 During her follow-up phone call with Kara, Patti learns about Luke's disgusting "spit or swallow" comment. Shockingly, Luke proceeds to be disgusting when he comes in to Patti's office, grossly groping Patti's staff member, Candace, while the crew fixes his microphone. This man is a monster.
Thankfully, Patti reams him out and banishes him from her club. "You may be be a world champion in fighting, but I will knock you the fuck out because I'm a world champion in love," Patti says. #teampatti
In happier news, Marysol and Scott are still together! There's still love in the world—even on a show that's mostly about reviving D-list celebrities' careers. MARYSOL AND SCOTT 4EVAAAAAAAA