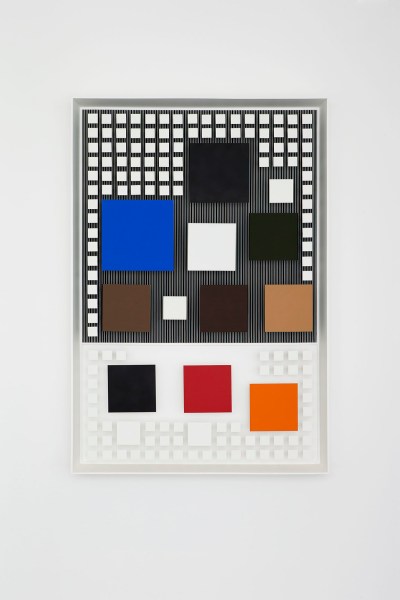 Galleries aim to rewrite art history in their favor. They dig up grayed and grizzled artists who have been overlooked or forgotten, hoping to reap the rewards and honors of a profitable estate. Occasionally a gem comes to light, but it's rare to rediscover an artist who will gain any footnote in history, much less one that can boast a connection to many historical schools of thought.
Yet it seems as though we've found just that in Jesús Rafael Soto, a quixotic artist whose work can be seen through February 21 at both the New York and Paris branches of Galerie Perrotin.
Curated by Sorbonne-trained Soto scholar, Matthieu Poirier, the show is a coup for Emmanuel Perrotin, the 46-year-old French dealer who has amassed a celebrity collector following over the years by helping to turn risky artists like Damien Hirst into megastars. Both a celebration of an unsung hero and a high point for Mr. Perrotin's year-old Madison Avenue space, the Soto exhibition is a savvy move by a dealer who relishes showing the unexpected.
Yet Soto is far from unknown. He is in some of the world's biggest collections, and even has a Venice Biennale under his belt. His art combines complicated and impeccable craftsmanship with kinetic movement. (He famously chose to withdraw from the 1964 MoMA exhibition, "The Responsive Eye," in order to distance himself from "Op artists" like Victor Vasarely.)Fifty years later, this show gives him the historical clout he deserves.
Soto (1923-2005) was born in Ciudad Bolívar, Valenzuela, where at age 11 he began hand-painting signs and movie posters. At art school in Caracas, he was heavily influenced by Georges Braque's Cubist still lifes. "I immediately concentrated myself in this direction," said Soto later. "Everything started to revolve around this: Why was it a work of art?" The ultra-Modern concepts behind Cubism would alter the direction of Soto's art for the rest of his career.
He would leave his homeland at the age of 27, via a six-month scholarship to Paris where he would remain until his death. He simply wanted to witness firsthand the Cubist masterworks that defined art history and the country that had produced them. Within a year of living amongst the Parisian avant-garde, Soto had already cast off any realistic, figurative imagery. He became an early adopter of non-representational work that was based on rhythmic repetition and progression, concepts inspired by the experimental composer Arnold Schoenberg. He was hell-bent on removing traditional complementation (the artistic act of balancing colors and forms) from his artworks. What Soto had intuitively sought, more than a decade before American Minimalists like Robert Morris and Donald Judd, was a new kind of spatial art experience.
By the '60s, Soto had aligned himself with Zero, a loose group of anti-Expressionist artists including Jean Tinguely and Yves Klein who were concerned with ideas of mechanization and movement inherent in modern society. "Dynamogenia" was his goal, or, in other words, a heightened state of sensory activity in the viewer. Once these ideas came together, Soto hit on them in a surprising variety of ways.
Standouts from the show include Progression elliptique rose et blanche, 1974, an avalanche of trilling pink and white metal rods that shows Soto breaking away from his shallow reliefs and onto the floor with gusto. In the basement level, a series of wall works led by Columna Rosa, 1973, suspend a profusion of slender wooden rods that gently waver with air movement. As the gravity-bent rods dance before grounds of rigid black stripes, dots and dashes seem to whisk from side to side like waterbugs as you slowly move around the work. These objects also completely confound one's sense of space, conjuring an almost childlike giddiness from the viewer.
Looking at his entire oeuvre, as we get the chance to do here, it is clear that Soto was indeed a special artist; one that bridged many gaps between Cubism and Kinetic Art, all while predating the heady concepts of American Minimalism.