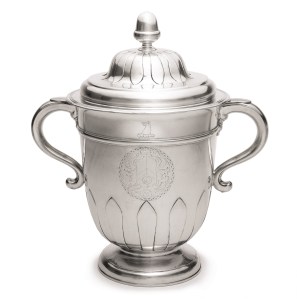 Later this week Christie's and Sotheby's will kick off their annual Americana sales, a hodgepodge of American antique furniture, folk art, silver and — in Christie's case — a collection of hot outsider art.
The auctions coincide with Americana Week in New York, an annual series of exhibitions and fairs geared toward American history enthusiasts and antiques collectors that includes the big Winter Antiques Show. Christie's expects its more than 500 lots of Americana to fetch $6 million; last year the auctions garnered more than $10 million. Christie's sales include American Silver on January 22, American Furniture, Outsider and Folk Art on January 23, and Mandarin and Menagerie: The Sowell Collection and Chinese Export Art from Various Owners on January 26.
Christie's sale will also be a significant indication of the strength of the market for outsider art, or works created by untrained, self-taught American artists. Christie's will hold its first-ever stand-alone auction of outsider art later this year, and the art world will be watching this week's Americana sale to see how well outsider pieces fare.
Sotheby's will host its Americana sale January 23 to 25 and furniture, silver and decorative art from the Collection of Roy and Ruth Nutt on January 23. The Nutts' collection of early American silver in particular is notable for its scope and its price point. Almost half the pieces available are estimated to sell for less than $5,000, a result of a current oversupply of silver in the marketplace, said John Ward, senior vice president and head of the silver department at Sotheby's.
"These things are reasonably and realistically priced to sell," he told the Observer. Ten to 15 years ago, competition for colonial silver would have been more fierce, but now that more long-time collectors are selling their items, it's a good time for history buffs to enter the market, said Ward.
CHRISTIE'S
Thornton Dial, "Dancing in the Street" (1996)
Estimate: $3,000 – $5,000
In November the Metropolitan Museum of Art acquired 10 works by Alabama-based mixed-media artist Thornton Dial, who has spent most of his life as a metalworker and has no formal artistic training. Dial's work has been exhibited at the Indianapolis Museum; the Museum of Fine Arts, Houston; and the 2000 Whitney Biennial, and the Met plans to include his pieces in a new exhibition next year. Christie's is looking to capitalize on growing interest in Dial's and other non-establishment artists' work at its Americana sale, said Cara Zimmerman, associate vice president and specialist in outsider and folk art at Christie's.
"In the last three or four years it's really taken off in the art world," she told the Observer. "There's a real interest in the stories of these artists. Some of them came from really difficult backgrounds."
Christie's will also sell works by renowned outsider artists Bill Traylor, William Hawkins and Nellie Mae Rowe.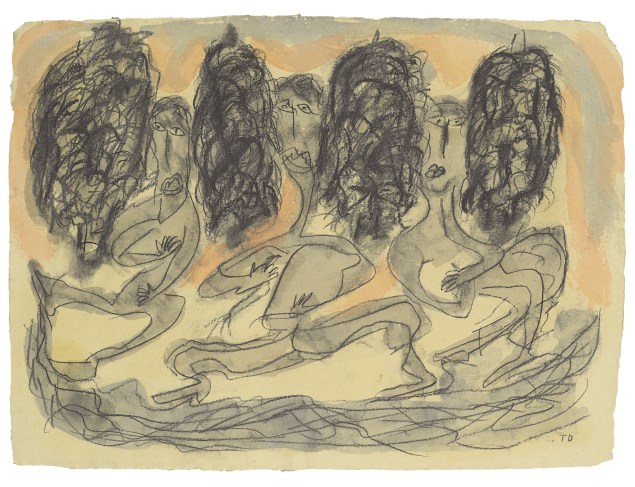 John Singleton Copley, "Portrait of Samuel Phillips Savage" (1764)
Estimate: $500,000 – $700,000
The top lot in Christie's sale is a portrait of 18th century merchant Samuel Phillips Savage, who moderated a series of meetings in 1773 that led to the Boston Tea Party. The artist, John Singleton Copley, was the period's highest-profile portraitist.
Silver teapot engraved by Paul Revere for Moses Michael Hays (1783)
Estimate: $200,000 – $300,000
Christie's silver sale is chock-full of high-profile colonial American silver, including a teapot engraved in 1783 by Paul Revere for Moses Michael Hays, Boston's most prominent Jewish citizen.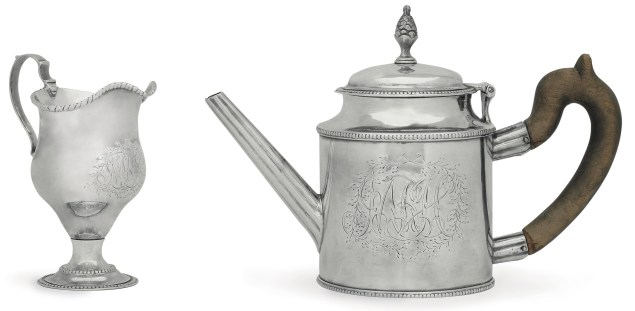 SOTHEBY'S
Augur-Duryee Queen Anne high chest of drawers, probably by Aaron Booth (ca. 1775)
Estimate: $80,000 – $120,000
The top lot in Sotheby's Important Americana auction is a late-18th century Queen Anne high chest with original hardware and a dark finish that could be the chest's original veneer. Dirt, grime and original finishes are highly sought after by antique collectors and can greatly increase a piece's value, Erik Gronning, head of Sotheby's American furniture and decorative art department, told the Observer.
Beyond antique standbys like high chests and dressing tables, "It's the more unusual, rarer forms that have had a great deal of strength in the marketplace," Gronning said. "It's a great opportunity for young collectors."
Federal carved and inlaid mahogany firescreen, attributed to Nathan Lombard (ca. 1798-1805)
Estimate: $60,000 – $90,000
One of the perks of previewing the Americana auctions is learning lots of weird historical factoids, like the origin of the phrase "It'll melt your face." According to Gronning, it can be traced back to women in the 18th and 19th centuries whose makeup had beeswax in it. When women sat in front of a fire, the heat would literally melt the wax on their faces. Firescreens like the one on offer at Sotheby's would be placed in front of seated women to protect them from the heat, and it's one of those rarer items that is gaining traction in the antiques marketplace this year.
Molded and gilded copper horse weathervane, A.L. Jewell & Co. (ca. 1860)
Estimate: $35,000 – $40,000
In the last 10 years Americana collectors have gained an affinity for 3D objects as opposed to paintings or needlepoint, said Nancy Druckman, senior vice president and head of the American folk art department at Sotheby's. Weathervanes and stoneware — "the tupperware of the 19th century," she explained — have sold particularly well. The weathervane she is most excited about at this year's sale has the original gilding squares showing where a thin layer of gold was originally applied.
"You can put a weathervane in a room with a Hirst or a Diebenkorn and it works," said Druckman. "It has an echo of the history of the piece that contrasts nicely with contemporary pieces."