Earlier this week, I was standing in the middle of Postmasters Gallery with the artist Ryder Ripps, who was showing me on his iPhone an anonymous threat made against him.
"Ryder—We know you know, consciously or unconsciously, that you've been acting foolishly lately…misogynistic, offensive, flippant, insensitive, not thoughtful," I read on the screen of Mr. Ripps' phone.
It was sent from a Guerrilla Mail account, which allows it to not be traced, searched, or hacked.
"It's going to happen outside your opening at some point in the evening next week," the potential attackers went on. "It won't involve physical violence, but it will be highly embarrassing."
"It's shitty to get a threat," Mr. Ripps said, dabbing and swiping at his iPhone, which he did throughout our conversation, though not in a rude way. Most of the time I didn't even notice. He was also glancing up at his giant square oil paintings installed in the main space of the gallery, ready for an opening tomorrow that may or may not be the site of some sort nonviolent act of mock-terrorism.
The show is called "Ho," as all the paintings are based on Instagram posts from the feed of model Adrienne Ho—the self-curated building blocks of her own personal brand—and to see the huge diptychs in person, the torrent of bilious blog posts hellbent on exposing Mr. Ripps as a misogynist, seems a little overblown. They're just oil works on square canvas, but I was a tad surprised at how skillful they were, given that my exposure to Mr. Ripps had thus far been through the ad campaigns of his design firm, his internet hijinks, and his collaborations with fashion designers like Nicola Formichetti and rap producers like Mike Will Made It. Not through painting.
And they are just straightforward paintings, apart from wobbly abstractions made to the original digital image that are meant to disrupt and remind the viewer of the screen. They have a soft glow about them, like a filter—think Amaro or Valencia—and feature boxing gloves or bottled water that Ms. Ho gets paid to endorse.
"I think it's really important that they're one person," Mr. Ripps told me. "This is really an ode to her, and it's also a story—it's very much like how we look at someone's feed and we deduce who they are. We understand somebody now by looking at the stuff that they self mediate, that they decide who they are. So she is professionally crafting who she is and with her own agency."
As for the sneak attack on Saturday, Mr. Ripps had already crafted a response to his assailant, and he handed over his phone so I could read. It was bright and bouncy in tone, trying to diffuse any real danger with humor, and it ended like this: "PS – When Warhol was shot by Valerie Solanas it only helped Warhol's career, so if you are considering shooting me I think I will be able to come to terms with this."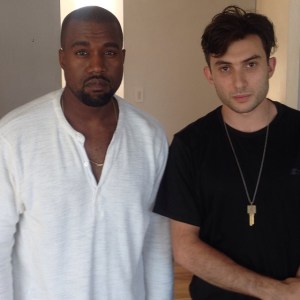 I couldn't help but privately entertain an idea that might jibe with the Warhol reference, and Mr. Ripps' prankster past…. could the person threatening the opening of the show be Mr. Ripps himself? He's not hype-obsessed, but he does make art that uses online avenues to expose how social media can amplify narcissism and fear. This is the guy who created the Twitter handle @BaIenciaga—look closely at the "l" because it's really an "I"—and kept it going until Rihanna retweeted it. He convinced the The Washington Post and Buzzfeed and so many other outlets that Kanye West's latest venture was a site called WhoDat.biz, which claimed to be "The Facebook of Websites." He was in a boy band called #HDBOYZ—"the world's first boy band in high definition"—that gave very dry, wholly convincing performances at Ryan Trecartin events. He made Monster Energy wristbands for MoMA PS1. He sprayed Axe Body Spray on canvases and presented them as Axe Body Spray paintings. He rewrote Allen Ginsberg's "Howl" as a social media rant—"I saw the best minds of my generation destroyed by tumblr, blogging hysterical naked…"—and then annotated it himself on Genius. His social media avatar is a GIF of a loading wheel, constantly spinning. And while he's been punking the art world with performances, he's also been running a sought-after and highly profitable creative design agency, OKFocus, that's created campaigns for Nike, Phillips, the singer Bruno Mars, and the fashion line Kenzo.
(He's also been summoned for a collaboration by Kanye West, a tap akin to knighthood among young creative types of all medium and genre. Apparently Mr. West saw WhoDat.biz, thought it was hilarious, and reached out.)
But despite the penchant for mischief, the threat is almost certainly legit, because many people really, really hate Ryder Ripps. Search his name on Twitter and you see the waves of vitriol. Many fellow art world observers have no interest in what he produces or what he has to say, poking around at his stuff just to throw some potshots. There's already a scathing post on Jezebel about his show at Postmasters with the headline: "Petty Man Builds Art Career By Shitting on Fitness Star Adrianne Ho."
And his last performance, "ART WHORE," was attacked by Rhizome, Art F City, Gawker, and the knee-jerk commentariot on Twitter and Facebook for what they saw as blatant exploitation of women in the sex industry. What happened, exactly? He received a one-night art residency at the Ace Hotel, and used the $50 of spending money the hotel provided, and then some, to pay masseuses he found on Craigslist (who he perhaps unfortunately referred to as "sex workers" to make a comparison between how artists and prostitutes both do unsavory things for little money, which was the thesis of "ART WHORE") to come and paint, thus creating enough work to justify the residency.
"I did not anticipate that sort of attention," said Mr. Ripps. "I was honestly trying to do something reactionary towards The Ace Hotel and towards this ridiculous concept of a residency."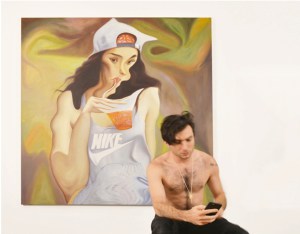 At one point in our conversation, a little pug named Bumper who burst into the gallery looking just incredibly adorable, and ran up to Mr. Ripps, who was wearing a black Y-3 baseball cap, black jeans, a black jacket and a white wifebeater.
"What I wanted to do is bring light to the fact that artists do things for basically next to nothing because we work within an attention economy," he went on. "And the participants of that project were fine with getting drawn."
Mr. Ripps defended himself early and often, in comments to the press, tweets, and Facebook comments, but the melee had already started.
"We regret that Ryder Ripps' newest work, which is unthinking, unethical, and dull, is part of a practice we just recently celebrated," tweeted the art publication Rhizome (which later published a longer examination of "ART WHORE" that was more thoughtful, if not a revision of stance.)
And here's the Art F City headline: "Ryder Ripps's 'ART WHORE' In the Running For Most Offensive Project of 2014."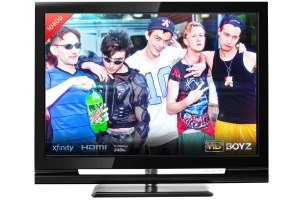 I asked if "Ho," with its oil paintings instead of Internet-based performance provocations, is in anyway a response to "ART WHORE" (I also realized, but did not observe aloud, that the pun on Ms. Ho's name in the title is a variation on the last word of the previous show's title).
"No, this was planned way before that—I've been doing this work for over a year now," he said, and some deep digging on his Instagram suggests as much.
All of the controversy seems a little overblown when these two shows are taken in the context of his larger history of his light tongue-in-cheek trickery and very earnest investigation of Internet mores. And in person, he comes off not as some swaggering Art Bro making barely justified explorations of the male gaze—he seems like a computer nerd, with cheeks hollowed by long hours click-clacking on keyboards, not because he aspires to look like a Saint Laurent model, like some artists. He appears more comfortable with a feed scrolling down his phone than hobnobbing at openings and parties.
Though this wasn't the first time I had met Ryder Ripps. A friend of mine who works at Tumblr introduced me to him at some Dom Perignon party, and, perhaps because of lips loosened by bubbly, he started telling this reporter about the one thing you don't tell a reporter about: anything concerning the unfinished work of Kanye West. And this is what I wrote:
Ryder Ripps, the artist and programming savant who casually mentioned he's doing some coding for Kanye West.

"He's so fucking quick," Mr. Ripps said of his boss, looking slightly bored, some girl on his arm. "One day, someone came in to give him this giant egg, and immediately he was like, 'Put it on the Matthew Barney Cremaster book.'"
(Afterward, he emailed me to say that he didn't mean to talk about Kanye—the guy makes all collaborators sign an NDA tighter than the State Department's—and that he would like it removed if possible, but he was on the record, and the image of Mr. West immediately associating a giant egg with the Cremaster Cycle is too delicious. It stayed. Plus, I figured Mr. Ripps could just hack into Observer.com and remove it if he wanted.)
And though Ms. Ho is immortalized many different ways on the walls, and her image is sent out to hundreds of thousands of her Instagram followers each day, she has no physical presence in the show she lends her name to—Ms. Ho has not had any relationship with Mr. Ripps, IRL or online. She never collaborated with him in any way. Recently, she blocked the artist on Instagram.
And Mr. Ripps, the Internet kid, is perfectly comfortable coding at a fast clip, or pouring over thousands of images, or diving into the dark corners of the deep web; with these physical objects, these oil paintings, maybe he's longing for an end to the virality, the irony, the pixilated life. Maybe he just wants his muse to stop by the show.
"I wish she would come," Mr. Ripps said, looking at a diptych that he painted of her, the faces mirroring each other, the two canvases touching nose-to-nose. "If she wants to, she can have a plane ticket and a painting."
He paused and turned away from the diptych.
"Well, a smaller one."