Entering the Cary Tamarkin-designed penthouse duplex belonging to Brandon Ralph and Adriana Biasi at 456 West 19th Street, you have the sense of accessing a very exclusive nightclub. You feel that there has been some mistake, that by rights, you ought to be shivering at the curb, behind velvet rope, in the shadow of some colossal and impassive bouncer.
The effect was both alluring and uneasy-making even on an overcast Wednesday afternoon, when the Observer happened to visit, and when Mr. Ralph, the co-founder of the design agency Code and Theory, and Ms. Biasi, a model and interior designer, were not on the premises.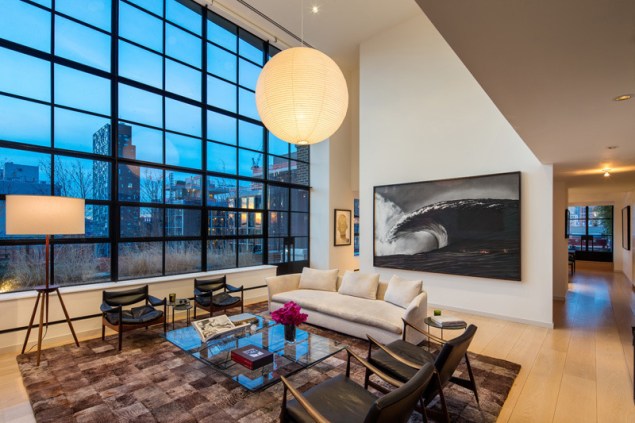 We were greeted in their stead by Heather Cook and Sophie P. Ravet, brokers with Brown Harris Stevens who also count themselves friends of the owners. The condo is currently on the market for $11.75 million—a not-insignificant hike from the $6.77 million Mr. Ralph bought it for as a sponsor unit in 2011—and Ms. Cook confirmed that the place had indeed been the site of numerous evening affairs to remember. (The couple substantially reconfigured the master suite to improve the flow of what Ms. Cook called the "box-on-box-on-box" effect often seen in new development, which accounts perhaps in part for the jump in price.)
In the entry-level living room, however, Mr. Tamarkin's vision was left wisely unmolested. A western wall of steel casement windows rose nearly to the height of the 20-foot ceiling, looking out over a terrace that extends to the apartment's northern exposure, and onto the High Line, beyond which the work of Frank Gehry and Norman Foster cropped skyward.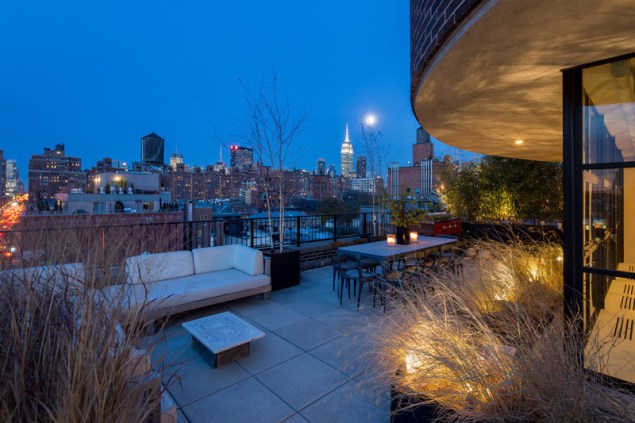 A long band of flame rose and fell like sound waves in a six-foot-wide, glass-enclosed gas fireplace. Throughout the home, big, white walls were hung with art—largely photographic and mostly in black and white, often suffused with the smoldering glamor of old Hollywood.
Presiding in the living room was a long frontal female nude, the attractions of which were not, strictly speaking, entirely artistic. In a smaller frame, a sinewy, shirtless Paul Newman played a joyous game of ping-pong with Robert Redford on the set of Butch Cassidy and the Sundance Kid. Upstairs, an enormous color reproduction showed a skinny dipping Marilyn Monroe, bare leg hiked over the lip of a swimming pool, in a still from the unfinished Something's Got to Give.
Ms. Cook indicated that a small balcony off the master bedroom was ideal for morning coffee. The Observer noted a small disco ball lying there, apparently forgotten on a night much warmer than the one gathering beyond the windows. The broker laughed. "Alright," she said. "You got me. It's also a great place to smoke a joint."