As Jack Kerouac wrote in On the Road, "The only people for me are the mad ones." And in the fashion world, mad people are doubly appreciated thanks to the buttoned-up, serious nature of its highest-ranking members.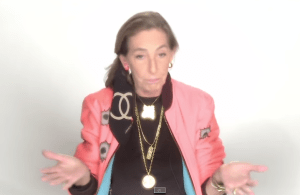 So when you encounter a genuinely batty person in the style world, you rejoice and follow everything that person does — especially if what they do, as in the case of Carlyne Cerf de Dudzeele, includes a web series full of odes to leopard print, Louis Vuitton and Miley Cyrus.
Ms. de Dudzeele is the stylist behind such iconic images as Anna Wintour's first Vogue cover and the most famous Chanel spread of the 1990s. Her short-lived web series, J'Adore, has only 15 episodes, but every one is worth watching.
Watch as she exclaims, "All my life, I've been a freak of leopard… Leopard is never démodé." Laugh with her as she ponders the definition of chic: "A lot of women think they are chic. They are not." Learn why she believes a lack of talent "kills me totale."
Unfortunately, the last episode of J'Adore was uploaded on June 4, 2014. A rep from World of Wonder, the production company behind J'Adore, told us this is because Ms. de Dudzeele's busy schedule does not allow time for shooting the videos anymore.
WoW was also behind the HBO documentary In Vogue: The Editor's Eye. This is where they met Ms. de Dudzeele.
"Her sparkling personality instantly won the hearts of Fenton Bailey & Randy Barbato, the two Executive Producers (and co-owners of WOW) of the project," the rep said. "We knew we had to work with her on a digital platform."
The company is ready to pick production back up whenever Ms. de Dudzeele finds the time, he said. In the meantime, re-watching J'Adore might be the perfect preparation for the madcap circus that is Fashion Week season.
[youtube https://www.youtube.com/watch?v=26sD71prZt0?list=PLhgFEi9aNUb2RNjZJ0sBKkMpIv7wQWOq1&w=560&h=315]