Go see "Modern Photographs from the Thomas Walther Collection, 1909–1949." The exhibition, organized by Quentin Bajac, the museum's new chief curator of photography, is the first chance to see the Walther trove, which Museum of Modern Art director Glenn Lowry called "one of the most important acquisitions in the museum's history."
The show of some 300 European photographs done mostly between the World Wars embraces great photos made by marginal figures—Czech, Polish, Russian names largely unfamiliar to the American audiences who've been trained on MoMA's whitewashed Modernism. And, although nothing on view in this truly interesting show, on view through April 19, is much larger than a sheet of paper, there is almost too much to see.
Walther, a passionate collector, moved to New York from Germany in 1977, and these works, made by more than 140 artists, were acquired by the museum in 2001. The show's arrangement is topical. The first room showcases the new artistic possibilities afforded by fast camera shutters. In sports photography by Leni Riefenstahl heroic bodies lunge, vault and dive in frozen stasis, which allows us to linger on the gleam of muscle or the flutter of a sail. Kate Steinitz gives us two girls doing the backstroke (1930). Their cold nipples and tense muscles are more human than heroic; the image was taken just before the German Dadaist emigrated to America to escape persecution as a "degenerate" artist.
Aleksandr Rodchenko and Varvara Stepanova's pages from the journal USSR in Construction (1935) show green parachuters falling in fabulous photogravure foldouts; one eerie picture taken by an anonymous German soldier in 1917 shows the bombs dropping on a snowy landscape. Early selfies by the German photojournalist Willi Ruge, who in 1931 photographed himself jumping out of an airplane, suggest the dynamism of new era.
In the next room is Purism, the familiar MoMA takes on photography: Paul Strand's geometric porch rails, or the luminous quasi-abstractions of the late Edward Weston (contorted naked bodies, Nautilus shells). In a room full of this stuff, Karl Blossfeldt's gelatin silver prints of plants look good (here, the plant forms' parallels with architecture are emphasized). But there are discoveries, too—like Czech abstractionist Jaromír Funke, or Polish-born Theodore Roszak.
The best room in the show comes next: one in which a "modern photograph," in an elastic definition, might be a photogram, Vortograph, solarization, or slowly rotating sculpture. There's one wall of tiny prints by Alvin Coburn (inventor of the Vortograph, a kind of stuttering abstract photographic portraiture), Anton Giulio Bragaglia (we saw some of his work at the Guggenheim's Futurist show), and the famous El Lissitzky portrait of Kurt Schwitters.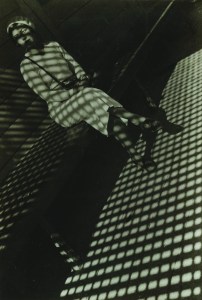 This leads to a room of photographers snapping modern artists. Here is a handbook for the social construction of the self via androgynous haircuts, hard-edged makeup and baggy suits. This room makes visible how many lesbian and gay figures make up Modern photography., like the fabulously butch Claude Cahun shooting her girlfriend Suzanne Malherbe, aka Marcel Moore, and Lucia Moholy's picture of Florence Henri. There's also an extended series by Andre Kertesz's on Piet Mondrian and his studio circa 1926, all circular glasses and unadorned angles. Man Ray's Marcel Duchamp is beefier, and more hard-partying then you think of the master as being, but he still has those perfect lips.
Alongside hackneyed Modernist tropes —lithe limbs in polka-dot shadows, women's faces in cages or cubes—there are moments of real discovery. I loved Iwao Yamawaki's Articulated Mannequin of 1931—turns out he was a Japanese architect who studied with the German Bauhaus and went on to shoot zoomed-in photos of tiny wooden mannequins replete with uncanny theatrical lighting. There's a killer Oskar Schlemmer, Study for the Triadic Ballet, 1924, that shows the designer thinking through his sets.
Two films are unfortunately on display as well. Curators seem to feel that screening looped films projected on walls at various heights in lit rooms is a good use of the medium. But it disturbs  the lucid relationship the show establishes between actual, chemical-and-paper photographs and viewers.
For a department whose curators, back to Beaumont Newhall in the late 1930s, listened to American photographers who generally championed U.S. artists like Walker Evans and Paul Strand over German, Hungarian and Russian photographers, and men over women, this show is a long-overdue corrective. Our previous sense of European photographic Modernism came from Man Ray, Moholy Nagy, August Sander, and Rodchenko, but skipped much of the rest of the European Avant-Garde.
Overall, this show fits into a line of MoMA shows—including Kippenberger, Polke and Gensken—which belatedly welcome a number of German and Eastern European 20th-century artists to the institution's fold. The fact is, most Contemporary artists knew they were out there already, but it's great to finally see this stuff where it always belonged.