I'm just going to say it: Not having an elimination challenge really sucks the excitement out of Top Chef.
This episode featured no quick fire and no elimination challenge. How can it be an episode of Top Chef, then? The chefs were battling for a direct route to the finale in Mexico—the winner gets to skip next week's elimination challenge and know they will make it to the final rounds. Those stakes are…underwhelming.
And sure, the particular challenge doesn't lend itself to an elimination: the chefs are tasked with cooking with a close family member. Nobody wants to have to blame their mom or their brother for getting them eliminated from Top Chef.
But still, it just feels like there's something huge missing. It's not that it was boring, per se...but I did fall asleep during the last commercial break before the winner was crowned. The stakes are just so much lower when nobody is going home. I don't think I would have nodded off if I thought Gregory would be getting sent home for his overcooked halibut (he totally would have).
I suppose it was fun to see the chefs interacting with their family members as they first took a boat out to collect some oysters in Gloucester, then cooked them dinner in a beautiful beach house, and finally as they cooked together. It made me like one contestant much more, and one contestant much less than I had before.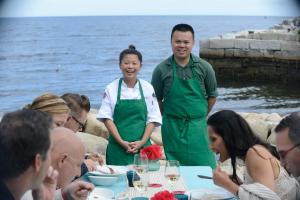 Watching Melissa interact with her mother Alice was a total joy, and gave a lot more dimension to a contestant whose personality has been a little overshadowed. She was just generally adorable—saying she thought her daughter wanted to be "James Bond" when Melissa said she wanted to go to the CIA (the Culinary Institute of America, of course). Melissa's mom wanted her to be a doctor or a lawyer, and made her go to college first—but ultimately supported her. Melissa's dad, meanwhile, has never been to a restaurant, either because she's a chef or she's gay, Melissa said she wasn't sure. It made her relationship with her mom even sweeter—and she guided her mother to make a custard for her appetizer, a reminder of a comforting dish her mother made her as a kid.
Then there was Mei. Mei and Melissa have often noted the similarities in their upbringing as young Asian women, and their parents' resistance to them becoming chefs. But Mei notes that while Melissa has her mother's support, both of Mei's parent's don't support her. She doesn't need them, she says. But her brother Harly is there to help, and Mei spends the entire episode just completely, humorlessly aggravated at him. She asks if he can use a knife, because she doesn't want him to bleed all over the food. You expect her to laugh, but she doesn't—she means it. She just comes off as sort of ruthless. The guy is there to support you. He doesn't know how to cook but he's going to try! Your parents already are jerks, why would you alienate your brother? In the end, after she spends the whole episode hating on him, he does a pretty good job and gets her into the top two—with Melissa.
George's father, whom he calls Mr. Tony, worked in a diner (of course, they're Greek!) so he's got some cooking chops, even if he was really reluctant to taste a raw oyster. George is worried he wouldn't take orders as a sous chef, but things go pretty well, even if they don't come out on top. Gregory, meanwhile, cooks with his sister Jessica—who stood by him as he struggled with drugs and alcohol. Gregory gets so worried about how her dish turns out that he stops focusing on his own, which means she puts out an awesome watermelon tomato soup dish and he puts out overcooked halibut.
It comes down to Mei and Melissa. It's Melissa—with a perfectly butter poached lobster and as usual amazing vegetables—who wins, in part thanks to her wonderful mother's lovingly cooked custard. I don't know, maybe Mei should've been nicer to her brother and she would get Melissa's perk…which really just amounts to not having to cook next week, I guess.
An hour later, the nice family dynamics don't negate the biggest problem with the episode. Nobody's going home, so… essentially, the whole thing doesn't really matter.