What's the key to being a good professor? Talk to any academic today, and they'll say they encourage students to find their passion.
But a more nuanced answer is striking the right balance. As New York University prosthodontics chair Leila Jahangiri explains, "You can be nurturing and keep a high standard."
When she was at Harvard, Ms. Jahangiri was inspired by professor Edwin Reilly III, who happens to be the Boston Bruins' team dentist.
"He delivered the message in a firm way without ever getting mad or embarrassing us," she recalls. "Sometimes I wished he would slap me instead of being so kind."
Columbia J-school prof Marguerite Holloway has fond memories of the late Kenneth Goldstein, who taught her at Columbia in the 1980s. "He was tough and yet very warm," she recalls. "He pushed people to find what it was they did well."
David Glasgow says his mentor, NYU law school's Kenji Yoshino,"gets that perfect balance between showing respect and affirmation toward every student, while on the other hand challenging them to think. He doesn't put people down, but he doesn't coddle."
Teaching to overachievers may turn off the less motivated, suggests, City College economics chair Kevin Foster. But "it makes the people at the top very happy."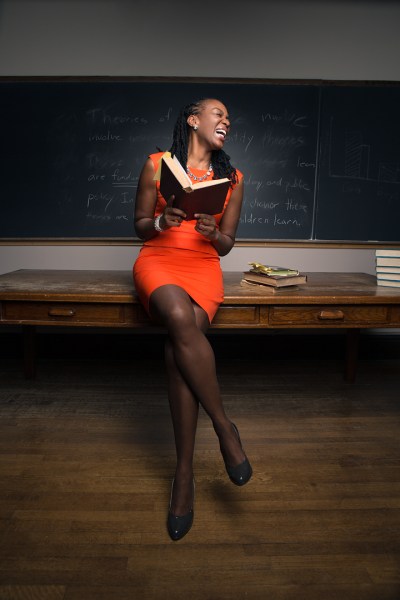 Valerie Purdie-Vaughns
Associate professor of psychology, Columbia University
At six feet tall, Valerie Purdie-Vaughns is imposing. "There's always a huge crowd around her at conferences, and she's a head above everyone else," says Nick Camp, who managed Ms. Purdie-Vaughns' diversity lab at Columbia for three years and is now pursuing a Ph.D. in psychology at Stanford. (Ms. Purdie-Vaughns got her doctorate at Stanford as well.)
She also electrifies her lab, which focuses on the psychology of outsiders. "She gets excited by ideas and is very supportive when you're starting out and not sure if it's going to work," Mr. Camp explains. "She helps people take an idea they're passionate about and turn it into a psychological question or something to test."
For one project, lab members went to Fire Island to recruit gays and lesbians for a study of outsiders who conceal their identities in the workplace. The lab has studied white dancers in a black troupe, as well as why some people seize up when a black man approaches.
Ms. Purdie-Vaughns' mom taught third grade. "You'd be amazed by the similarities between third graders and college students," the Columbia professor recalls. "They both have short attention spans, and if you don't figure out how to engage them right away, you've lost them." As her mom did, she gets involved with students, co-publishing papers, throwing them parties. "We're all in it together," she says.
Last spring, Ms. Purdie-Vaughns won a $25,000 teaching award, some of which got spent on summer camp. "If I believe in diversity," she says with a laugh, "I'll send my black child to a Jewish camp."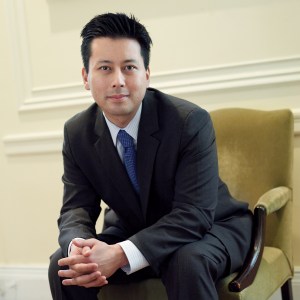 Kenji Yoshino
Chief Justice Earl Warren professor of constitutional law, New York University School of Law   
David Glasgow, who completed an advanced law degree at New York University last year, recalls signing up for Kenji Yoshino's seminar on same-sex marriage in 2013. About a month into the semester, Mr. Yoshino invited Mr. Glasgow to join his team of research assistants. Some other students got "jealous," Mr. Glasgow recalls. "They would have killed for that."
Mr. Yoshino, who is gay and married, was writing a book on the 2010 trial that overturned Prop 8, California's ban on same-sex marriage. Speak Now: Marriage Equality on Trial, his third book, is due out from Crown in April.
Mr. Yoshino is "one of the most popular professors at the law school," Mr. Glasgow says, which is documented by student evaluations and the high "bids" students make to sign up for his classes. (The school regulates enrollment through bidding.) Sold-out classes include constitutional law and his Shakespeare and the law seminar from a few years ago.
Mr. Yoshino cites legendary Yale Law prof Harold Koh as his mentor: "He's a phenomenal teacher, and it's not just the quality of his intellect." At Yale, Mr. Yoshino recalls, Mr. Koh gave him this tip: "Long after your students forget every piece of law you taught them, they will remember that you took them to lunch."
Steve Brodner
Professor of narrative art, School of Visual Arts
It all comes down to the sentence. For example, in his senior portfolio class, illustrator Steve Brodner might assign a passage from Alice in Wonderland in which Alice runs after a rabbit and then jumps into a hole after him. To tell the story best, he says, the illustrator should begin with a sentence that "assigns a hierarchy and a point of view." In this case, focus first on Alice, then the hole and the rabbit.
"When you have a sentence, you have more authorship over your work," says Yao Xiao, an illustrator who studied with Mr. Brodner. "The challenge is to show the emotion that the sentence provokes. It simplifies the process and gives you storytelling courage."
Mr. Brodner, a contributor to Mother Jones, The Nation and the Observer, says his goal with seniors is to "get them speaking in their voice." He always knew that he'd be an illustrator, even though "commercial art" was looked down on at Cooper Union, which he attended in the 1970s. As a result, he doesn't impose his preferences. "He doesn't judge if someone wants to go into fine arts or comics or tattoo designs," Ms. Xiao explains.
In 2011, Mr. Brodner received a Society of Illustrators award for his New Yorker illustration Reservoir Dogs. According to Koren Shadmi, a graphic novelist who studied with Mr. Brodner, "It's encouraging to see someone at his stage in his career who's not sitting on his laurels."
Leonard Cassuto
Professor of English, Fordham University
Leonard Cassuto has written or edited seven books on American literature, including Hard-Boiled Sentimentality: The Secret History of American Crime Stories. But he may be best known for maintaining relationships with former students—in one case, as he recounted in a recent essay, even after she developed dementia. "I have many former students who are friends," says Mr. Cassuto. "One of the best parts of the job is making relationships, and it's artificial to cut them off at the end of class." Instead, he seeks to create a "mutually supportive community" of scholars who learn from their peers. Glenn Hendler, who chairs Fordham's English department, says Mr. Cassuto is the graduate students' most frequent choice for adviser and his courses are "consistently packed."
Lauren Navarro, a Cassuto protégé who got her Ph.D. in August and now teaches English at LaGuardia Community College, calls her former teacher a "sage" and credits him with helping her land a job. "I don't think I would have gotten here if not for the extra work and care he puts in," says Ms. Navarro. What's more, Ms. Navarro notes, Mr. Cassuto's devotion has a ripple effect: "I'm now in touch with students I had as undergraduates."
Allan B. Goldstein
Lecturer, technology, culture and society, New York University Polytechnic School of Engineering
Allan Goldstein was teaching writing at NYU's engineering school in 2012 when NYU eliminated the position. In response, Mr. Goldstein—who is the advocate for his intellectually disabled brother Fred—designed a class to inform young engineers about the nearly 20 percent of the U.S. population who are disabled. "It's a burgeoning discipline," says Mr. Goldstein, "and it's a civil rights issue." Meeting once a week for four hours, students divide into groups and partner with a consultant sent by United Cerebral Palsy, to experience what it's like to be disabled first-hand. At the end of the semester, each group creates a digital project to tell the consultant's story.
"Freud says, 'Everyone wants love and work,' and that's what my students come away from the course knowing," says Mr. Goldstein, who won Polytechnic's distinguished teaching award in 2012. "It changes their perspectives on their own lives as well." In evaluations from last semester, Mr. Goldstein's students attested to the course's reputation as a life-changer. According to Zitian Wang, the consultants "helped me realize that nothing could stop me from striving for what I longed for.…Disability did not stop them from being who they are, how could I use excuses for being lazy and pessimistic?"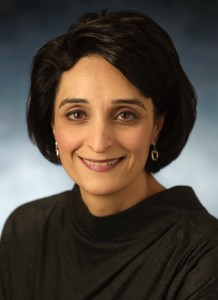 Leila Jahangiri
Clinical professor, chairperson, prosthodontics, New York University College of Dentistry
Leila Jahangiri, who chairs a department of about 90 faculty members, is an expert at repairing teeth for a better smile. But Ms. Jahangiri sees her mission differently: "I teach others to teach." The co-author of A Guide to Better Teaching: Skills, Advice, and Evaluation for College and University Professors, she comes from a family of academics who "had a lot of dinner conversations about students and learning."
So what's the secret? "It all has to do with the characteristics of the individual, their personality and not their skill," Ms. Jahangiri explains. "Einstein was an expert in physics, but he wasn't the best teacher of physics." Among the professor's many accolades is the distinguished teaching award NYU gave her last year.
Ms. Jahangiri notes with pride that 30 percent of her grads over the last 10 years have gone into teaching, either full-time or part-time—high above the national average.
Like many a Jahangiri protégé, Soomin Jung plans to devote at least part of her dental career to teaching. "One of the reasons I'm continuing with post-doc work at Harvard," says Ms. Jung, "is that I want to follow in her path."
Kevin Foster
Associate professor, chair, economics and business, City College of New York
Despite having a Ph.D. from Yale and teaching such abstruse subjects as econometrics, Kevin Foster is known as a man of the people. He is "awesome, dedicated and good at explaining things," says Denisse Olivarez, a former student who got a dual B.A. and M.A. in economics from CCNY in 2008 (at her mentor's suggestion) and now works for a large international bank. Mr. Foster goes out of his way to alert students about conferences and job opportunities. According to Ms. Olivarez, he is "always looking out for the benefit of his students" and, if students don't understand a problem he assigns, he'll revise it.
"I try to get students excited and interested in the topic," says Mr. Foster. "In this age of Google, if a student is motivated to learn something, I try to clue them in that this is a cool topic." Rather than impose "silly demands" to meet in person, he often communicates through texts and phone calls—which he feels that students who are "juggling things in any of the boroughs" deserve. He co-authors substantive research with his protégés to get them on the path to Ph.D.s and academia. And he attributes his love of teaching to his own mentors, who inspired him to "pay that back, infecting students with the same disease."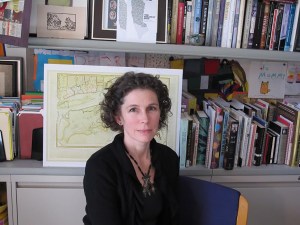 Marguerite Holloway
Associate professor and director, science and environmental journalism, Columbia University School of Journalism
Not long ago, Lina Zeldovich, an editor at the science magazine Nautilus, called her former professor Marguerite Holloway to say she'd be dropping by. Ms. Holloway, who teaches science reporting at Columbia's J-school, often assigns readings from the annual Best American Science and Nature Writing collection. Ms. Zeldovich had a surprise: a story she had edited, Justin Nobel's Ants Go Marching, had been published in the 2014 best-of collection. The author, another former Holloway student, was in town and the two wanted to thank Ms. Holloway for her inspiration.
Whatever the topic is, Mr. Nobel says, the professor encourages students to find something "exciting" in it and "run with your interests." When he pitched a personal story about getting attacked by fire ants to Ms. Zeldovich, her response was, "Pursue that scientifically"—just what Ms. Holloway would say.
"You can always find something in an assignment you really connect to," explains Ms. Holloway, who loved the surprise visit. "If you find a topic you are passionate about, you can make it yours and make it new to the world." The professor found an engaging subject in John Randel, Jr., the 19th-century surveyor who developed Manhattan's street grid. Her Randel biography, The Measure of Manhattan, was published in 2013.
As an editor, Ms. Holloway says, she's hand-on: "I often say, 'Here's another possible way of doing it. Explain the background, get more voices, give people a sense of the essential elements that they need.' I hope to become a little voice in their heads."