Imagine waking up as an American editorial cartoonist on Tuesday, January 7th. You go into work (if you are one of the lucky ones still employed), sharpen your pencil and sit down to read news of the bloody massacre of your colleagues and friends, the only people who truly understand you.
In the close-knit cartooning community, January 7th, the day Islamist terrorists executed four cartoonists and eight other journalists at Charlie Hebdo in Paris, will be remembered henceforth as Black Tuesday.
The Observer chatted with a few of the nation's most accomplished cartoonists to find out how they were in the aftermath of the horror.
"Cartooning will go on," syndicated cartoonist Ted Rall told the Observer. He had met some of the murdered cartoonists during an industry convention in France. "I went out with those guys a few times, they're funny guys," recalled Mr. Rall. "They felt like they were working at a place they were lucky to be working at, you could tell they were like, 'hey, we work at Charlie Hebdo, Yo.' I always thought if I lived in France I would want to work there."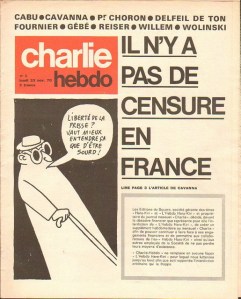 "The people who died," he continued, "not one of them would want anyone to tone anything down or to pull back. Certainly, if I were one of them I wouldn't."
Mr. Rall, who has received countless death threats and even unwelcome visits to his home from enraged readers, believes the real danger to American cartoonists lies not in potential violence, but in the fact that our country does not take cartooning seriously enough.
"Terrorism is not nearly as much of a threat as newspapers' refusal to publish cartoons," Mr. Rall explained. "The magazines who don't hire them are killing the entire art form."
Joel Pett, editorial cartoonist at the Lexington Herald-Leader, is on the board of the Cartoonists Rights Network International (CRNI), a nonprofit organization, which according to its website, "monitors threats and abuses against editorial cartoonists ranging from censorship … to assault, imprisonment, disappearance, and execution." He thinks the murders in Paris will raise public awareness about the day-to-day dangers faced by many of his colleagues, but frets that cartoonists in the United States often neglect important issues, such as hunger, feminism, and environmental problems.
Scott Stantis of the Chicago Tribune, concurred. He worries that the Paris attack could make newspapers more gun-shy and implores editors to "be brave."
He also delivered a strong message to his fellow cartoonists: "Don't be irrational, don't be afraid to call this thing what it is: it's evil—it's diabolical and if that is what your God is, then your God is evil."