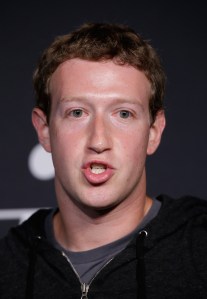 On Monday, Reuters reported that a Turkish court ordered Facebook to remove pages the government deemed insulting to the Prophet Mohammed. They even threatened to block Turkish access to Facebook entirely if it did not comply. As a result, Facebook has prohibited access to at least one page already.
There was an alternative to compliance: Facebook could have refused to honor Turkey's court order. And Mark Zuckerberg could have delivered the message himself. After all, who better to stand up for freedom of expression than the head of the world's biggest social network?
What might that have sounded like? Like this:
Dear President Erdogan,
Your country's courts have asked us to block certain pages because they consider them religiously offensive. I say this with the due respect accorded to the officers of your judicial system and to you as the chief executive of the Republic of Turkey: No way.
The pages stay. We will not take them down, not now or ever. Here's an idea for the offended parties: Comment to your hearts' content on the pages that bother you. Or create your own pages. Or share the pages with friends and post about how offensive they are. Or ignore them. Those are suitable options. Shutting the pages down is not.
Mr. President, I know this isn't what you wanted to hear, and the judges have threatened to block Facebook in your country if we keep the pages up. Be my guest. Turkey has 40 million or so people on our platform. Facebook's total user base is 1.3 billion, with a "b." I'm willing to give up a measly three percent of Facebook's reach in exchange for assuring the rest of our 1.3 billion users that what they see on Facebook is free of government censorship. That's a bargain at twice the price. For that matter, I enjoy being able to look in the mirror and see the kind of person who stands up to bullies like you—especially when something like freedom of expression is at stake.
Honestly, outside of a tiny drop in traffic, Turkey shutting down Facebook doesn't hurt Facebook in the slightest. The people it really hurts are the 40 million Turks who are deprived of the greatest social connector there's ever been. Their contact to family, friends, humor and news is needlessly limited by a government too insecure about its people's strength to endure the existence of ideas with which it disagrees.
This month, after terrorists killed 12 people to "avenge" the Prophet Mohammed over some cartoons, you sent Turkey's prime minister to join the march in Paris in defense of free speech. That was a great gesture. But it's hard to take it seriously when your government has more reporters in jail than any other country, when you sue cartoonists for hurting your feelings, and now, when you try to control the kind of content your people can share with each other on social media.
I appreciate your government's gesture in favor of free expression, though, so here's mine: we are not touching these pages as long as I am the CEO of Facebook.
I know a lot of Facebook is cat videos and baby photos. Those don't need very much protection. What does need protection is speech that's considered offensive–especially because it's usually powerful people like you who get to decide what counts as offensive. It's easy to defend speech that bothers no one. But the real measure of our commitments—and the real test of countries and companies—is what happens when words wound and posts hurt, especially when they hurt the powerful. If we give in to government censorship, our commitments don't mean very much at all.
And if keeping those commitments means being banned in Turkey, so be it. By the way, good luck implementing a ban. Have you seen what happens in countries that try? Ask Ayatollah Khamenei. We're "banned" in Iran. And yet almost 60 percent of Iranians manage to use Facebook every day. Whoops.
It'll be the same in Turkey. In fact, it'll be easier because we're already your largest social network. And what's more, not only will our Turkish users will hack and break their way into Facebook, but we'll help them. We'll open up every backchannel and workaround and secret URL and distribute it to your people in ways that can't be tracked, can't be traced, and can't be shut down. You think you're good at censorship? Well, we are insanely good at distribution.
I urge you to reverse the court's decision. If you don't, you will lose this fight, not only because you're on the wrong side of history, but also because you're on the wrong side of me. If you think politics is tough, try building a company that counts one-seventh of humankind as users. Or try renting that movie about me. As the tagline goes, you don't get all those friends without making a few enemies.
Think I'm bluffing? Talk to the Winkelvoss twins.
Sincerely,
Mark Zuckerberg
Jimmy Soni is the co-author of Rome's Last Citizen: The Life and Legacy of Cato. He is an editor at the Observer and lives in New York City.