In the deadliest terrorist attack on French soil over 50 years, the East Paris offices of weekly satirical magazine Charlie Hebdo were the target of three kalashnikov-bearing masked gunmen this morning.  As of the time of this writing (Wednesday 2pm), 12 have been pronounced dead, 11 are severely injured, 4 of whom are between life and death.  The gunmen are actively pursued by French police in Northern Paris where their abandoned car was found. A large scale manhunt is underway and French television is reporting that the French police have caught three suspects.
According to the Minister of Interior, the attack was perpetuated by three gunmen dressed in black and armed with automatic weapons who burst in and began firing, after first holding a journalist at gunpoint to access the building. The shooting occurred during the newsroom weekly meeting. Among the dead are widely popular cartoonist Cabu, editor-in-chief Charb, 2 other cartoonists and 2 policemen. Charb had received threats and had been living under police protection.  Other victims are predominantly journalists and newsroom staff, including Bernard Maris, an economist who wrote a weekly column for Charlie Hebdo and sat on the board of the Bank of France.
The gunmen are said to be French speakers who shouted "we avenged Prophet Muhammad" and "we killed Charlie Hebdo." Charlie Hebdo had faced terrorist threats since 2006 for having published caricatures of the Prophet Muhammad.  In November 2011, its offices were the target of a fire caused by a Molotov cocktail, which forced the magazine to relocate.  Its website was also hacked.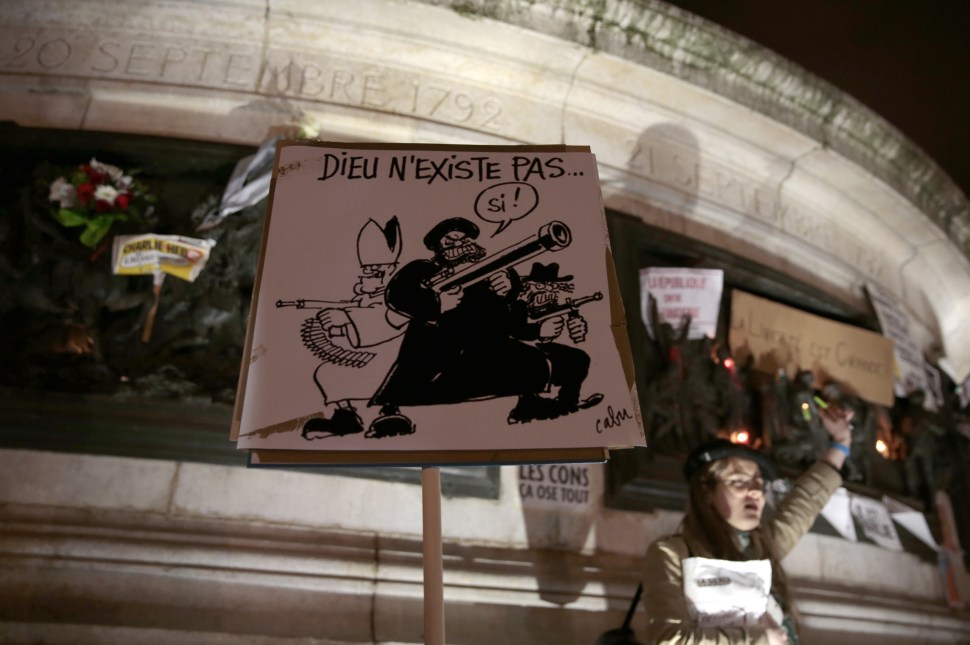 French president François Hollande rushed to the scene, called the events a 'terrorist attack' and scheduled an emergency meeting at the Elysées presidential palace. The 'Vigipirate' terrorist alert was raised again to its highest level, and security was increased at media outlets headquarters, as well as monuments, tourist attractions and other sensitive locations.  The attack was immediately condemned by the international community including the White House, the British Prime Minister and NATO. France has been fighting Islamic militants in Mali and was the earliest country to join American-led airstrikes against ISIS in the Middle East.
The attack comes at a time of increased anxiety for the French. In December, in two separate events, a man shouting "Allahu Akbar" (God is great) stabbed 3 officers at a police station close to the city of Tours, and another injured 13 by driving a car into a crowd in the city of Dijon. France is also reeling from the killing of three Jewish schoolchildren, a rabbi and three paratroopers in 2012 in the southern city of Toulouse by an attacker claiming ties to Al-Qaeda. François Hollande said other attacks were thwarted recently. Prime Minister Manuel Valls publicly said that the terrorist threat in France is at its highest level ever.
France is now in shock. Tomorrow will be a day of national mourning, Mr. Hollande announced.  The internet is abuzz with the hashtag #JeSuisCharlie (#IAmCharlie) and public gatherings are taking place in all of France's major cities as a show of support to Charlie Hebdo. Organizers with ties to New York's French community are creating a support rally scheduled for 7pm in Union Square.
Attacking Charlie Hebdo is attacking France's culture of openness and freedom of speech. It is the country's satirical spirit. The magazine is—and not 'was,' as it should continue to exist—a vector of Voltaire-style humor and of the French tradition of 'esprit critique' (critical spirit). Charlie Hebdo is an 'open mic,' one of the publications where journalists feel the freest to speak their mind, especially since the magazine purposely did not feature advertising to support itself financially. While Charlie Hebdo's latest tweet was a cartoon of ISIS leader Abu Bakr al-Baghdadi, the magazine poked fun at all, including the Pope, Jesus Christ, the political class (including extreme right leader Marine Le Pen) and other prominent personalities, writers and intellectuals of all boards (including provocateur Michel Houellebecq whose latest book has been accused of inciting Islamophobia).
Today's tragedy should serve as a strong wake up call for the Hexagon, and in particular its political class, to take the toughest stand against extremism, which is claiming an increasing number of victims.  There is no time for bickering and all politicians should regroup to pass appropriate measures. With the République under attack at its heart, France should realize with urgency what it and the Western World have been up against, and be ready for a prolonged fight against anyone seeking to undermine democratic values.  In particular, it should crack down early and hard on homegrown terror networks and no longer tolerate to be the first provider of European-born youths fighting the West in the Middle East.
Nevertheless, the French should not fall prey to a knee-jerk overreaction of nationalism and fear of others. There is a risk that an attack of this intensity may increase the popularity of the extreme right Front National party, which is highly intolerant, antisemitic, anti-immigration, anti-business and anti- anything that is not purely French. In Hungary, a somewhat similar party took over behind Viktor Orban and it is not playing out well.
While today's attack was the worst in a long time, past attacks have contributed to a climate of fear in the country. That in turn led to the rise of the extreme right, anti-Europe and anti-capitalism Front National party. Unfortunately, France does not currently have a strong leader in power in order to properly check the French spirits. One will soon be needed in light of the severity of the situation and to act as a power check to the Front National. Let us hope that in the meantime, the French are wise enough to fully understand the scale of the threat and react intelligently.
Rémy Raisner is a French-American real estate investor and CEO of Proteus Capital Management, a private investment company based in New York City. His articles have been featured in Forbes, the Philadelphia Inquirer and French daily Le Monde.