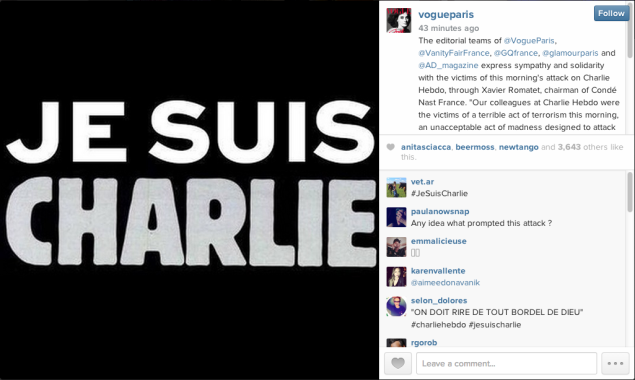 The staff of Vogue Paris is paying homage to their peers at Charlie Hebdo through a post on their Instagram account today.
The image, which reads, "Je Suis Charlie," or "I am Charlie," is currently spreading throughout social media. Charlie Hebdo's own website has been replaced with the meme in macro, along with a PDF file which shows the photo with "I am Charlie" written in seven languages, including Arabic.
Alongside the image, Vogue Paris has reprinted a statement from Condé Nast France's chairman, Xavier Romatet:
"Our colleagues at Charlie Hebdo were the victims of a terrible act of terrorism this morning, an unacceptable act of madness designed to attack freedom of expression and spread fear. The high price paid by the Charlie Hebdo team is a reminder that freedom of expression is an essential value. Now more than ever, we must defend it without compromise: this is the mission of journalism, across all sectors and across all media. My thoughts are, of course, with all those who paid for this liberty with their lives, and with their families. In the name of Condé Nast, I extend my deepest sympathies."
Charlie Hebdo is a satricial magazine that, by all accounts, is an equal opportunity offender, having taken aim at many religions, political affiliations and other sources of power. The shooters were reportedly motivated to attack the magazine's headquarters because of a series of political cartoons depicting the prophet Mohammed.
One, for example, showed a modern-day militant attacking the prophet and calling him an infidel. Another showed a cartoonist kissing the prophet along with the slogan, "Love is stronger than hate."
Cartoons enjoy a much more vaunted place in French society than they do in America. Comic books are quite mainstream, and are enjoyed by men and women of all ages. Cartoon artists are revered and often known by their nicknames. Four of those artists were killed today: Jean Cabut, known as Cabu; Stéphane Charbonnier, or Charb; Bernard Verlhac, alias Tignous; and Georges Wolinski.
Since the French Revolution, and including the May 1968 protests, France has been a place where free speech is respected and there is no establishment that is immune to criticism. The people of Paris are accustomed to frequent protests disrupting life in the city, and they largely respect their compatriots' right to express themselves and stand up for what they believe is right.
It is a shame that today, the people's ability to peacefully protest and debate was bypassed in favor of a horrible act of violence.