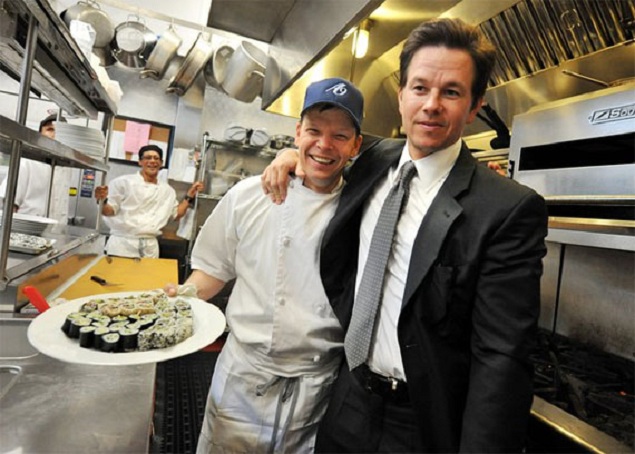 When Rasha Drachkovitch, owner of 44 Blue Productions, reached out to Mark Wahlberg about working together on a show about Wahlberg's family, little did he know what kind of an adventure it would turn out to be.
"This all started with an article that I read about Mark and Donnie opening a restaurant in Boston," explains Drachkovitch. "So we reached out to them thinking, 'What are the chances?' But, I was able to secure a meeting with Mark and his first response to the idea was, 'Do you really think people would be interested in this?' I said 'Absolutely! You've conquered music and film and television and now you're taking on the restaurant business. 'He replied to that with, 'Well, you have to get to up here to meet the family and all of the other knuckleheads that populate our lives.' Then he tells me he wants me to go the very next day and to be honest, I didn't really know where Hingham, Massachusetts was, but the next thing I knew I was flying to the Boston area to meet the whole Wahlberg clan."
Drachkovitch believes that that trip was a bit of a test. "I walked in and all of the Wahlbergs were grabbing at and pulling me. They're all very friendly and passionate and, quite frankly, there's a lot of them so it was a bit chaotic for me."
Most people are aware of two of the Wahlberg brothers, Mark and Donnie, but what many people don't know is that there are nine Wahlberg kids in total.
Under the watchful eye of mother Alma, the Wahlberg siblings grew up in one of the toughest neighborhoods in Boston, Massachusetts. The family lived in a small house and struggled for money, often subsisting on cereal or sandwiches made of bologna and 'government cheese,' as Alma so loving refers to food purchased via public assistance.
"I think people are surprised about how tough their beginnings were," says Drachkovitch. "And not many people are aware that Mark had some trouble with the law when he was young. Things were really rough for this family so it's pretty amazing where they are now."
Where they are now is Mark is not only a film star, but a successful producer as well, having gotten his start as the lead of the musical group Marky Mark and the Funky Bunch. Donnie, now starring in the drama series "Blue Bloods" also has a film career and was part of the platinum selling group New Kids on the Block.
The family also owns two restaurants, Alma Nove, an upscale establishment and Wahlburgers, a burger joint. Both are run by Paul Wahlberg, a trained chef.
Drachkovitch wanted to highlight the family restaurant business specifically, believing that viewers would be drawn in as they watch the Wahlbergs work to expand their reach into the food industry.
Apparently, Drachkovitch passed the Wahlberg family 'test' and things took off from there. "Once I got through that, a level of trust between myself and the family was born and it's been great ever since. But, it certainly wasn't an overnight thing, it took two years from concept to the airing of the first episode, but that's ok because the investment is paying off now," says Drachkovitch.
Acting as Executive Producers on the show, Mark and Donnie are very involved all aspects of production. "They want to make sure that the family element comes across. This show has a lot of heart, a lot of sentimentality. That's part of our trust with them; to make sure that they not only approved of our approach to the project, but to the execution of it as well" explains Drachkovitch.
The show not only features Mark and Donnie, but Paul and Alma garner a lot of screen time as well. In fact, the latter two Wahlbergs actually seem to be the breakout stars of the series as Paul, in charge of operations at the ground level, struggles to keep the restaurants running amid Mark and Donnie's quest for expansion, while Alma works diligently to keep the peace among the highly competitive siblings.
Also appearing on the show are Johnny Drama and Nacho Extreme, Mark's buddies from the neighborhood who, while real people, have been dramatized in the hit show "Entourage," a series produced by Mark. These are the 'knuckleheads' that Mark so lovingly insisted Drachkovitch meet early on in the production process.
Because of the size of the family and the locations of their work, producing the show is a bit of a challenge, says Drachkovitch. "Donnie's based in New York, Mark's headquartered in Los Angeles and the first Wahlburgers restaurant is in Boston. They're expanding the restaurants all over the world so it's tough to manage schedules and travel and all of that."
Drachkovitch admits that while organizing production can be taxing, the end result is worth the effort. "Once you get all of the family together it's fantastic because they're such hams. Seriously, all you have to do is just point a camera at Alma; she's so charming and funny. Then you have the rivalry among the boys that, while competitive, is never mean. It's all just fun to watch. And then there's Paul; Paul's being pulled in a million directions because everyone wants him to do things and all he wants to do is just make the burgers. It's really comedy gold with this family."
Drachkovitch hopes that viewers won't write the show off as just another trite reality program, appealing to people to give the show a try before passing judgment. "I encourage people to tune in because I think they'll be surprised by what they see in terms of how open this family is. They may be fans of Donnie, they may be fans of Mark or they may know nothing about either one, but I think what will surprise everyone is how this family came from nowhere to be successful on some many levels and yet they're so normal and grounded. People tend to think celebrities are untouchable, distance and detached, but I think you'll see that the Wahlbergs deal with the same family issues that we all deal with and at the end of the day, and they love each other and support each other. I think people will really be touched by the show."
Many viewers seem to already have come on board as Wahlburgers fans as evidenced by the fact that the show is now in its third season and shows no sign of slowing down.
Drachkovitch clearly isn't kidding when he says that his lengthy investment in the show is paying off, but what he's most happy about is that this series, a comedic look at an all-American family working hard to reach their goals, is perhaps leading the way for more shows of its kind. "I'd like to see this be a trend toward more heart and humor in reality television. I think people are attracted to that because it's rooted in truth and that's inspiring and no matter who you are or what you do, watching something that's inspiration can really be uplifting and fulfilling."
Wahlburgers returns for its third season Wednesday, January 7 at 10e/p on A&E. For more info, please visit the A&E website here.