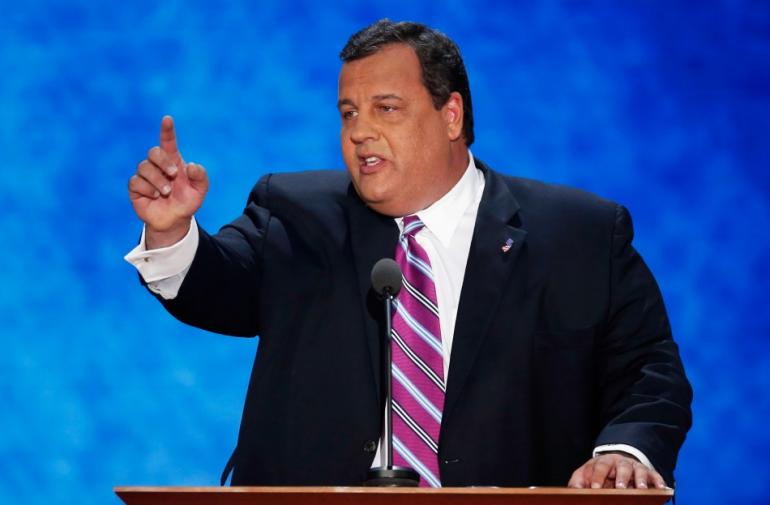 In the summer of 2012, New Jersey Gov. Chris Christie crossed the Hudson River to go to Winged Foot Golf Club in Westchester County, New York to play golf as the guest of a club member, according to a PolitickerNJ source who said he was present upon Christie's arrival. After entering the clubhouse, Christie was reportedly surrounded by club members who exhorted him to run for president.
"Governor, if you think you've got a problem with money, just look around you," one man present reportedly said.
With that, the man produced the type of credit card that only the sheik of a Persian Gulf country might have. Seconds after, the group of golfers surrounding Christie produced the same card.
"See, Chris?" the man said."No problem."
By the time Christie made his reported jaunt to Winged Foot, he had publicly repudiated that he would run for president in 2012.
"Now is not my time. I have a commitment to New Jersey that I simply will not abandon, Christie said at an October 2011 press conference in Trenton. "That's the promise I made to the people of this state when I took office."
Christie resisted the temptation to take advantage of any Republican rifts and run anyway. At times that temptation was probably great: a Fairleigh Dickinson University PublicMind poll from April 2011 showed Christie down only six points, 46 percent to 40 percent, behind President Barack Obama. The only other Republicans to do better were Mike Huckabee, former governor of Arkansas, and Mitt Romney, former governor of Massachusetts and the eventual 2012 GOP presidential nominee.
Christie is reportedly on the verge of wholeheartedly entering the 2016 Republican presidential primary fray. But although he was re-elected by a wide margin in 2013, he now faces a potentially far different political landscape that he did a bold, brash upstart new to the national stage in 2011 and 2012.
Christie's poll numbers have dipped in recent months in part because he has spent a large amount of time out of state over the past year, both as the Republican Governors Association chairman and as a presidential hopeful who is building up a national network. There are considerable concerns mounting in New Jerseyans' minds as of late. The state and federal investigations focused on the shutting down of access lanes to the George Washington Bridge, also known as Bridgegate, a sluggish state job recovery following the recession, successive downgrades of New Jersey's credit rating by rating agencies, questions about the distribution of post-Hurricane Sandy aid, an ongoing downward spiral of Atlantic City casino closures and a reversal on his signature pension reform agreement with public employees, saying that the state could not afford to make the pension payments required by the accord, have led New Jerseyans to increasingly question Christie's leadership. And as New Jersey's property tax rate, the highest in the nation, remains the state's bête noire, Garden State residents are increasingly choosing not to stay, with half saying that they want to move, according to the Monmouth University Polling Institute.
These developments, which have mostly occurred since the time Christie's name began to be bandied about as a presidential contender, still don't mean that Christie should have jumped into the ring in 2011, according to Patrick Murray, director of the institute.
"He wasn't a well-enough-known commodity at that point, and you have to be somewhat better known to be brought in as the savior of a divided party late in the game," Murray said. "If he had started running a campaign for real in 2011 after having only been in office for a year, he never would have been taken seriously."
Rick Wilson, a Florida-based Republican consultant who has advised presidential campaigns, also thinks that Christie's moment was not in 2012 for a reason that could also resonate in 2016.
"Christie would have been raising from the name pool of money that Mitt Romney was raising from, and I think Romney was much more established brand with [the GOP donor class]," Wilson said. "Unlike the extraordinary moment in the 2008 Democratic primary process, where Democrats were looking for a superstar who punched all the progressive buttons in their hearts and their heads, there is no one in the Republican Party, except for the donor class, that wakes up in the morning and says 'Save us, Chris Christie.' There's just not the same kind of emotional resonance there. Christie is going to be caught in a fundraising vice between Romney and [former Florida governor] Jeb Bush. And if he's not as ideologically conservative as he needs to be to survive a Republican primary, he won't be able to have the unlimited financial resources he looked like he might have a year-and-a-half or two years ago."
For Ben Dworkin, professor of political science and director of the Rebovich Institute for New Jersey Politics at Rider University, timing plays an uncertain role in Christie's place in presidential politics.
"There is never a perfect time to announce, and a presidential campaign is a multi-year process. In any given year, it's going to be ideal for you to be in the race, or not ideal," Dworkin said. "Part of his appeal to the Republican electorate is that he can win in blue states, which is reinforced by his re-election. [Christie], intellectually and probably emotionally, is much more prepared now for a presidential race. As for his record [since 2012], it will matter, and the level to which it will matter depends on how much Christie's opponents in a Republican primary are going to make it matter. Christie's whole image has been predicated on him being the atypical politician. Anything that just makes him seem like a typical politician, like Bridgegate, helps paint a different portrait of the governor."