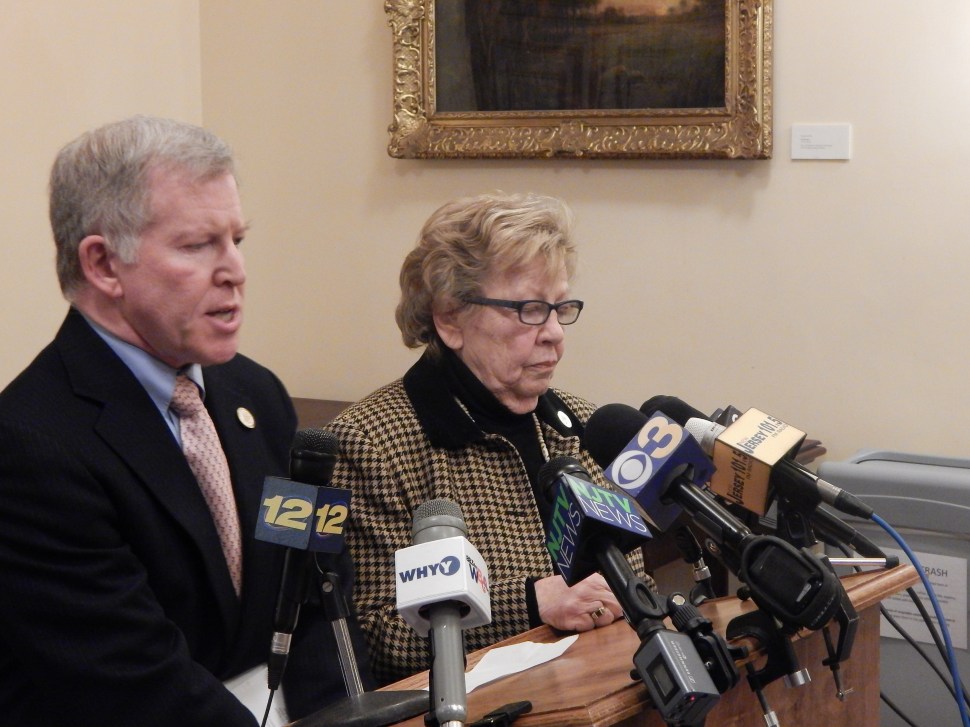 TRENTON — Veteran North Jersey Democrat, state senator, and self-proclaimed "fiesty Jewish grandmother" from Bergen County Loretta Weinberg (D-32) today shredded Gov. Chris Christie's acceptance of a private jet flight and luxury box seats at a Dallas Cowboy's game from the team's multimillionaire owner Jerry Jones this weekend, suggesting that it doesn't do much for the potential 2016 Republican presidential contender's "everyman" image.
"I think that it just — I think that it showed a governor who is apparently tone deaf to the regular Jersey guy who doesn't get flown on a private plane to see a football game, sit in the owners box, have some type of a business relationship that could have existed," Weinberg, speaking during a press conference in the statehouse today, said of the scene. "You think that, you know, maybe this doesn't look a little strange? Well it does."
Weinberg's comments come amid what appears to be an ongoing bromance between Christie and Jones. The pair captivated the national media's attention this week after Christie, who's expected to announce his plans for a presidential run later this month, was caught bear-hugging the football magnate at Sunday's playoff game.
The hug heard round the world, however, was quickly followed by questions about the ethics of the whole situation, as Christie allowed Jones to spend millions of dollars on a private jet flight to Dallas and luxury box seats at the game for him and his family. The governor's office has shrugged off criticism of those gifts, arguing they were lawful because, under an executive order signed by Christie in 2010 that revised the office's code of conduct, implemented by former Gov. James E. McGreevey in 2003, the governor is allowed to accept favors from "personal friends."
Other aspects of Christie's relationship with Jones that have also received scrutiny include Jone's connection to a business deal between the Port Authority, which Christie jointly controls, and a company licensed last year to manage the observatory atop One World Trade Center. The Port Authority owns One World Trade Center, while the Cowboys are part owner of the company licensed to run the observatory. Christie's office has brushed off those criticisms as well, saying his relationship with the team's owner began after that deal was cut.
Weinberg later ripped into comments made by the executive director of the New Jersey State Ethics Commission, Susanna Guerrero, who also seems to have been defended Christie's trip.
"Only in New Jersey could the executive director of an ethics committee make an immediate — without even looking at the facts of the situation — say well, he sort of went as a private citizen," Weinberg said, to which one reporter in the room quipped, "'sort of' is a legal term."
Laughing, Weinberg harkened back to her days of raising children: "They always said 'sort of' whenever I asked if they were in trouble, maybe yes and maybe no," she said. "But he 'sort of' went. And that's the executive director of the ethics commission. We have some work to do here on our whole ethics."