Reading Donald Linky's new book New Jersey Governor Brendan Byrne, the Man who Couldn't be Bought, and couldn't resist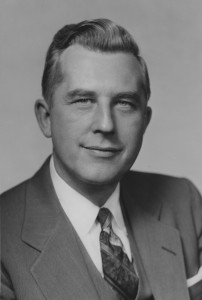 posting a Throwback (insert primal scream here) Thursday.
Jammed with New Jersey political history, Linsky in Chapter 4 offers a most concise synopsis of the late Governor Robert Meyner's rise to power, interesting in part because of its illustration of the command Hudson had at the time, and an alliance between – of all places – Hudson and Warren counties.
"Meyner's election came as a bit of a fluke," writes Linsky. "A World War II veteran well-known trail lawyer, Meyner had been elected in 1947 to the state senate representing Warren County, but after a single term had been defeated in 1951 for re-election. Despite the loss, he won the Democratic gubernatorial nomination in 1953, a victory aided by the powerful Hudson County organization.
"Former Hudson County boss and longtime Jersey City Mayor Frank Hague supported Elmer Wene, the Democratic gubernatorial nominee in 1949 and a former Congressman and state senator from South Jersey, while Hague's one-time protege and the then Jersey City mayor, John V. Kenny, threw his support to Meyner in a successful effort to block both Wene's nomination and Hague's attempt at a political comeback.
"Carrying only three of the 21 counties in the primary election, Meyner won by less than 1,700 votes, aided substantially by the 30,000-vote plurality produced in Hudson County by John Kenny."
An interesting question such reading provokes, too, is – in the midst of all the chest-thumping talk of unity in Hudson County – much poked and prodded by Jersey Journal columnist Augie Torres – will Hudson truly be unified when it counts come 2017?
Maybe the answer is as simple as the single dominating name in this story.
We'll see.
Assemblyman Tom Giblin (D-34) pointed out to PolitickerNJ that an issue other than the county line, however, decided that 1953 gubernatorial election.
It was a letter Meyner's primary opponent, Paul Troast, a contractor who had dealings with the Operating Engineers, wrote to New York Governor Thomas Dewey. In the letter, Troast requested a pardon for labor leader Joe Fay, who was in prison for extortion.
Dominant at the time, The Newark Evening News printed that story about the letter and it sank Troast on Election Day.
"Troast was as honest as the day is long," said Giblin. "He was going to win that election. 'Watch who you write your letters to,' that's the moral of the story."For more on the story, read Linky's book, and/or read a 1995 interview with former Evening News reporter Joseph Katz here.