Now that the 2015 Academy Award nominations have been released, speculation on winners abounds and gossip over perceived snubs by the Academy is buzzing. Without any clear-cut rivalries or dramatic narratives brewing, this is the perfect year to focus even more on the dynamics at play on the red carpet.
What an actor wears on the red carpet can send a powerful message to fans, casting directors, the media and, of course, the Academy. The right gown can elevate someone from starlet to A-lister, or from party girl to polished fashionista. Johnny Depp, for example, has solidified his reputation as Hollywood's resident tortured artist and bad boy in part by showing up at red carpet events with tousled hair and no tie.
At the Oscars, even outfits widely considered to be missteps have a way of making it into the red carpet hall of fame. In a year when the films are not as compelling as they have been in the past, the spotlight will shine even brighter on red carpet choices. Here are our predictions for how each nominated actor and actress will make this work for them.
BEST ACTRESS
Julianne Moore, Still Alice: Ms. Moore is likely a shoo-in for this award, as she's overdue for an Oscar and the competition is slim in this category this year. In terms of fashion, she favors shimmery, art deco-inspired gowns, or bold colors — while always selecting something that enhances her bright red hair, rather than clashes with it. She'll likely go the flapper route at the Oscars, since dressing in sequins, glitter and feathers has buoyed her to the list of nominees. She has likely called on close friend Tom Ford to whip a gown up.
Reese Witherspoon, Wild: Ms. Witherspoon is probably not going to win. But, real-life Tracey Flick she is, she won't let this stop her from dressing like an icon of the silver screen. A classic, body-hugging Armani gown in a deep jewel tone is a likely choice.
Rosamund Pike, Gone Girl: Ms. Pike is unlikely to win, and she seems like the type to show up and make the best of the fact that she was nominated. Judging by her majorly risky Vera Wang gown at the Golden Globes, she is from the January Jones school of red carpet fashion: show skin, have fun, and eff the haters. Expect a light-hearted (for the Oscars, at least) Prada or Alexander McQueen dress.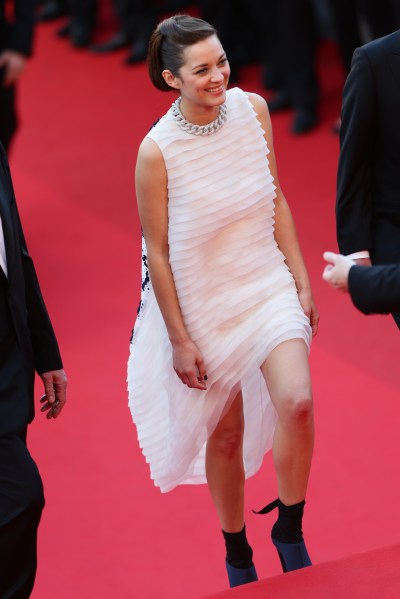 Marion Cotillard, Two Days, One Night: When you're on Dior's payroll and you get an Oscar nod, you wear Dior to the ceremony. Bet on something extra-pretty, since Ms. Cotillard was completely sans fards in the Sundance-selected movie for which she's nominated.
Felicity Jones, The Theory of Everything: At 31, Ms. Jones is the youngest of the Best Actress nominees this year. She would do well to pick something especially sunny and bright, reminding casting directors everywhere of her relative youth compared to the year's other Oscar-bait actresses. A Marchesa design would acknowledge that she's arrived, but she's not a legend just yet. Plus, it might get her an in with Ms. Chapman's husband, Harvey Weinstein. Ms. Jones could use a fun, indie role after her tearjerking turn in Theory.
BEST ACTOR
Steve Carell, Foxcatcher: Mr. Carell will continue his campaign to remind everyone that he's a serious actor, not just Michael Scott, Brick Tamland and a 40-year-old virgin rolled into one. Expect something exceedingly classic and buttoned-up from him; the tux-iest of tuxes, perhaps even tux-ier than what he wore to the Golden Globes, pictured above, which he paired with smart-guy glasses for going over Shakespeare's First Folio. Tom Ford would be a great choice; handsomeness is imperative after Mr. Carell's creepy turn in Foxcatcher.
Bradley Cooper, American Sniper: Mr. Cooper was unfairly passed over two years ago after his role in Silver Linings Playbook in favor of Daniel Day-Lewis's extended Abraham Lincoln impression. And this won't be his year either, as Michael Keaton has Best Actor in the bag. Mr. Cooper should show up in one of the more fun suits of the evening to show that he's not desperate. A luxe velvet smoking jacket from Gucci, maybe even in deep burgundy or navy blue, would be a great choice for the star to show the Academy he's settled into his role as an A-lister and he's comfortable in an awards show setting.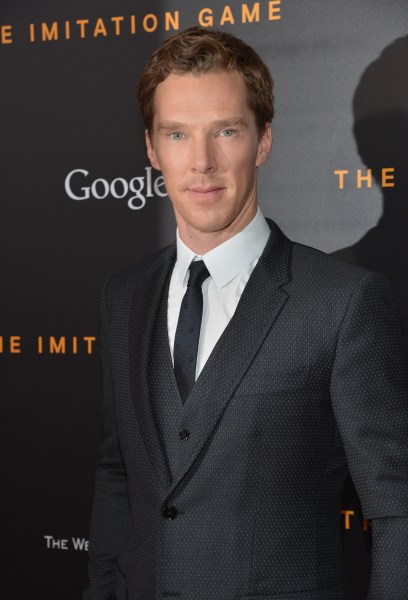 Benedict Cumberbatch, The Imitation Game: Mr. Cumberbatch has so many legions of fans and such a distinctive look, his clothing usually feels like an afterthought. He'll go for a classic suit or tuxedo with a plain white pocket square and the Internet will swoon either way.
Michael Keaton, Birdman: The likely Best Actor winner will want to assume a relaxed, casual vibe that implies a complete lack of desperation. A conventional — perhaps even slightly rumpled — suit will show that Mr. Keaton has been around for long enough and has honed his acting chops to the extent that he doesn't have to try too hard to convince people of his star potential. And after the Oscars, his statuette will do all the work when it comes to securing him the best of the best new jobs. We could see him in Burberry.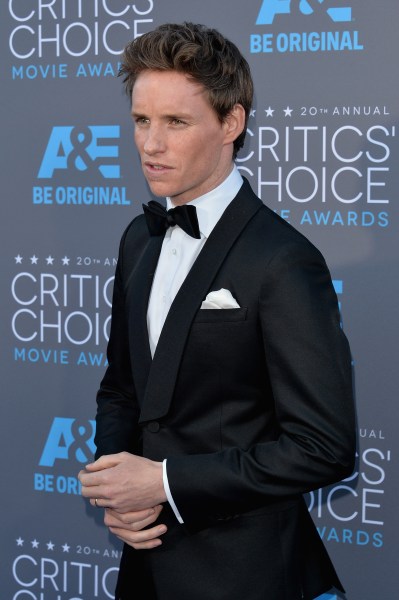 Eddie Redmayne, The Theory of Everything: As the youngest Best Actor nominee, Mr. Redmayne's career-boosting strategy will be the exact opposite of his costar Ms. Jones: he should strive to look as buttoned-up as possible so that he seems like an established actor who can hang with the big boys (which he is, thanks very much). That said, he has been known to favor velvet, tweed and even colorful suits and jackets. Maybe a deep grey, almost silver suit by Burberry would be a good choice for him.
BEST SUPPORTING ACTRESS
Meryl Streep, Into the Woods: A lesser actress would go out of her way to pretty herself up for tonight's event after having spent months in witch makeup in the film for which she's nominated. Ms. Streep, however, doesn't care if your mental picture of her right now includes a grayish pallor and fake wrinkles. She will dress the way she usually dresses: intimidatingly chic yet somehow relatable, like a mother of the bride who is equal parts serenely gorgeous and wickedly funny. She has worn Lanvin to the Oscars for the past three years, but she just might switch back to her signature full-skirted gown from either Oscar de la Renta or Carolina Herrera.
Laura Dern, Wild: A favorite for the Supporting Actress win, Ms. Dern usually favors warm colors such as orange, coral, taupe and light pink. Since nominees usually attempt to look extra sophisticated and elegant on Oscar night, we wouldn't be surprised to see a deep fuchsia, red, or even a subdued metallic gold gown. Vera Wang comes to mind as a top designer candidate.
Keira Knightley, The Imitation Game: Ms. Knightley is a wildcard here and the least likely to win the statuette, which means we can probably expect something off the beaten path. She went with a truly batty, moth-encrusted Chanel dress at the Golden Globes. It was an alteration of a look from the label's recent Métiers d'Art collection. This time around, she'll likely wear Chanel again thanks to her endorsement deal with the iconic fashion house. We'd love to see her dive deep into Chanel's archives and pull out something massive, brocaded and truly one of a kind.
Patricia Arquette, Boyhood: Ms. Arquette never shies away from wearing black — but since she just donned the darkest color for the Golden Globes red carpet, it's likely she'll go for a forest green, deep blue or burgundy frock. She shines when she sticks to clean, classic lines. A subdued Michael Kors selection would be great on Ms. Arquette, who, fresh off a Golden Globes win in the same category, has a shot at winning this award.
Emma Stone, Birdman: There's a slight chance Ms. Stone could swipe the Supporting Actress nod out from under front-runners Ms. Dern and Ms. Arquette. This, coupled with her standing as a newcomer to the Academy, means she will likely go the elegant, classic route to cement her official status as part of Hollywood's cream of the crop. Her Lanvin pantsuit at the Golden Globes was an utter triumph, emphasizing both Ms. Stone's youth and her sophistication at once. Hopefully, at the Oscars, she will have another slam dunk with a similarly polished yet risky ensemble. A sculptural Lanvin or balloon-skirted Giambattista Valli gown would be amazing.
BEST SUPPORTING ACTOR
BEST SUPPORTING ACTOR
Robert Duvall, The Judge: At 84 years old, Mr. Duvall is the oldest best supporting actor nominee ever. He incredibly never won for his work on the Godfather movies, but how could he have when his own castmates were his stiffest competition? Mr. Duvall will likely opt for the most classic of classic suits by an all-American designer such as Brooks Brothers or Ralph Lauren. He is our greatest hope for turning up in an ascot.
JK Simmons, Whiplash: The most dad-like of all the nominees this year, good old JK Simmons showed us his scary side as a music teacher who is a perfectionist, to put it mildly. As the wildcard of this year's Supporting Actor nominees, he will want to look buttoned-up and polished to show that he does, in fact, belong at the Academy Awards. A classic Ralph Lauren or Tom Ford suit is likely.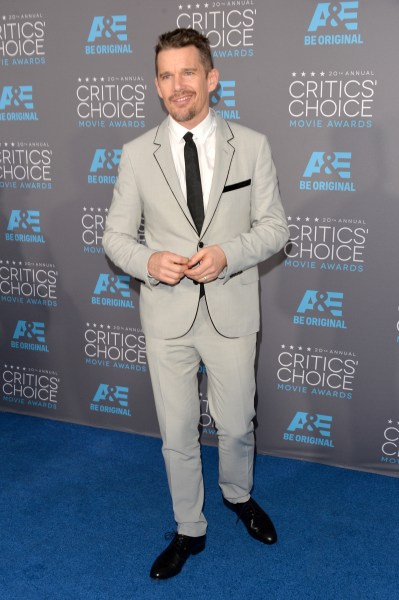 Ethan Hawke, Boyhood: Mr. Hawke is a front-runner for this award, which might be the most competitive this year. He will not let this affect his clothing choices, though. A walking moodboard for rakish, rumpled style, he is likely to play with texture and color, or leave his bow tie askew. He has favored Prada in the past, but the Burberry look at right would be great on him, with a shirt and tie rather than a silk scarf, of course.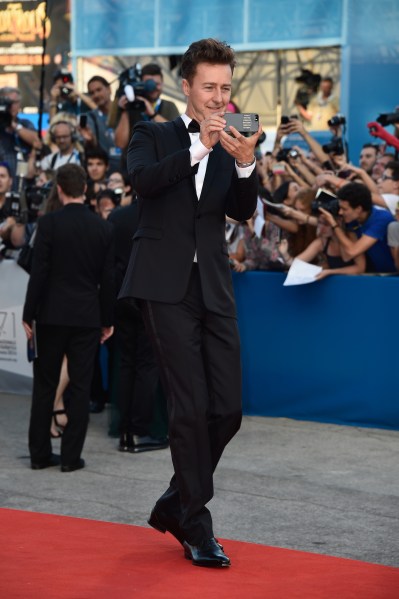 Edward Norton, Birdman: Mr. Norton totally stole the show in Birdman, and it would be great to see him do the same on the red carpet. A deep purple velvet jacket would be a fun choice, but he might play it safe with a classic tuxedo so that his acting continues to do the talking.
Mark Ruffalo, Foxcatcher: Like Mr. Norton and Mr. Hawke, Mr. Ruffalo could turn up looking less-than-buttoned up. He is unlikely to clinch the award, so he might go the classic route to ensure the Academy keeps in mind that he is Oscar material when it's time for nominations in the future. He is the most likely of the nominees to turn up with fun facial hair.