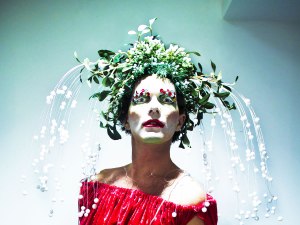 At the "Under the Radar" Festival, the Public Theater's annual alternative showcase of world theater that starts tomorrow (January 7) and runs through the 18th, last-minute immigration hassles may prove to be more of a problem than attracting crowds. About 20 avant-garde shows are scheduled to be presented at the Public and partner venues, but while the Brazilians and Swedes are already chatting each other up in the lobby, the Argentines have missed their plane, we're told, and visas for the French and Iranians are still pending.
Mark Russell, co-director of the festival, spoke with The Observer to offer a preview of some of the more highly anticipated shows. "Things are buzzing," he said. "Four tons of steel," part of a double-decker theater set from Argentina, "are being hauled up to the third floor, and in the Anspacher Theater, 2,000 tennis balls are being put on stage" for a piece based on the work of David Foster Wallace: A (radically condensed and expanded) Supposedly Fun Thing I'll Never Do Again directed by Daniel Fish.
Here's some highlights (In most cases, tickets are $25, but some events are free; works in other languages are generally subtitled):
Downtown cabaret favorite and Obie-winner Taylor Mac, pictured above, will bring his cult hit, A 24-decade History of Popular Music: 1900-1950's, to New York Live Arts as part of the festival. Performances will cover 1900-1920 or 1930-1950, but the whole thing will be performed in a six-hour show on January 25th. January 13-17, plus the 25th.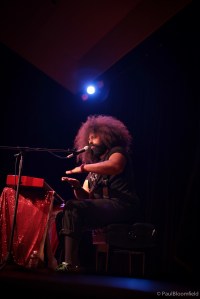 Reggie Watts, who is set to become the new band leader for James Corden when he starts hosting The Late, Late Show in March, is getting all artsy with Audio Abramović. Riffing off a famous MoMA piece by the performance artist of the title, a single audience member will sit with the comedian/beatboxer for a personalized five-minute performance. Tickets will be distributed on the day of the performances, first-come-first-served. January 14-18.
The Cardinals, presented by the British company Stan's Cafe, follows three religious puppeteers who tell bible stories with puppets — but they've lost their puppets. Aw. "When they came in 2007," says Russell of the company, "they did a piece that required bringing five tons of rice to the World Financial Center, one grain for each citizen of the United States." He called this work "hilarious, poignant and political." January 12-18.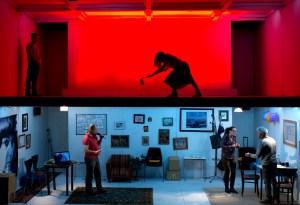 Russell, who's worked with more than a few directors, calls Argentine author and theatre director Mariano Pensotti,"a genius". His Cineastas follows four filmmakers in Buenos Aires on an two-tiered set and mimics cinematic techniques like cross-fades, long takes and voice-over narrations. "You don't often get the narrative voice in the theatre," says Russell. "You expect things to roll out in dialogue, it's almost novelistic."
Iran's Amir Reza Koohestani trained as an engineer, says Russell, "and started writing plays after a breakup and then won a contest for his first play," 2004's Dance on Glasses. Timeloss, the current work, revisits that piece with two actors portraying the actors from the former play. "It's about the difficulties of being a young person in a love relationship in Iran now," notes Russell, "a country that has certain rules." January 16-18.
Presented at the Ellen Stewart Theatre by festival partner La Mama, Spain's "ingenious" Agrupación Señor Serrano presents Brickman Brando Bubble Boom, which, according to Russell, is "the financial crisis channeled through the life of Marlon Brando." Works for me. During the performance, "they build a house on stage out of styrofoam."
And that, ladies and gentlemen, is avant-garde theatre.
For schedule and ticketing information, go to www.undertheradarfestival.com.