Now that NBC's hit show Friends has been released on Netflix, people everywhere have decided to quit their days jobs, stop showering and will refuse to leave the house or answer the door except for anyone other than the guy from Seamlessweb.com. His name is Gunther, by the way. Everyone's name, to you, is now Gunther.
To be fair, no one told you life was gonna be this way. Not when Friends came to Netflix. Not when you were forced to look deep inside yourself and decide: Were you a Monica, a Phoebe, the very sexual one man was I believe Italian, the funny man who read dinosaur bones like they were the relics from his failed marriage, the lady with the haircut, or the other funny man (not Jewish)(??!). Or Jennifer Aniston.
You might have a hard time differentiating yourself from the characters on Friends. It happens. Much like them, you manage to live in a New York City loft with only one or two roommates, which you afford with your earnings as a chef/advertising career of some sort(?)/associate professor's salary/massage therapist(?)/bit player on a soap opera/whatever Rachel did. Ahead of its time, Friends was a show that predicted the trend of people hanging out in one coffee house, as well as the rise of young tech moguls named Peter and the relationship status commonly referred to as "on a break."
So while there are many quizzes out there designed to let you know which character from the TV show Friends you may be, this quiz is 100 percent guaranteed to give you the correct result, every time.
Begin.
1. You are confronted by this situation. Response?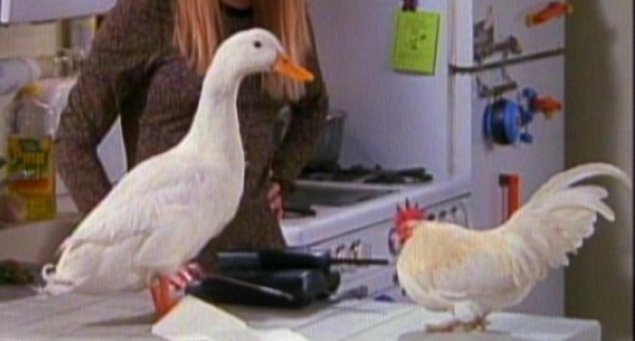 A) "Ah…Ross?" *flip hair*
B) Nothing, because you take pride in your households cleanliness and such infestation would never manifest.
C) "How YOU doing?"
D) Sing your song, "Smelly Cat."
E) Use humor to diffuse the situation.
F) Throw dinosaur bones at it till situation resolves.
2. How would you describe your hair?
A) A "Rachel"
B) Inside of a chicken
C) Blond and spiritually awakened.
D) Lots of product
E) Sometimes long, but when you get fat, it's shorter.
F) Dorky
3. What order do you come in the credits?
A) Ah…first? *flips hair*
B) Second, which is fine for a former fat girl married to Chandler Bing.
C) Who cares about order? They're just like, numbers made up by people. That's boring!
D) Heeeeeey! (Fourth.)
E) Jeez, fifth place. Could I BE anymore of a loser?
F) Uh, hey, I'm right here. *raises hand*
Cue Audience Laughter
4. What is your favorite type of food?
A) Ross Gellar.
B) Air.
C) Hemp.
D) Sandwiches.
E) Cheese. It's milk that you chew.
F) A fistful of Oreos.
5. What is your most successful achievement to date?
A) Raising a baby as a single mother, with only the help of the father of the child, my male roommate who is in love with me, and my two best friends down the hall.
B) Getting hired at that fancy restaurant.
C) The Comeback
D) Not dying.
E) I found three quarters under the sofa today, so that was pretty neat.
F) Friends
RESULTS:
Mostly As) YOU ARE THE ONE WITH THE HAIR. YOU ARE MATERIALISTIC AND USED TO BE ENGAGED TO A MAN NAMED BARRY. HE WAS A DENTIST. YOU HAVE GOOD ORAL HYGIENE AND WILL NEVER BE INVITED TO WEDDINGS.
Mostly Bs) YOU ARE GAIL WEATHERS FROM SCREAM AND YOU MARRY THE GUY FROM SCREAM. YOU DIVORCE HIM LATER. YOU ARE A LITTLE TOO SKINNY. COUGAR TOWN IS UNDERRATED.
Mostly Cs) YOU ARE NOT WHAT YOU SEEM. PEOPLE CONSTANTLY UNDERESTIMATE YOU, BECAUSE OF THE WAY YOUR VOICE IS. DO NOT LET THE HATERS HATE. YOU WILL WIN AN EMMY.
Mostly Ds) PEOPLE ESTIMATE YOU JUST THE RIGHT AMOUNT. YOU WILL WIN A GOLDEN GLOBES AND BE NOMINATED FOR SO MANY EMMYS, IT'S UNBELIEVABLE. GOOD LUCK WITH THE SPINOFF.
Mostly Es) SARCASM HIDES THE FACT THAT YOU ARE A SENSITIVE SOUL. YOU THINK YOU DON'T DESERVE YOUR WIFE, BUT YOU DO. YOU ARE THE ONE WE ALL SECRETLY WANT TO SLEEP WITH. ONE DAY, YOU WILL BE EXPLOITED BY AARON SORKIN.
Mostly Fs) YOU ARE ROSS.