Dear Governor Deval Patrick:
I respectfully write to you today in support of Mr. Mark Wahlberg's petition for pardon for a crime to which he pleaded guilty in 1988.
My relationship with Mark is unique, in that he can literally be credited with saving my life. Last year I was under house arrest in Bolivia following nearly two years of incarceration at Palmasola Prison, the only American among 3,500 of the world's most dangerous criminals, despite never being formally charged with a crime. The details of my ordeal are complex, but for one to appreciate the magnitude of Mark's actions, which eventually helped save my life, I must provide you with context, beginning with my time inside one of the world's most horrendous prisons.
A routine business transaction inexplicably turned my world upside down. One day I was a successful businessman—a family man living the American dream—who was pursuing a venture in Bolivia. The next day I was plunged into an indescribable hell that will haunt me until the day I die. To most, hell is an abstract concept. To me, hell is an experience that has left me in a state of perpetual emotional struggle, fraught with isolation and discord. I must accept that, ultimately, I will never be able to sufficiently articulate my ordeal to another person. No frame of reference exists to communicate the Kafkaesque experience of being wrongfully incarcerated in a foreign country under such deplorable conditions.
During my nearly three years of captivity in Bolivia, many efforts were made on my behalf, including a petition to the White House, signed by over 35,000 citizens. Congressman Chris Smith of New Jersey traveled to Bolivia to meet with government officials and upon return led multiple hearings in front of Congress to call attention to my situation. And hundreds of supporters attended a rally at New York's Bolivian Mission in 2012. Sadly, all of these efforts proved futile against the deep-seated corruption within the Bolivian government and legal system, which virtually ensured that, despite my complete innocence, I would remain incarcerated for the rest of my life. My family and I lost hope that I would live to see another day of freedom. Nevertheless, the efforts on my behalf continued.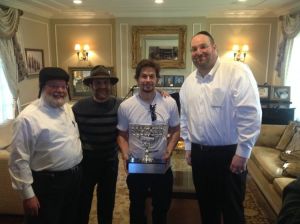 A young rabbi, Zvi Boyarsky of the Aleph Institute, began reaching out to anyone with influence who might be able to assist, and mentioned my plight to Mark Wahlberg. Mark felt instantly compelled to act on behalf of a complete stranger, his sole motivation being the desire to help an innocent American rotting in a Bolivian prison. Mark decided to make every effort to pursue my release. One of those efforts was a call to his friend, Sean Penn.
Mark considered Sean Penn's relationship with various Venezuelan leaders—including then President Hugo Chavez—as potentially useful on a diplomatic level. He implored Sean to use his relationship as a tool toward opening a dialogue with the Bolivian authorities. Having thoroughly researched every facet of my imprisonment, Mark briefed Sean on the intricacies and persuaded him to take a dedicated interest in the matter. Like Mark, Sean was deeply affected by the insanity of my situation. Together, they agreed that inaction was simply not an option. My life was at stake, and regardless of the fact that I was a complete stranger, they could not stand by and allow a miscarriage of justice to perpetuate itself. Sean immediately initiated a dialogue with the Bolivian government.
After Sean's meeting with the President of Bolivia, I was released to a hospital weighing 107 pounds (down from 180) and subsequently confined to house arrest, still never having been charged with a crime. Over the course of the next year, while remaining under house arrest, 15 Bolivian officials—prosecutors for the Bolivian Minister of Government, an official in the Ministry of the Presidency, the Head of Internal Affairs, the judge who arbitrarily decreed my imprisonment, and many others—were arrested for their involvement in what is now understood to have been a widespread government extortion ring. As I write this, the criminals involved remain in prison.
Despite the fact that the corruption was being exposed, I remained under house arrest in Bolivia. Moreover, as additional Bolivian officials were implicated, threats against my life, as well as my attorney's life, became increasingly frequent. I was in danger, and waiting for a release was not an option. For me to survive to see my family again, to return to US soil, I would have to escape. With the aid of experienced professionals, a plan for my escape was constructed and painstakingly executed, the understanding being that failure would almost certainly result in my death. I wish I could elaborate in greater detail, but the sensitive nature of the information prohibits me from doing so. I can simply state that I would soon find myself on a plane back to America, arriving in California on December 16th, 2013, a free man after nearly three years in hell.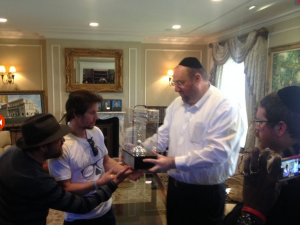 This letter is written near the one-year anniversary of my return to the US, the day that I reclaimed my freedom. One year ago my parents, elderly Auschwitz survivors, put their arms around me and with tears streaming down their faces told me they were convinced they would never see me again. My children, my grandchildren, my entire family and my friends had all become resigned to the fact that I would die in Bolivia, never again to experience the gift of life together with them.
I am alive today in large part because of Mark Wahlberg. That is not hyperbole. Had Mark Wahlberg not dedicated himself to pursuing my release, I would still be in that hell today, without a semblance of hope or a reason to live. I thank G-d for Mark's efforts.
It is extraordinarily difficult for me to recount and articulate this most devastatingly harrowing experience. The mere thought of Bolivia, of a single moment in prison, is traumatizing. But this is a matter of urgency that supersedes my own struggles, because I am cognizant of the fact that without the aid of Mark Wahlberg, I would be living said trauma, rather than describing it in writing.
At the age of 16, Mark made a mistake that has haunted him each day thereafter. The assault of two young men was an unconscionable act that ought never be minimized or trivialized. However, Mark has never hid from the mistakes of his youth. He has confronted the issue time and time again, expressing not only his contrition, but an understanding that accepting and admitting one's mistakes is necessary if one is to learn from them. How one responds to one's mistakes is what defines us as individuals; it's what demonstrates our character.
I know Mark Wahlberg through his efforts on my behalf. We do not socialize regularly, and I'm not a member of his entourage. I don't attend dinner parties at his home or sit courtside with him at Lakers' games. Rather, I know him through his actions, which are in fact the truest indicator of one's character and one's essence. Following my escape from Bolivia, Mark visited me, expressed his concern for my well-being and insisted that I not hesitate to contact him if I needed "anything."
Mark has committed himself to myriad philanthropic and charitable causes over the years. He founded the Mark Wahlberg Youth Foundation, an organization dedicated to improving the quality of life for inner city youth. He is actively involved with the Good Shepherd Center for Homeless Women and Children, St. Francis Food Pantries and Shelters, The Wounded Warrior Project, The Red Cross, and several other organizations and causes. He strives to be a dedicated husband and father as well.
Mark went way beyond any imaginable limit to help save the life of a complete stranger, and did so with the purest of motives. That speaks to his innate compassion and the type of person he has become since the unfortunate episode of 1988.
The Hebrew word 'L'chaim' translates as "to life." It's used as a standard toast at Jewish gatherings and celebrations, "to life!" Mark Wahlberg saved my life. He is the reason that, after four years, I lit Hanukkah candles with my children and grandchildren last month. Together, we celebrated the true meaning of Hanukkah—freedom—which had special symbolism this year given my personal struggle. I will forever cherish those moments with my family, and I have Mark Wahlberg, among others, to thank for it.
I was given a second chance at life because of Mark Wahlberg. I respectfully ask that you consider granting Mark with an official pardon, a symbolic second chance. Mark Wahlberg will continue to be a man of integrity with or without a pardon. In my opinion, his countless positive acts over the past 25 years have eclipsed the mistakes of his youth. Especially in light of the fact that the victim, Johnny Trinh, publicly declared his unconditional forgiveness, I believe that a pardon is appropriate. A pardon will serve to officially recognize 25 years of positive growth, and given the spotlight under which Mark is forced to live his life, will underscore how change is possible, and provide a source of inspiration for others who strive to better themselves.
I thank you for your time.
Sincerely yours,
Jacob "Yanky" Ostreicher