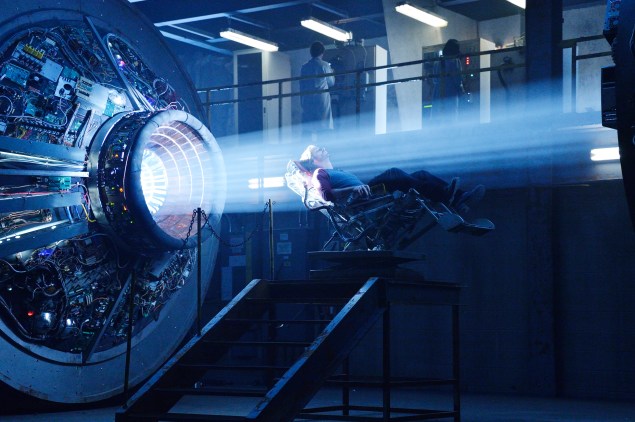 Is your New Year's resolution to spend countless hours inert in front of a television set? Good! Ours, too. Here are the seven best new shows to look out for in the early months of 2015.
12 Monkeys (January 16, Syfy) 
Based loosely on Terry Gilliam's 1995 head-trip of the same name, 12 Monkeys follows time-traveler James Cole as he journeys back from 2043 to stop a humanity-destroying virus. Unfortuantely, people, that virus occurs in 2017, but that does mean we can enjoy at least three seasons of this confident, visually striking reminder that SyFy wants to leave its Sharknado stigma in the past.
American Crime (March 5, ABC)
Unfortunately, this isn't American Crime STORY, the Ryan Murphy American Horry Story meets OJ Simpson confuse-athon coming…sometime. Fortunately, this is American Crime, and it sounds great. John Ridley, who won the Best Adapted Screenplay Oscar for 12 Years a Slave, is taking on everything from racism, to classism, to gender inequality in this sprawling drama in the wake of a racially-charged murder. If American Crime doesn't end up trying to take on too much, it may end up being as important as it sounds.
Better Call Saul (February 8, AMC)
How do you follow up arguably the greatest television show of all time? That's the question the world is asking Vince Gilligan as he brings Better Call Saul to the world. It helps that Mr. Gilligan is involved in the first place, as the showrunner-to-rule-all-showrunners earned audience's trust tenfold with Breaking Bad. For Saul, the incredible Bob Odenkirk returns to reprise his role as the criminal lawyer six years prior to Breaking Bad, before he put the emphasis on the word "criminal." By the way, we've seen early episodes and it's great.
Fresh off the Boat (February 4, ABC) 
It helps a lot that this sitcom, based on the memoir of the same name from celebrity chef Eddie Huang, looks genuinely funny. Too many sitcoms in 2014 had all the bells, whistles and gimmicks but failed to actually provide the laughs. But even more so than humor, Fresh Off the Boat as a sitcom in 2015 is notable because it centers around an Asian American family, an aspect of life that has been criminally underrepresented on TV basically since Margaret Cho's 1994 sitcom All American Girl. Funny is great. Change is better.
The Nightly Show with Larry Wilmore (January 19, Comedy Central)
There aren't many show business shoes larger to fill than Stephen Colbert's shoes, nor many time slots with more pressure on it than the one formerly held by the Colbert Report. But we must remember that once upon a time the now mighty Stephen Colbert was a mere John Stewart correspondent — much like Larry Wilmore. And even of Mr. Wilmore never served as "Senior Black Correspondent" for the Daily Show, he would also have writing and producing credits on countless comedies, from In Living Color to The Bernie Mac Show to The Office.
The Slap (February 12, NBC) 
The Slap strictly as a premise is, well, it is a hard show to sell. A family's darkest secrets are revealed and internal strife is set in to motion after a cousin, played by the ever-stoic Zachary Quinto, slaps another couple's child at party. But this eight-episode mini series, based on a series from Australia, promises to be, if nothing else, eventful. Rounding out the diverse cast is Uma Thurman, Peter Sarsgaard, Mary-Louise Parker and Brian Cox.
Unbreakable Kimmy Schmidt (March 6, Netflix) 
Doomsday cults! Robots in Time Square! Tina Fey! We're not sure what else you really need to be convince to watch, or day we say, binge Netflix's newest comedy, which it nabbed from the network fingers of NBC back in November. Created by Ms. Fey and her 30 Rock cohort Robert Carlock, Unbreakable stars Office-alum Ellie Kemper (who played the timid Erin) as a woman freshly escaped from a cult, trying to start life over in New York City.