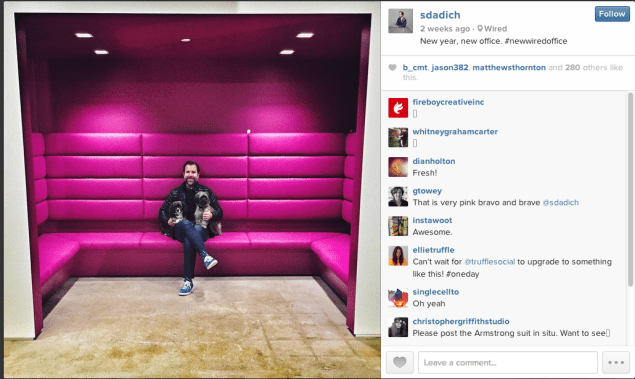 A memo from Wired editor in chief Scott Dadich instructing staffers in the new San Francisco office to keep it looking clean and start-up fresh was widely mocked on social media after it was posted on The Awl earlier today. The post on The Awl, which interspersed sections of the memo with Mr. Dadich's Instagram photos of the new "workspace," was easily mockable: both for the condescending, rally-the-troops tone of the email and for the pictures, which depict the highly curated casual office design popular with tech start-ups and media companies that wish they were.
"There are zones to work together, and quiet spots for focused work. There are drawers for personal items, and tons of storage for our materials and technologies. I believe the new 3rd floor will give us every opportunity to do what we do best, which is create content that's a source of surprise and delight to more than 45 million community members," Mr. Dadich writes of the magazine's new home that is both worthy of their ambitions and totally worth their $3 million investment.
But Mr. Dadich, who came from the corporate side of Condé Nast rather than the editorial side, is fighting against the same thing that management in media always comes up against: journalists are slobs.
"It's an embarrassment: coffee stains on walls (and countertops and desks), overflowing compost bins, abandoned drafts of stories and layouts (full of highly confidential content), day-old, half-eaten food, and, yes, I'm going to say it, action figures," Mr. Dadich wrote. "Please. WIRED is no longer a pirate ship. It's the home of world-changing journalism.It's the West Coast home of Condé Nast. And it's increasingly a place where we, and our New York colleagues and owners, host artists, founders, CEOs, and advertisers."
And journalists can mock management for referring to books as "crap from publicists" (as Mr. Dadich does) all they want. Ultimately, they are going to have to keep their desk neat and tidy and ready for the advertisers because that's what the boss decreed.
Well, at least for a couple weeks. Because this is a fight that will never be won. It may not be the mess of the 1930s City Room at a big city tabloid, but reporters are going to find a way for the "promotional, er, uh … crap: books, tchotchkes, sales mailers" sent by publicists to migrate to the "horizontal surfaces" of their shared "workspace" eventually. And when that happens, Mr. Dadich will either try to avoid showing advertisers and founders the newsroom or mumble something about that messy area where the writers write.
And then, when it gets really bad, he will send out another memo.