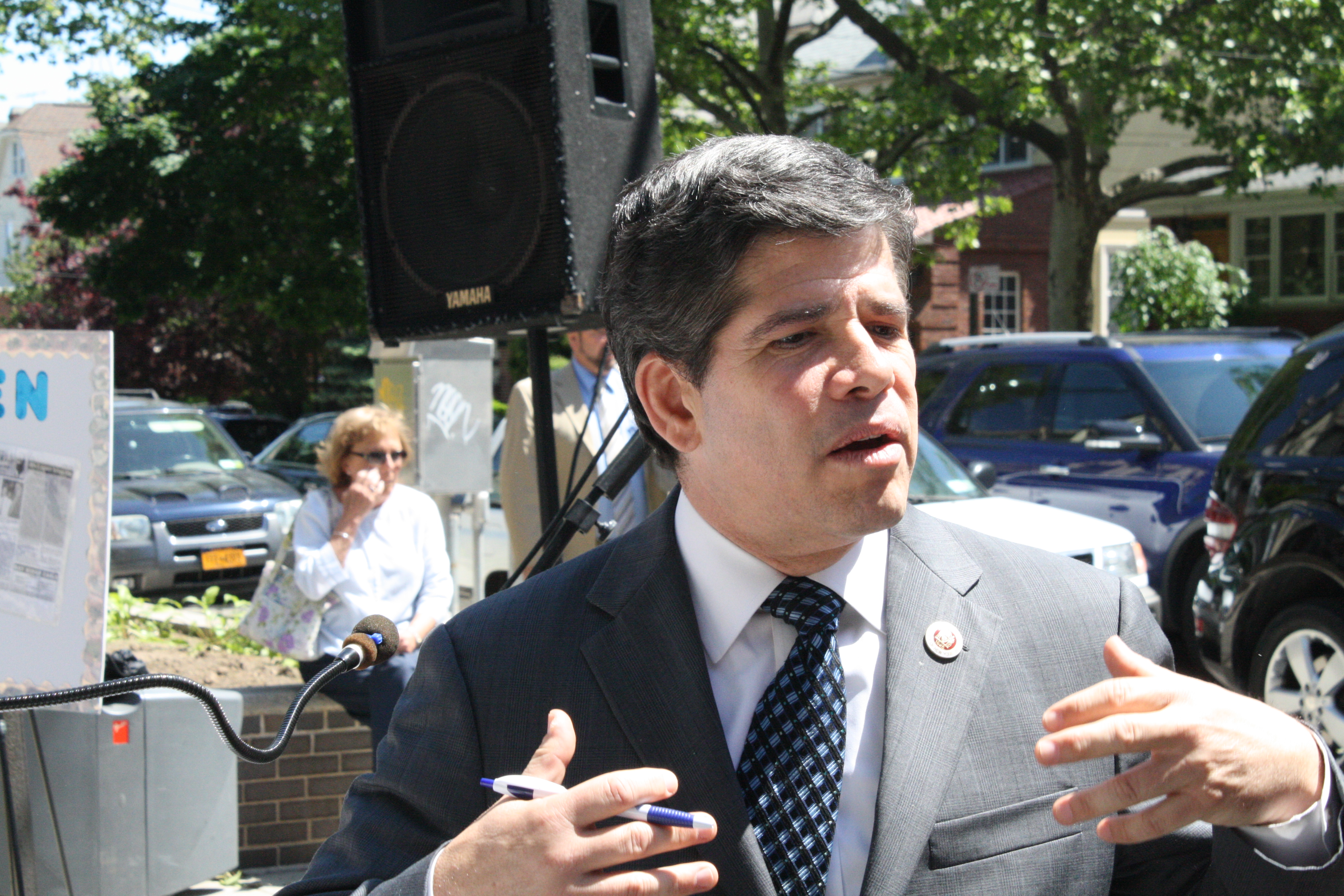 Brooklyn Councilman Vincent Gentile will likely be the candidate to take on Staten Island District Attorney Daniel Donovan to replace former Congressman Michael Grimm, sources told the Observer—though some have dismissed the bid as virtually hopeless because Mr. Gentile's home borough makes up less than a third of the district.
Multiple sources from both parts of the district, which comprises all of Staten Island as well parts of Brooklyn, indicated that Mr. Gentile will likely be the Democratic candidate. They cited his experience representing much of the Brooklyn section of the district in the Council for the past 12 years, as well as serving as State Senator for parts of both boroughs from 1996 through 2002—and his lacking the political baggage that could be used against a Democratic Assembly member or other councilmen.
"By the end, Councilman Gentile will be the Democratic nominee. He is a former State Senator from Staten Island and Brooklyn. He did not vote for 18.5 percent property tax increase in City Council because he wasn't there. He did not vote for Sheldon Silver," a Brooklyn Democratic source told the Observer.
Early on, many Democrats had pinned their hopes to popular Staten Island Assemblyman Michael Cusick, who in the past has considered but always declined running for the congressional seat. Mr. Cusick announced his intention not to run for the open seat in a special election last night.
"After much reflection I have concluded that the best way I can continue to serve my constituents is in the New York State Assembly," Mr. Cusick said in a statement. He did not return a phone call seeking further comment.
That's moved Mr. Gentile to the front of the line, the sources said. Mr. Gentile has already met already with Staten Island Democratic Party Chairman John Gulino and Brooklyn Democratic Party Chairman Frank Seddio, one Brooklyn Democratic source said, and the councilman believes that he could pull off a win. But the source said it seemed Mr. Gulino still had no idea who the candidate would ultimately be.
Tom Feeney, executive director of the Staten Island Democratic Party, said that until Mr. Gulino meets with his executive committee—sometime early next week—"there is no true front runner." But Mr. Gulino is expected to make a decision on his favored candidate by the end of the month, Mr. Feeney said.
"We have considered Council Member Gentile a strong and viable candidate since he first expressed interest in the seat. He has successfully represented Staten Island in the past, and has legal and legislative experience that would translate well to the Congressional job," Mr. Feeney told the Observer in an email.
And Mr. Gentile's office, too, would not say whether the councilman was definitely running for the seat—but said that as a prosecutor, state senator and now deputy majority leader in the Council, he'd "never backed away from a fight."
"A Brooklyn native who represented Staten Island for six years, his strong legislative record and unparalleled constituent services operation make him the a strong contender for the congressional seat and he plans to speak with the County Chairman and the County Committee in short order. But for the next few days, Councilman Gentile's focus and top priority is preparing for the storm and making sure his constituents are safe," spokesman Justin Brannan said.
Mr. Grimm, a Staten Island Republican who is now facing jail time, delivered a humiliating defeat to another Brooklynite last year, former Brooklyn Councilman Domenic Recchia, even though Mr. Grimm was under indictment for tax evasion and outspent by Mr. Recchia by millions. Mr. Grimm pleaded guilty December 23 to a felony and stepped down shortly after.
Mr. Recchia's brutal loss—despite the unprecedented amount of money he and the Democratic Congressional Campaign Committee spent on the race—left some Democrats convinced a Brooklynite cannot win the district.
"It's quite clear that a candidate from Brooklyn cannot win the seat. This is, in my memory, the fifth time that someone has tried," former Congressman Michael McMahon, the Staten Island Democrat who lost the seat to Mr. Grimm in 2010, told the Observer shortly after Mr. Recchia's brutal 13 point loss.
For some, that line of reasoning extended to Mr. Gentile.
"Vinnie Gentile couldn't raise enough money to buy all of the four-leaf clovers and lucky rabbits feet to help him win this race," one Staten Island Democratic operative told the Observer.  "I don't know what messaging Vinnie Gentile is going to use to run against Dan Donovan, and Vinnie Gentile doesn't have an accomplished legislative record for somebody who has been in office for more than 20 years."
The operative said it was telling that Mr. Cusick presumably saw he did not have a path to victory, particularly after seeing a DCCC poll on the race. But the run could be a way for Mr. Gentile, who is term-limited, to raise his profile for a judgeship in the future.
Some suggested running Mr. Gentile would be a sign that the Staten Island Democratic establishment have given up on winning the seat this year.
"If the Democrats run a Brooklyn candidate in the congressional special, it signals that they aren't serious about the race. At that point, the Democratic nomination is a fire sale: no offer will be refused. Fog a mirror, and we'll run you," said Gerry O'Brien, a Brooklyn-based political consultant who recently worked on the campaign of Republican Joseph Tirone, Mr. Cusick's opponent for his Assembly seat.
But Mr. Feeney insisted a Brooklynite could in fact win in the congressional district, though it has never happened. He pointed to Mr. Grimm's growing up in Queens, though the former congressman had lived in Staten Island since the 1990s.
"We one hundred percent believe a Brooklyn candidate can win this seat. It cannot be forgotten that our former Congressman was from Queens, and still he was elected three times," Mr. Feeney said. "The Staten Island voting base is more intelligent than some people give them credit for, and I believe Staten Islanders care about the issues that impact them most, and vote for the candidate they believe can deliver on those issues."
Another Staten Island Democratic source wouldn't count Mr. Gentile out either, despite his Brooklyn address, citing his previous representation of Staten Island and victories in tough campaigns.
"Special elections are always unique so you never know. Kathy Hochul and Bob Turner are a testament to that," the source said.
An inability to find any viable Staten Island candidate for the seat may lead some observers question Mr. Gulino's leadership of the the county party, after an already humbling loss in November. But the Democratic operative who knocked Mr. Gentile's chances said it wasn't Mr. Gulino's fault that Islanders were looking for a candidate with a "proven track record."
"There are only so many elected officials on Staten Island, and they're very comfortable in their roles," the operative said. "I think it says more about the quality of people who are lined up to run for us, on our bench than it does about John Gulino … I think it's just us having a weak bench."
In addition to being able to cite his past representation on Staten Island, Mr. Gentile also recently hired as Staten Islander John Mancuso as his chief of staff. Mr. Mancuso mounted an upstart bid for City Council, crushing the candidate backed by the county party and Mr. Gulino in a primary, before losing to Republican Steven Matteo, now a city councilman.
Other potential challengers for Mr. Donovan never got off the ground. Mr. McMahon at first expressed interest but has been silent about the seat for weeks. Assemblyman William Colton's bid for the seat was not being taken seriously, one Brooklyn Democratic source told the Observer.