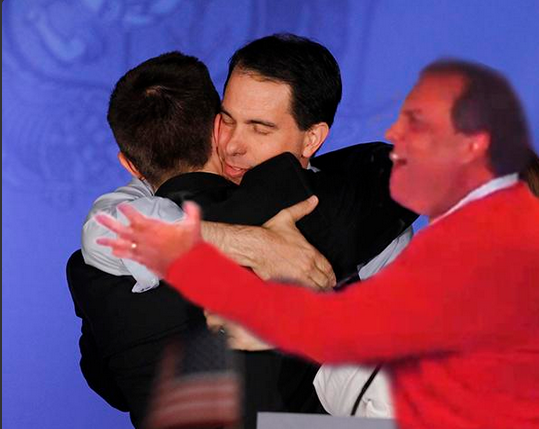 One of Gov. Chris Christie's potential opponents in the 2016 Republican presidential race doesn't seem too impressed by his fellow governor's football fanaticism.
Wisconsin Gov. Scott Walker — also, like Christie, a possible candidate for the party's nomination next year — told the Associated Press yesterday that he would "never, never" root for a team other than his home state's team, the Green Bay Packers.
That's opposed to Christie's own decision to pledge allegiance to a team both far outside his own state's boundaries — and hated by many of the football fans within them, who tend to gravitate either toward the Philadelphia Eagles or New York Giants/Jets.
But that wasn't all. Walker also took to Twitter today to jab the Cowboy-crazed Christie, who sent the world of social media into a feeding frenzy after he was seen bear-hugging team owner Jerry Jones at a game in Dallas over the weekend.
This is the type of owner I'll be looking to hug after a #Packers win on Sunday: pic.twitter.com/W20LRO5oMM

— Governor Walker (@GovWalker) January 7, 2015
On the field of 2016 presidential politics, Walker is considered by many to be one of Christie's stronger challengers, a rust belt Republican who's made a name for himself tackling many of the same issues in Wisconsin that Christie has tried to make hallmarks of his legacy here in the Garden State. Like Christie, Walker is a popular conservative governor in a historically blue state, having just won re-election and a second term in November. Like Christie, Walker has also been scorched by scandal that has threatened his political aspirations.
But the rotund governor who has no problem buddying up with one of the wealthiest magnates in the football world likely has more to worry about from Walker than the Tea Party conservative's willingness to call him out on it. Unlike Christie, Walker has a demonstrably better track record when it comes those signature legislative achievements both would like to tout on a presidential campaign trail: namely, pension and benefit reform.
It's an issue that has become a sticking point for Christie's presidential ambitions as the country waits for him to declare a run later this month. Self-branded as a reputation-be-damned, for-the-people type of politician whose central campaign promise in 2011 was to tackle — and fix — the state's biggest, most systemic problems or die trying, Christie now seems to be backpedaling, spending more time one the road in the interest of, ostensibly, his future political ambitions, and less time at home, where New Jersey's problems languish. It's true not just on the issue of pension and benefit reform, which he helped champion in his first few years of office but which now poses a serious financial threat to the state, but also on others, as noted by yesterday's coverage of a Newark schools system hearing.
Walker, on the other hand, is largely thought to have had success in his own efforts at reforming Wisconsin's pension and benefit system, strengthening his conservative brand by taking on the state's biggest unions in the process. Political experts say all of that can be leveraged on the campaign trail to make Walker more appealing to conservative donors and the Republican base. What's more, he also seems to have effectively used his image as a people-popular midwesterner in political fights before, and may now benefit from it again, this time against Christie and the Jerry Jones hug — and in effect better position himself on the 2016 presidential field.
(Christie has since responded to Walker on his own Twitter page).
At the heart of it, Christie — whose best chance at the White House has long been thought by experts to be his populist appeal — might be losing his niche, and Walker gaining his.