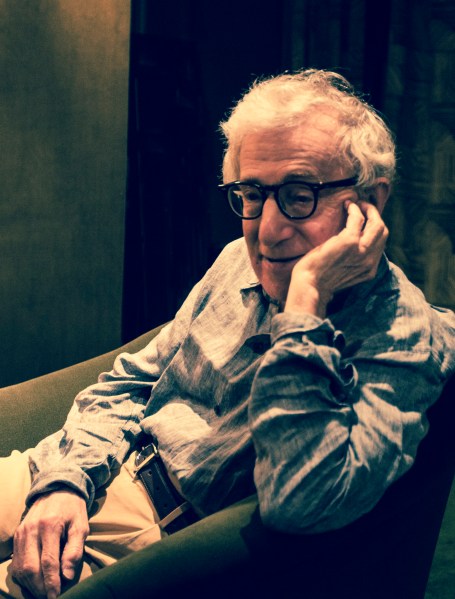 Hey, how was your weekend? Have you been having a good couple of days? Well, unfortunately, I can almost guarantee Amazon (AMZN)'s weekend beat your weekend.
On Sunday, the streaming network took home a pair of Golden Globes — Best TV Series, Musical or Drama for Transparent and Best Actor for Transparent lead Jeffrey Tambor — the first Golden Globes in Amazon history (hey, also, PSA, Transparent is really, really great). Fresh off that historic night, Amazon dropped yet another huge bomb on the TV world. Woody Allen will be both writing and directing his first TV series ever, and all episodes will air exclusively on Amazon Prime Instant Video in the U.S, U.K, and Germany.
"Woody Allen is a visionary creator who has made some of the greatest films of all-time, and it's an honor to be working with him on his first television series," said Roy Price, vice president of Amazon Studios, in a release. "From 'Annie Hall' to 'Blue Jasmine,' Woody has been at the creative forefront of American cinema and we couldn't be more excited to premiere his first TV series."
Woody Allen also added the most Woody Allen press release quote of all time: "I don't know how I got into this. I have no ideas and I'm not sure where to begin. My guess is that Roy Price will regret this."
So far, details about the project are basically non-existant besides Mr. Allen's involvement and the fact that the episodes will be a half-hour long. The show is going by the name Untitled Woody Allen Project because of course it is. Petty details aside, the mere fact that Woody Allen is making a show for Amazon makes two things very clear:
There is no doubt, if there was even any left, that Amazon Prime is here to stay. There were doubts when Amazon started releasing its original pilots, especially in the shadow of the streaming goliath known as Netflix. But bolstered mainly by the quality and buzz of Transparent, those doubts were slowly chipped away. They were basically obliterated with the Golden Globes. Now, with this "get," Amazon has shifted itself into the role of major player (also, for what it's worth, Mozart in the Jungle is pretty damn good, too.)
Okay, this might not have been a thing for a while now, but can we all agree that there is no such thing as being "demoted" to television anymore? Remember when Martin Scorsese directing Boardwalk was surprising? Remember when people questioned Woody Harrelson and Matthew McConaughey for doing True Detective? Woody Allen creating television might not be the final straw that takes down the television-movie divide, but he's a BIG straw. TV basically is movies, movies basically is TV. Up is down, black is white. This is the world we live in.
So the only question left is, what could the Untitled Woody Allen Project be about? Will it be a drama, or more akin to his earlier comedies? Like Annie Hall? Because if Woody Allen is going to be competing with Netflix, he might as well compete with Frank Underwood for the exclusive rights to speak directly into a camera.