LOS ANGELES—The annual over-the-top bash that W magazine throws each year here with Dom Pérignon and Cadillac—the first of a blistering stream of parties preceding the Golden Globes, the awards show that's supposed to be an also-ran but is now incredibly important for some reason—took place Thursday at the Chateau Marmont, André Balazs' living monument to Old Hollywood glamor, even if it was in fact constructed in the 1920s by a Jewish attorney based on little more than a photograph of a Gothic castle in the Loire.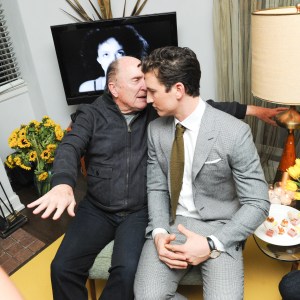 Almost as old as the Chateau is Robert Duvall, who might be a relic of the 1970s, the last of Hollywood's Golden Ages, but who is still very much The Man. Let's be honest: Robert Duvall doesn't come to the party, the party comes to him. Wearing a utilitarian wool jacket and looking very much the modern-day consigliere, Mr. Duvall walked into the penthouse and promptly plopped down on a big chair by the fireplace— and didn't get up. His people asked for a sampler plate of appetizers, and he noshed hard as a steady stream of visitors kept him entertained. Then Miles Teller approached for a tête-à-tête. They appeared to be earnestly engaged, student and master, but it all started to seem a bit staged. Hell, in this town, is there really any difference?
With the exception of Mr. Teller, the young men were not exactly chopping it up with the rest of the red carpet royalty.
"Superman and Captain America are hiding in the corner," one of the staffers told me, after I inquired about Henry Cavill and Chris Evans.
Alas, Young Hollywood has much to learn. 
"The old guys treat us great," a server said. "Duvall was incredibly gracious. It's the younger people—they don't know how to act."
Reese Witherspoon and Amy Adams, both looking stunning, took opposite approaches: Ms. Adams worked the room, sipping some Vintage 2004, gliding from conversation to conversation, while Ms. Witherspoon hid by the bar on the balcony. At some point a man I didn't recognize explained to Ms. Adams how movie financing works: "It's a numbers game," he said to her, as if she were new to this. Amy nodded politely. She was constantly nodding politely.
David Oyelowo, however, was new to this sort of thing. Ms. Witherspoon swooped down off her perch to congratulate him on his role in Selma. When I approached afterward—offering my own heartfelt appreciation—Mr. Oyelowo warmly suggested we met just a couple days ago. I assured him that, no, we've never met.
When Paris Hilton arrived, reeking of weed, she bypassed the "selfie room"—where guests were taking Polaroids of themselves in the mirror, and where irony wilts and dies—and instead whipped out her phone and started going for the real deal. Watching her pose, curling her index finger in her mouth, was one of the more depressing things I've ever seen. Because, though Paris doesn't realize this, she's the Oldest Hollywood of them all. More than Amy Adams or Reese Witherspoon or Jessica Chastain or Rosamund Pike, or any of the other beautiful A-listers at this party, Paris has that faded grandeur, that sadness: she is Gloria Swanson in Sunset Boulevard, and here we are, at the Chateau, on Sunset Boulevard itself.
"You can't get too sentimental in this sort of circus," my new cigarette buddy Sebastien Noel, of the London-based art collective Troika, told me, as we watched Paris do her thing.
Late into the night, two handsome firemen, straight out of central casting, burst in, supposedly on a tip that the party was over capacity.  "It's Magic Mike!" exclaimed the beautiful Australian rep for Dom Pérignon. It was not Channing Tatum in character, unfortunately—but these real grade-A American firemen managed to steal the show.
The firemen made such an impression that Lynn Hirschberg was still talking about them at the opening of W's "Shooting Stars" exhibit the following night. Co-hosted by editor Stefano Tonchi and Miley Cyrus, the exhibit showcased artistic shots of Hollywood stars. And yet—Rose McGowan and Jason Wu notwithstanding—there was hardly a celebrity to be seen. That is, until a pair of enormous shoulder pads arrived, bearing Ms. Cyrus in tow. 
The audience seemed to radiate a mild annoyance at the whole proceeding. Ms. Cyrus, in their eyes, had violated the truce between celebrity and cognoscenti: you can be a movie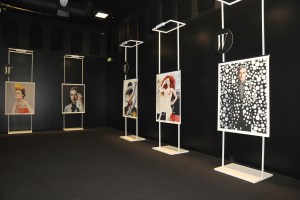 star, a fashion icon, and even a great artist within the medium of film or music, but do not try to be an art-school hipster. You can be famous, Miley, but you don't also get to be cool. 
Then the rains came. Los Angeles in the rain has the look of an old movie set, the entire city sheathed in an alien glow of refracted light. There were more parties to go to, more dress rehearsals before the Golden Globes, which in turn are just a big dress rehearsal for the Oscars, but that's when this correspondent came down with something. Blame the weather. 
On Saturday night, sniffling and coughing, I stopped by Troika's opening at the Kohn Gallery, a nice break from Globes' celebrity frenzy. And yet—as I left, Mr. Noel, my smoking buddy from Thursday's party at the Chateau, casually mentioned that Leonardo DiCaprio had swung by for a private showing the day before. The circus is never too far away.