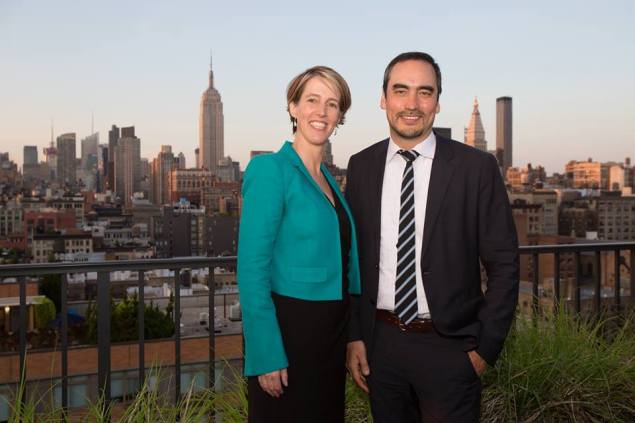 Professors Zephyr Teachout and Tim Wu—who made a surprisingly strong bid last year to defeat Gov. Andrew Cuomo and Lieutenant Governor Kathy Hochul—are urging their supporters to pressure their local Assembly members into backing the demands of the 23-member reform coalition.
The camp fired off an email this afternoon informing subscribers of the reformers' efforts and of "the first opportunity that New Yorkers have to reform the Assembly since Silver assumed his role in 1994."
"A few brave Assembly members are standing up and calling for reform, but they need your support. Right now, the reform caucus has a few dozen lawmakers, but if more representatives join, there's a real shot at forcing the new Speaker to change the way the Assembly works," wrote campaign staffer Mohammad Khan. "Is your representative among those calling for reform? If so, you should thank them for standing up to Albany's three-men-in-a-room culture."
"If not, call them now and ask them to support the reform caucus in the Assembly," Mr. Khan continued.
The email outlined the reform caucus' calls for increased transparency, for stripping the speaker position of some of its overarching power and for allowing greater participation of newly elected Assembly members.
"We have a chance at reforms that reflect the open, democratic spirit of New York," Mr. Khan wrote.
The message alluded to the behind-the-scenes jockeying that seems to have placed Bronx Assemblyman Carl Heastie in line to succeed Mr. Silver. Some reformers are uneasy about possible legal scrutiny of some of Mr. Heastie's campaign spending, in the aftermath of the corruption charges that forced Mr. Silver to step down as speaker.
"Reports indicate that the race for a new Speaker could be over before it's even started, with lawmakers relying on the same old backroom deal-making and machine politics that leave citizens in the dark," the message said. "Make sure your Assembly member won't vote for a Speaker who doesn't have a plan for reform."
Read the e-mail in full below:
This week's news that Sheldon Silver will be stepping down from his role as Assembly Speaker after facing criminal corruption charges could represent the first opportunity that New Yorkers have to reform the Assembly since Silver assumed his role in 1994.

Now, for the first time in two decades, we have a chance to open up the Assembly, so that all New Yorkers can participate in our democracy, not just those who can write $50,000 campaign checks.

A few brave Assembly members are standing up and calling for reform, but they need your support. Right now, the reform caucus has a few dozen lawmakers, but if more representatives join, there's a real shot at forcing the new Speaker to change the way the Assembly works.

The reform caucus is calling for the new Speaker to support more transparency, actual participation by Assembly members in the legislative process, and more democratic processes for leadership and staffing.

Is your representative among those calling for reform? If so, you should thank them for standing up to Albany's three-men-in-a-room culture.

If not, call them now and ask them to support the reform caucus in the Assembly.

We have a chance at reforms that reflect the open, democratic spirit of New York. But reports indicate that the race for a new Speaker could be over before it's even started, with lawmakers relying on the same old backroom deal-making and machine politics that leave citizens in the dark.

Make sure your Assembly member won't vote for a Speaker who doesn't have a plan for reform.

Call your Assembly member today and ask them to support reform in the Assembly.
Thanks,
Mohammad