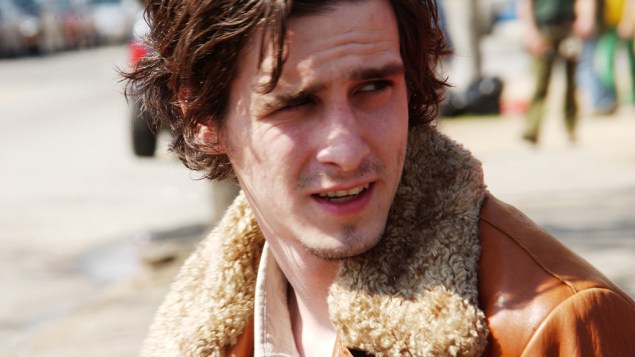 With The Wire's re-release in HD over the holidays, we've taken time to explore the transformational series with a decade's worth of insights. And one thing that immediately struck us was: People still hate Ziggy Sobotka. (Whether or not people just hate Season Two in general is still a matter of hotly contested debate.)
We asked actor James Ransone–who played the swaggering, duck-owning, genitalia-displaying Ziggy–for some reflections on the character.*
James Ransone: Hey, I saw you retweeted something about Ziggy being the JarJar Binks of The Wire. And now you want to interview me? That's a little harsh.
Observer: The character that actually comes to mind is Joffrey from Game of Thrones.
JR: I always thought of him like Fredo, or the brother in that Springsteen song, "Highway Patrolman."
Observer: Do you remember how your audition for Ziggy went?
JR: I remember the dialogue was really, really dense. I was living in New York, but I'm from Baltimore. I grew up in Towson, in the suburbs, so when they auditioned me–it was one of the first scenes in the bar, where Ziggy takes his dick out–and the dialogue was so fucking dense. I was like "I have no fucking idea what's going on with this, but I know I can do a Baltimore accent."
Observer: And that authenticity is what they were looking for?
JR: I think so. TV is a funny thing, because yes, it is what they're looking for, but they get to write for the actor, too.
Observer: Had you watched the first season?
JR: I had heard of it really, really, really peripherally. I knew Leo Fitzpatrick at that time and I remember seeing posters around and saying "I think that's the show that Leo keeps going to Baltimore for." You have to remember, that no one gave a shit about this show until at LEAST the fourth season.
Observer: What were the initial reactions you got from people about Ziggy?
JR: I remember getting really favorable reviews, nothing I'd gone searching for, but someone sent me something written by Alan Sepinwall after the scene where I shot the Greek. He was really, really flattering, and that was the first time I remember. Only three people probably came up to me the entire time. Someone said, "Oh, it's so great, it's like King Lear."
But then it got really weird in 2009, because I had done it so long ago. I had sort of survived my twenties in New York, and they were really rough. People would come up and scream "ZIGGY!" at me. It was weird and annoying, because it was like that baseball game that I hit the home run in when I was 12, I forgot that was good, but now people are watching this old VHS tape. And that character is so split down the middle, people think he's the worst thing, or they think it's a great performance. I think that character is really hard to watch for white people.
The only people who really dislike the second season are white people. People got mad that they moved it out of the hood. And look, there might be an element that the character is annoying, but there's that feeling of familiarity too. That the blue collar worker might hit a little close to home rather than the projects of East Baltimore. Ziggy is more like a family member you might have; there's not this cognitive dissonance. You're much more likely to know someone like Ziggy than to know someone like Omar.
And Ziggy is a very castrated white male. And when people see that there's no room for social mobility, I think it reflects back on themselves: their own delusions about their own social mobility.
Observer: Watching it now, someone pointed out that Ziggy fits all the sort of criteria for a school shooter. He's taking it, taking it, taking it…until the one time he doesn't take it anymore and he snaps. It resonates.
JR: I retweet a lot of people say about Ziggy, mean things. People think I'm like that, but in truth, I couldn't be further.
Observer: Looking back, would you do anything different with Ziggy?
JR: I find it so hard to look back at that, now. I was so skinny. In my mind, I wasn't even an actor. I had the body to play druggies and musicians. To be honest it's hard to watch myself, even something recently. Doing that, I'll inevitably fall into this K-Hole of Critique. I'd rather not feel any of insecurity.
The one thing I think about the most is really class: as in, where did Ziggy fall on the spectrum? This is a fascinating character, in terms of his class relations and why people's feelings are as intense about him as they are. There's this social mobility that the working class believe that they have, and that's why they don't freak out as much about social issues as they would otherwise. Because they're afforded a grandeur delusion than people in more marginalized subcultures. If you're black, or transsexual, or an immigrated Mexican, or even a woman to a certain extent, you know the game is fixed in a certain way. But it's also fixed against blue collar white dudes, but they just don't know it.
Observer: Do you still have people associating you with the character?
JR: No, but when I was reading that tweet about JarJar, I wanted to tell you…you know Dustin Diamond (who played Screech on Saved by the Bell,) stabbed someone? I feel so bad for that guy, as someone who's gotten even one percent of the shit that he's gotten from playing Ziggy. This poor bastard, he just fucking snapped.
You can see James Ransone in the upcoming films In the Valley of Violence, Sean Baker's Tangerine, and the sequel to Sinister.
*This transcript has been edited and condensed for length.