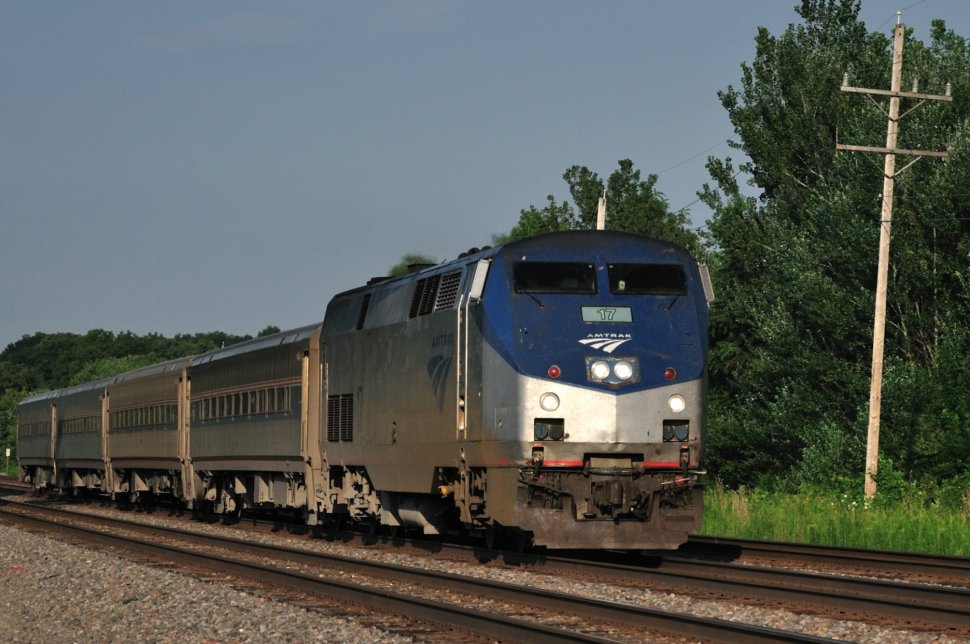 It will be hard once again to avoid 2017 gubernatorial politics on the New Jersey Chamber Train's Walk to Washington on Thursday.
The 13-car train(wreck) will ferry those occupants attached to at least three candidates: Senate President Steve Sweeney, Jersey City Mayor Steven Fulop, and former U.S. Ambassador to Germany Phil Murphy.
Sweeney usually doesn't ride the train. Instead he takes an earlier trip and heartily greets travelers when they arrive at the Wardman Hotel Bar.
But on the ride itself, Murphy and Fulop and the allies of Sweeney will take advantage of three-plus hours' worth of touching and feeling.
Each will attempt to appear in charge of the greatest number while simultaneously appearing not to care how he's perceived on this pleasure jaunt disguised as serious business two years in front of the Democratic Primary.
The game is going on at a fast pace right now, and will go on long after those travelers clamor off the train at Union Station.
Some preliminary plot points…
By allowing his name to dangle, state Senator Ray Lesniak (D-20) appears intent on keeping Union County unresolved in the game of gubernatorial politics.
Maybe he runs in the end, but at the very least he suspends alliances.
The move may assist Lesniak in getting the continued attention of the senate president, because a temporarily muddied Union works to the advantage of Sweeney, who as a South Jersey candidate needs a divided, more populous north in order for his candidacy to prevail.
Interpreted as a raw political move, Lesniak the elder Union statesman hovering near a gubernatorial run keeps his old frenemy, Sheriff Joe Cryan, off balance. Given his politics and the way South Jersey essentially ran him out of the legislature, Cryan as the future chairman of the Union County Democratic Party appears politically closest to the similarly North Jersey-based Fulop.
Lest the primary get resolved too quickly, Lesniak appears insistent on the event remaining volatile.
So does state Senator Dick Codey (D-27), the former governor from Essex County.
In the past two weeks, Codey ally state Senator Ronald L. Rice (D-28) openly bashed Fulop. His lumping together of Sweeney and Fulop, all in the vicinity of Essex County Freeholder Brendan Gill joining Team Murphy – suggests an openness to Murphy.
By leaving himself out there as a possible candidate for governor and assorted allies publicly irritated at Fulop and Sweeney, Codey keeps Essex up in the air, just as Lesniak's move does in Union.
Codey has another card.
The former governor can try to make the case that of those candidates or potential candidates, he has the best record of public sector worker advocacy. If he doesn't run, Codey can throw his support to Murphy with the enhancement of his record on public sector labor.
Now Fulop allies actually want Codey to back Murphy sooner rather than later with the expectation of the former governor's fingerprints on the the former U.S. Ambassador to Germany driving Essex County Executive Joe DiVincenzo into the anybody-but-Murphy category.
The trouble though is that it could drive "Joe D" further into the arms of Sweeney, his natural government ally; and sufficiently muddy the county's politics to justify DiVincenzo's and Essex County Democratic Chairman Leroy Jones' selection of a non-northern candidate.
Still, the Sweeney for Governor argument up north is tough, according to Northern sources – to a man.
DiVincenzo loves the man in power, be it Governor Chris Christie or Sweeney, a source noted, because it's "where the goodies are," a second source confirmed.
But Sweeney on the ballot creates civil war opportunities in a county wobbled by Newark Mayor Ras Baraka's victory last year, and complicated by the fact that 2017 is a bad year for county politics, with no dominating brand name to minimize down ballot fistfights.
That explains why sources close to DiVincenzo have heard him lately declaring that U.S. Senator Cory Booker as a candidate for governor would  "clear the field." Better to have Booker eliminate the possibility of a civil war in the county, or so runs the logic of DiVincenzo.
Better to have a three-way than two-way contest, if there must be one.
But better none.
"Sweeney is the strongest governmentally but the weakest candidate of the three in Essex," argued a source. "Leroy would never risk fracture but backing Sweeney. Codey and Rice will run with another candidate and the county will come apart. Sweeney is a nonstarter in Essex and Booker is the savior of no primary.
"It's torturing Joe," the source added.
In the mix like his veteran senate colleague Lesniak, Codey is just as readily enjoying himself.
The senator/former governor and DiVincenzo are longstanding political rivals, whose separation facilitated South Jersey Democrats' deposition of Codey off the throne of senate power and propelled Sweeney to replace him in the first place.
Meanwhile, the senate president appears to be fighting hard to remain in the game. Last week he displayed his labors to coax public sector labor into his corner, after his championing of public sector pensions and benefits reforms put his relations with those unions into deep freeze.
As Sweeney tries to pacify public sector labor leadership, Codey – if he doesn't run for the job himself – has the ready argument of his own record to entice public sector workers to back Murphy instead of Fulop.
An ironworker by trade, Sweeney will have the support of the building trades.
If Codey works his will on public sector labor for Murphy, can he successfully deprive Fulop of a key piece of support?
Possibly an annoying deprivation, that lack nonetheless would not kill Fulop's candidacy, who wants to leverage what his allies see as Hudson support and the considerable political influence of U.S. Senator Bob Menendez to land other Northern counties, Essex among them.
Sweeney, of course, is banking on Essex to supplement what he starts with in South Jersey. He and his regional ally South Jersey Democratic leader George Norcross III have the best, longest standing connective tissue to DiVincenzo of anyone in the contest.
Any signal that Sweeney can't get Essex or any demonstrable sign of the senate president's absolute untenability in Northern New Jersey  opens the possibility of a gubernatorial candidacy by Assembly Majority Leader Lou Greenwald (D-6) or Assemblyman Troy Singleton (D-7), an establishment swing to Murphy, which is why the former ambassador to Germany has to be careful with the perception that he's Codey's candidate, a source noted, or – and the power players feel this last option creates the fewest problems – a "clear the field" Booker candidacy.
As long as Menendez is in Fulop's corner, however, the North Jersey mayor has critical, wildcard access to real support.
At the very least, while those most easily recognized fledgling candidates for governor jockey amid the cars on Thursday, Lesniak and Codey – in their absence – will continue to make the trip interesting…