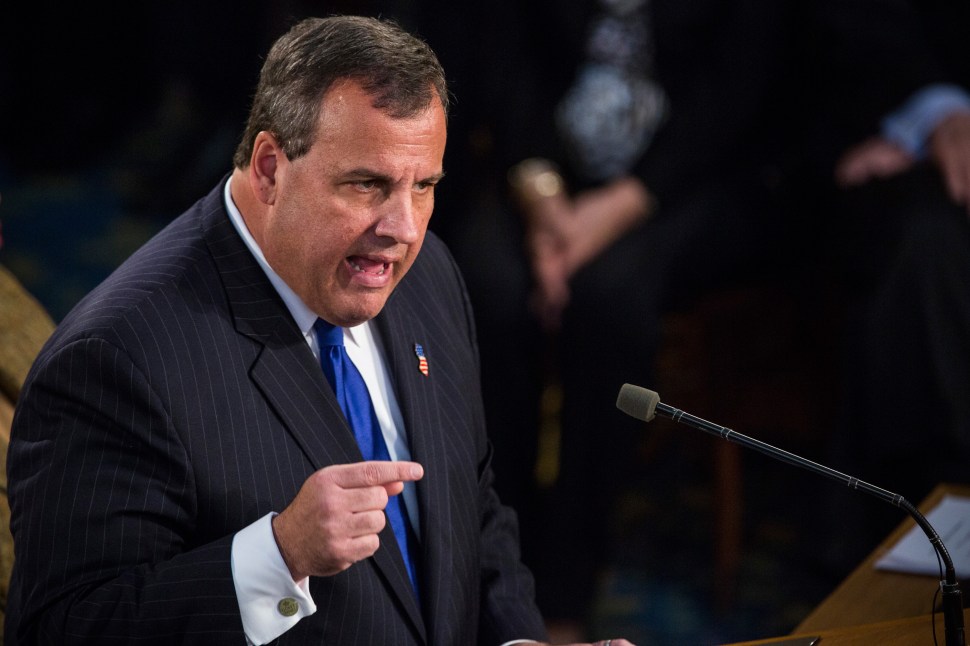 As Gov. Chris Christie prepares for a 2016 presidential run in the midst of declining ratings at home, 59 percent of New Jersey voters say he would not make a good president, according to this morning's Rutgers-Eagleton Poll. Just 34 percent believe Christie would do well in the Oval Office.
Perceptions of Christie's attitude and behavior haunt his chances for 2016, according to voters here. Asked to best describe the governor in a single word, voters respond with "bully," "arrogant," "selfish," "aggressive," and "bad" at the top of the list. But there also are positives further down in the top 10, such as "good," "honest," "strong," "tough" and "ambitious."
Voters' views on a Christie presidency are also shaped by perceptions that the governor is lacking in qualifications to become commander-in-chief. Thirty-seven percent say he has the right "look" to be president, 36 percent say he has the right "demeanor and personality," and 45 percent say he has the right amount of "experience" when considered against other potential Republican contenders.
"Governor Christie's numbers are a far cry from the very positive results we reported yesterday for Hillary Clinton," said David Redlawsk, director of the Eagleton Center for Public Interest Polling and professor of political science at Rutgers University. "While voters' views of Clinton are upbeat, the negative ratings given to Christie's gubernatorial performance we reported last week are clearly influencing perceptions of him as a president."
Voters in the Garden State are now more likely than ever – at 68 percent, up 13 points from December – to say Christie's positions on issues, and his decisions on whether to sign or veto bills, are more about a potential presidential run than what is best for New Jersey. Just 22 percent feel he is putting the state first. Half of voters also say Christie's travel schedule hurts his ability to be an effective governor, while 44 percent say it does not.
Despite this, voters are evenly split on whether Christie will become the 2016 GOP nominee. Thirteen percent say this is very likely while 36 percent think it is somewhat likely. Another 49 percent think it is either somewhat unlikely (27 percent) or not at all likely (22 percent).
Results are from a statewide poll of 813 residents contacted by live callers on both landlines and cell phones from Feb. 3-10, 2015, including 694 registered voters reported on in this release. The registered voter sample has a margin of error of +/-4.2 percentage points. Interviews were done in English and, when requested, Spanish.