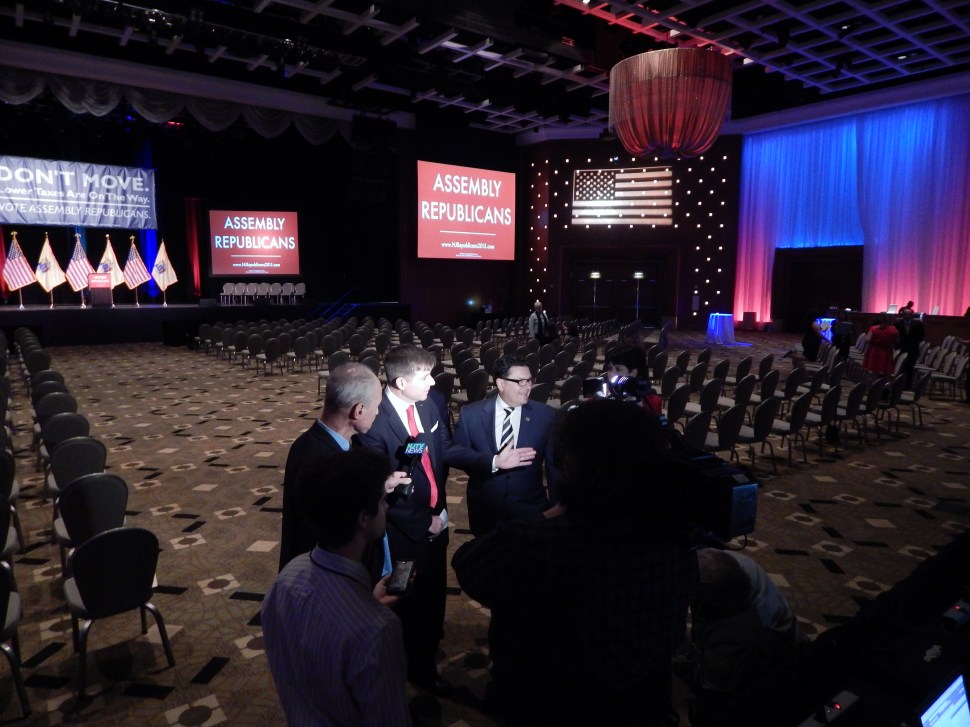 ATLANTIC CITY — Kicking off what he called the first statewide Republican conference in over 25 years, Assembly Minority Leader Jon Bramnick (R-21) made clear during a press conference on the floor of the Borgata Ballroom here that this election year is about one thing: wresting legislative control from Democrats in Trenton.
He started with a challenge: six debates "anywhere, anyplace" between Bramnick and Assembly Speaker Vinny Prieto (D-32).
"I think it's time that the voters of New Jersey get a chance to get an answer to their questions, and the main question is: after almost 15 years of Democrat control in Trenton, do they deserve re-election?," Bramnick asked. "And our answer is: no."
Together with Assemblypeople Chris Brown (R-2), Sam Fiocchi (R-1) and Donna Simon (R-16), Bramnick offered a stern condemnation of Democratic leadership in the legislature, accusing the opposing party of promoting anti-business policies and generally making the state increasingly unaffordable for middle class residents.
"We have debates as to who should be governor, why don't we have debates as to who writes the laws in New Jersey?" Bramnick said.
Over a 1,000 Republicans are set to descend on this beleaguered seaside city for Bramnick's conference tonight. It's being billed as one of the largest specifically-Republican gatherings in recent memory, during an election year when Assembly lawmakers across the state will find themselves atop the ballot in November.
But one Republican who will not attend is Gov. Chris Christie, the state's leading GOP member, who is in England today on a three-day trade mission as he continues to gear up for a presidential run. Bramnick has said the scheduling conflict will not detract from the event tonight, and indeed suggested today it might be a good thing: Christie's star power won't be present to suck all the oxygen out of the air and prevent state Republicans from getting their own message across.
"If Christie was here the media would probably focus on Chris Christie and the presidential ambitions of Chris Christie," he said, adding the event is all about raising awareness ahead of this year's Assembly elections.
Bramnick also said he'd welcome a "Democratic referendum" on Christie this year, shrugging off the implication that the top executive — who's been heavily criticized in recent weeks as he turns more of his attention to his national ambitions — might negatively impact Republican appeal in the state.
"Absolutely, without a doubt. Chris Christie had the guts to come to Trenton and start to make real change," Bramnick said. "When do you recall when the Democrats controlled the legislature… where was the change?"
Tonight's spectacle is happening against the backdrop optics of Atlantic City, currently mired in controversy as it struggles to pull itself out of economic and financial hardship. The city's situation is likely to factor into November's elections, when Republican hope to use the issue to strengthen their ticket here in LD2 and LD1, represented by Brown and Fiocchi, respectively.
Brown said it's a good opportunity to "showcase Atlantic City, and not only Atlantic City but the men and women who make up the statistics, the faces behind the headlines."