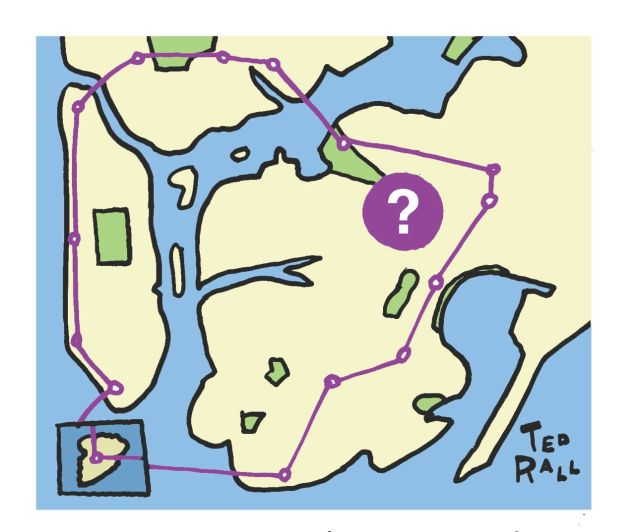 Throughout New York's history, change has been a constant feature of the city's transportation infrastructure. Well, it used to be.
Aside from the long-delayed Second Avenue subway, civil engineers haven't had much work to do in the past five decades. A time traveler from 1961 would find the city's traffic patterns, street grid, highways, subway lines, river crossings and airports basically the same.
New York's second-newest major bridge, the Throgs Neck, opened nine days before JFK delivered his "ask not what your country" inaugural address. The Verrazano came in 1964. Then that was it—unless you count the link between Rikers Island and Queens in 1966. Aside from a few extensions on the outer borders of Queens and the minor 63rd Street tunnel, the subway looks much the way it did during World War II. For many New Yorkers, getting to LaGuardia still requires a cab. Ditto for JFK, despite the half-assed AirTrain.
The Center for an Urban Future recently concluded that too much of our "essential infrastructure remains stuck in the 20th century," posing a barrier "for a city positioning itself to compete with other global cities."
There is little reason to believe things will improve. Despite Mayor Bill de Blasio's recently announced plan to add some ferry routes launching in 2017, his administration has reduced infrastructure spending from budgets under Mayor Michael Bloomberg—who devoted most of that money to new parks and schools.
New stuff? As the parking sign says, don't even think about it.
But that's a choice.
---

Crossing the Hudson River during rush hour, as impenetrable as the Berlin Wall back in the day, could become slightly less hellish by executing one or more of the numerous forgotten plans for bridges.


---
New York could fund big-ticket transportation projects through the imposition of a modest stock transaction tax on the $45 billion traded daily on the NYSE. Some liberal Democrats are floating a 3 basis point (.03 cent) tax on trades. That's not enough. From 1914 to 1966—while America won two world wars and became the world's dominant superpower—it was 10 basis points. Precedents include France, which has a 20 basis point tax and Taiwan (10-30 basis points).
A securities tax would generate an estimated $10 billion annually. Enough to pay for a slew of ambitious, and needed, projects over the next decade or two.
Let's start using this money to expand subways.
The long-awaited extension of the 7 subway may open as early as this month. Nice start, but the old idea of running the 7 out to the Meadowlands to alleviate Lincoln Tunnel traffic and provide an alternative to Penn Station for boarding New Jersey Transit, is just as overdue.
Even after the projected 2019—yeah, right—opening of the Second Avenue line, Lower East Side residents will remain woefully underserved by subways. The MTA should add a train along the Harlem River waterfront to connect Avenue D and East End Avenue to the rest of Manhattan.
A major shortcoming of New York's current subway configuration is its failure to adapt aspects of the efficient spiderweb or grid patterns urban planners favor in more modern systems like Paris, London, Seoul and Tokyo.
Any transit expert would look at a NYC subway map and ask with puzzlement: Why isn't there a line running around the city's outer perimeter along the Westchester and Nassau County borders? To get from the Jamaica section of Queens and to Flatbush, Brooklyn, you have to head halfway to Manhattan to switch subways, or endure long rides on local city buses. That's stupid.
Huge swaths of Southern Queens, currently off the grid, should be connected via a new line arcing west-to-east through the Bronx, then north-south through Queens and Brooklyn, parallel to and east of the G.
No borough is more subwayless than the city's redheaded stepchild, Staten Island. But it doesn't have to be that way. New Jersey Gov. Chris Christie has been blocking the century-old dream of running a subway line under New York Harbor from Brooklyn to Staten Island to New Jersey, but half the idea would still be an improvement. Let's revive the Staten Island-Saint George tunnel between Brooklyn, which the city abandoned in the early 1920s.
In most major metropolises, rail systems connect directly from the city-center to the terminals. Not here, mostly due to NIMBYism and highway-obsessed Robert Moses. Gov. Andrew Cuomo recently floated a proposal to build an elevated AirTrain to link LaGuardia to the subway system, but transportation blogger Ben Kabak would better fix the airport access problem by extending the N along the Grand Central Parkway.
Anyone who drives in New York knows we need to add bridges and tunnels. Crossing the Hudson River during rush hour, as impenetrable as the Berlin Wall back in the day, could become slightly less hellish by executing one or more of the numerous forgotten plans for bridges at 23rd, 57th, 70th and 125th Streets. I'd go with 70th Street, more or less splitting the distance between the Lincoln Tunnel and the George Washington Bridge; either bridge or tunnel would be fine.
Conventional wisdom among liberal transportation types dictates that highway construction begets increased traffic: Build them and they will come. I don't buy it. Even old-timers who curse Robert Moses for destroying the Bronx recall with a shudder the horror of sitting for hours on Broadway in upper Manhattan, waiting to get to the Bronx as stuck cars overheated, making congestion worse.
Driving from Long Island to Western Brooklyn, and/or on to New Jersey via Staten Island, requires extremely circuitous routes: Via the congested LIE and BQE, or skirting around the bulbous outline of Brooklyn. The obvious solution is to extend the Jackie Robinson Parkway, which currently begins at the Grand Central and Van Wyck Parkways in Kew Gardens. Nowadays, it dumps that highway traffic at Jamaica Avenue in East New York (there used to be a major train station there). We should extend the Jackie Robinson west toward the BQE.
Last but not least, it's time to replicate the success of forward-looking cities like Dallas, Seattle and Portland, Ore., by bringing back streetcars. They're relatively cheap. They're cute. When their tracks run in dedicated, carless lanes, they're faster than automobiles. There are smart plans for new streetcar lines along the waterfront in the Red Hook section of Brooklyn, 42nd Street in Manhattan and Astoria in Queens.
We have work to do. Let's get New York moving again.
Ted Rall is the author of the forthcoming book Snowden by Ted Rall
CORRECTION: An earlier version of this story included a sentence that was unclear about AirTrain service to area airports.