It is evening in early October, and a fall chill cuts through the backyard seating area of Weather Up, a hip cocktail den in Prospect Heights, Brooklyn. Candlelight flickers from steel mesh tabletops, as still-biting mosquitoes search for exposed wrists and ankles.
Unfazed by the bloodsuckers, Nico Arze relaxes at the near end of a long wooden bench. He hasn't had a drink in six months, having sworn off booze in favor of mate tea, which he's taken to carrying with him always in a large thermos and drinking from a traditional calabash gourd, a pipe-like device. Tonight, however, the 36-year-old native Chilean is holding a glass of whiskey, rubbing white powder behind his lips. He runs his finger inside an empty packet, like a junky, not wanting to waste a fleck.
But there's more where that came from. Matthew Maddy, who co-owns Weather Up and is partners with Mr. Arze in the American Construction League, a design-and-build firm that specializes in custom-made hospitality joints, like this one, passes me a fresh packet of white stuff from his breast pocket.
"It's better if you snort it," he says.
Having recently wrapped work on the new Russ & Daughters Cafe, for which their efforts will earn them finalist honors in the 2014 Eater Awards, for best-looking restaurant, Mssrs. Arze and Maddy are about to restart construction on their latest project, an as-of-yet unnamed bar on Franklin Avenue in Bed-Stuy—in which they are partners, having invested their own money—and I have asked if I might tag along, to get a behind-the-scenes look at the making of a would-be New York City hotspot.
We agree to meet here first, to sniff each other out, so to speak—although there will be no snorting. (The white stuff is not cocaine, after all, but yeast, since we are testing Samuel Adams founder Jim Koch's claim that he can drink all night and not get drunk, as long as he's downed some baker's yeast.)
A preliminary powwow is not unusual for the guys. Most of their projects begin with such a meeting, as they get a sense of prospective clients. "We get together, have a drink and talk about the most we can do with a space," explains Mr. Maddy, who is also behind Weather Up's TriBeCa and Austin, Texas, outposts, as well as No. 7 and the No. 7 Sub locations. "It's collaborative, and feels more artistic in a way. Like, let's make an album."
After a few rounds of drinks, the musical notes of sobriety are still strong among our group, so we start ordering bourbon shots, alternating yeast and liquor. Before long, the tables are as covered with spent glassware as my legs are with mosquito bites. We call it quits, declaring the results of our experiment inconclusive—did we ingest enough booze? too much yeast?—but plan to meet again soon, at the job site.
***
The following Wednesday, I approach 323 Franklin Avenue, situated on the southeast corner of Clifton Place, and the first thing I notice is a Keith Haring-meets-Mondrian-style mural—by Basco Vazko, a Chilean painter—that covers the lower third of the brick side wall. The next thing I notice is Mr. Arze, who is perched on top of a food truck parked in the backyard of the building, which could easily pass for a junk yard.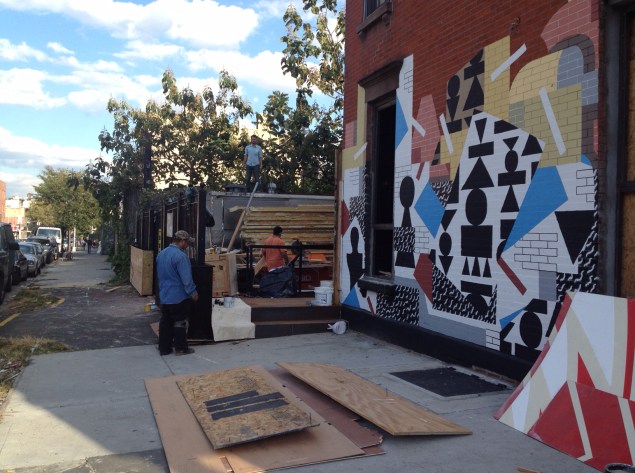 It's nearly impossible to imagine what this place will eventually look like, for all the debris. Surrounding the food truck (which will serve tacos, once operational), there are wood scraps, refrigeration panels, loose wires, extension cords, a buzz saw, hoses, car tires, paint buckets, traffic cones, umbrellas, gas grills and, for good measure, a toilet bowl, among countless other crap.
Mr. Arze, who spent a decade as an artist, traveling around the globe, before joining a construction crew at $10 an hour in 2007 and working his way up the food chain, does not have a hard time imagining, however. He can already see it. He climbs down from the roof of the food truck and gives me a tour. Inside, black-tiled walls give way to large patches of mirror, which even in daylight lend the barroom a disorienting reflective vibe. (Like you could snort yeast off of it.)
"It's meant to be weird, kind of funky and strange," says Mr. Arze, whose speech is inflected by a South American accent and punctuated by loud and infectious laughter. "I wanted it to have a feel like a drug dealer from Colombia with a shitload of money decided to build a bar in his basement. That was the inspiration."
(Mr. Maddy, also 36, calls it a "gonzo Mexican dive bar.")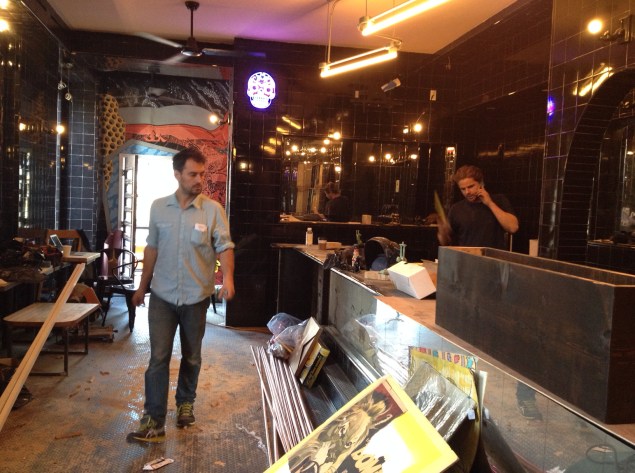 While the interior appears closer to completion than the backyard, there is no mistaking it is still an active construction site. A thousand dollars worth of copper piping lies across the floor, among sawdust and wooden beams. Trinkets of all sorts and sizes—from mini busts of Theodore Roosevelt to a series of off-brand Disney drawings from the mid-1950s—are littered about, as well. "I'm kind of obsessed with fucked-up Mickey Mouses," says Mr. Arze, who obtained many of these tchotchkes by attending antique fairs. The rest, he tells me, were acquired by raiding the apartment of his longtime friend Sebastián Silva, the filmmaker, and on eBay, where he hunted for two neon skulls that now look out over the barroom, keeping vigil.
The initial plan was for the bar to open this past summer. As it happens, today is only the third day back at work for the American Construction League and its crew members, after a two-and-a-half-month hiatus. The site got shut down, I am told, when a ruffled-feathers neighbor called the Department of Buildings and it was discovered that there were pre-existing violations on the property, dating back to the 1990s. They received a stop-work order that set them back tens of thousands of dollars, in addition to the delay. "First time we get one, and last time," promises Mr. Arze.
---

'You bring down an inspector and little does he know it's like Anne Frank's room back there.'

---
Which isn't to say they've always played by the book—just that they hadn't ever been caught. Indeed, a certain amount of bending of the bureaucratic rules is necessary when building in New York City, according to Mr. Maddy. "There's a lot of cloak-and-dagger stuff—trying to hide from the DOB, papering up windows to get as much work done on a Saturday as you can," he says, citing another, more elaborate tactic of which he is aware: constructing a false wall in a building's basement to hide a worksite. "You bring down an inspector and little does he know it's like Anne Frank's room back there."
The American Construction League bosses don't see themselves as some bad boys of building, however. If anything, they fancy themselves Robin Hoods in an increasingly gilded city—necessary pragmatists who champion the little guy. "We compete against corporate landlords and corporate builders all the time," Mr. Maddy says. "But nobody can spend $2 million building the kinds of restaurants we want to build. Our clients are like, I've got $150,000 and I want to turn this hole in the wall into a beautiful functioning business.
"Well," he shrugs, "that's super hard to do—entirely legally."
***
Founded in 2012, the American Construction League has quickly developed an impressive client list, and the company's reputation as a go-to firm for creating zeitgeist-y bars and restaurants was cemented after its very first gig: Mayfield in Brooklyn.
"We've got a good track record," agrees Mr. Maddy, who now splits his time between New York and L.A., where his wife and infant child live, and where he's been establishing a west coast branch of the business. "But it's also a ton of word of mouth. It's just this community of people that grows."
This project—which is a collaboration with Jacques Belanger and Lev Gewirtzman, the dudes behind Mayfield—is a perfect example. Mr. Belanger will run the front of house, Mr. Gewirtzman will run the kitchen, and they all plan to have stake in the place, once open.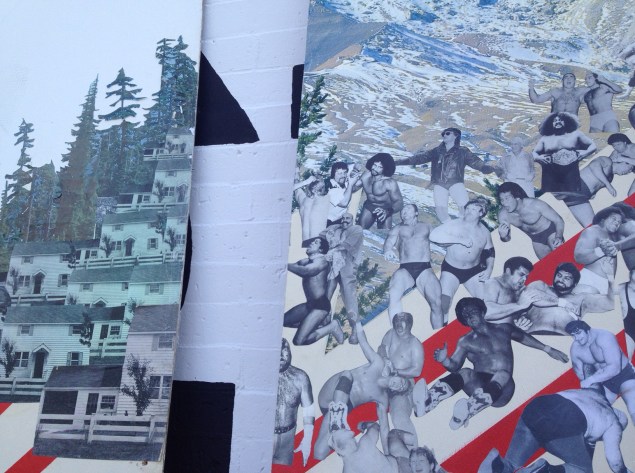 In the meantime, it's all up to Mssrs. Arze and Maddy, who run their job site like two movie directors, making a steady stream of decisions—both big and small; artistic and logistical—that will be reflected in the final product, like when they choose to cover up part of the outdoor mural with pieces of collage-style artwork they find in the basement—"We want it to read like deliberate chaos," explains Mr. Maddy—and then to mop the floor with muriatic acid so it will achieve a more eye-pleasing rusty aesthetic.
(Urine, I am told, also works well.)
---

'I think we know in general what people want, which is what everybody wants—a handmade restaurant.'

---
"I think we know in general what people want, which is what everybody wants—a handmade restaurant," says Mr. Maddy, who also operates Condor Construction, an independent company, that has built such local favorites as Sweet Science, Featherweight and Anella. "Like, any asshole can build a Chipotle. Everybody knows what that looks like. People want a unique, bespoke, idiosyncratic restaurant, and there are just some of us that build those, and the only way to learn is to build one."
In his case, Mr. Maddy received his schooling not long after graduating from Oberlin College in 2000, when some friends were helping build a spot on Ludlow Street called Suba, and roped him in. "Nobody knew what we were doing," he remembers, comparing the experience to taking apart a car engine and putting it back together.
From that project, a couple of the guys would go on to start a design-and-build company called Hecho, of which Mr. Maddy was one of the first hires, but not before he escaped for a time to Paris. There, the young ex-pat worked at a bronze foundry and fell in with a woman (and expert mixologist) named Kathryn Weatherup, his ongoing business partner.
It was through Ms. Weatherup that Mr. Maddy met Mr. Arze.
***
It's not hard to understand how a prospective client might be charmed by the bosses of the American Construction League. They're a compelling duo: Mr. Arze with his grab-life-by-the-balls energy; Mr. Maddy with his more subdued, stare-deeply-into-your-eyes demeanor. Genuinely capable men in a town full of fake lumberjacks, they are also true friends, with plans to buy a sprawling piece of land out in the country, where Mr. Maddy can make apple brandy and raise stray dogs. Mr. Arze simply wants a kick-ass kitchen.
The real secret to their success, however, according to both men, is the unchanging cast of crew members—a hardworking "group of psychopaths," as Mr. Maddy puts it—that assemble each of their projects, realizing their visions. "Its very heroic, because it's so fucking tough," says Mr. Arze. "Everybody who works in it has to be like, Let's do it!"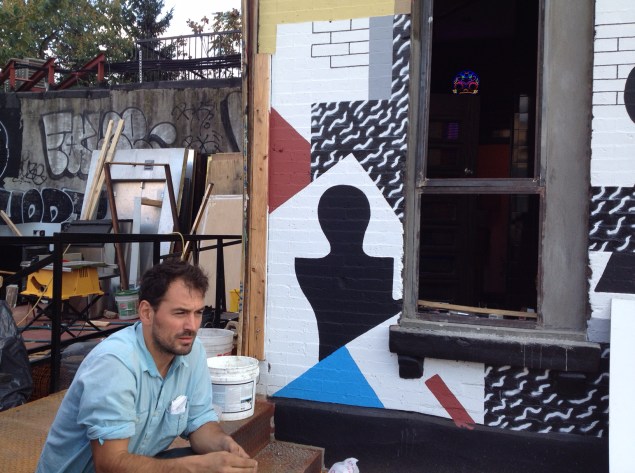 In New York City, especially, one never knows what kind of gnarly situation with which he might be presented. Like the time they took over an abandoned Polish restaurant in Greenpoint only to discover the previous tenants had left whole sides of pork to rot. "It was like a biohazard scene," recalls Mr. Maddy. "I mean, it was awful, worse than a horror movie. You opened the door and immediately your eyes are watering and you're retching. I wasn't sure if we should call a crime-scene cleanup crew."
What they did was solicit a few "roughnecks" who hang around the Home Depot parking lot, looking for work. "Being sensitive to how terrible it was, we bought those like hazmat suits and offered to pay everybody two-and-a-half times the usual rate," says Mr. Maddy. "I took them over there, opened the door and they're like, Nope! They just walked out."
That's when a couple of the regular crew members volunteered for the job. "Hilo and Pulido, two of our dudes, were like, Oh, these pussies. I got this," Mr. Maddy continues. "I don't even think they wore masks."
"You've got to meet Hilo," says Mr. Arze. "He told me once he used to be a doctor or a nurse in Mexico. Now, for some reason, he's here, working construction."
Mr. Maddy cuts in: "So the great myth about Hilo—the legend—is that he had to leave Mexico because he had a baby with three different sisters, and there were four sisters. Hilo was like, I had to get out after three."
Mr. Arze erupts in laughter, confessing he had never heard this about Hilo. Mr. Maddy shrugs: "That might be apocryphal, I don't know. But it's a good story."
***
I get a chance to spend some off-the-clock time with a few members of the crew the following week, when Mr. Arze hosts a nighttime barbecue in the job site's (now slightly tidier) backyard, in honor of his birthday. Music blares from a portable boombox and everybody drinks Corona, hovering over two aluminum foil tins filled with grilled chicken and pork.
---

'You always need to keep your crew busy,' Mr. Arze says, lighting a hand-rolled cigarette from a nearby blowtorch. 'Otherwise, they leave you, you know?'

---
It is vital to Mr. Arze—and to Mr. Maddy, who is back in California—that the crew feel taken care of, whether that means after-work beers and BBQ, midday coffee runs, prompt paychecks or a steady workflow. "You always need to keep your crew busy," Mr. Arze tells me, lighting a hand-rolled cigarette from a nearby blowtorch. "Otherwise, they leave you, you know?"
I ask if Hilo is around, but am told no, he is not coming. (Secretly, this pleases me, because I do not want to debunk the legend of Hilo.) Instead, Mr. Arze introduces me to a man named Sebo, who is an electrician, a sub-contractor, but no less a part of the team. "Whenever we get a job, he comes with us," Mr. Arze says. "He's the best. He won't shut up. Everybody hates him, but loves him at the same time."
Born in Poland, Sebo, who is 33 but looks much older with pale-white hair and a large round belly, came to the U.S. when he was 16, to live with his dad. "My father ask me, what you want to do? You want to go to school? Or you want to work?" Sebo recalls. "I said, Fuck school! I want money. I want a car."
Now, after working at the same company for 13 years, he is branching off to start his own business, and Mssrs. Arze and Maddy are encouraging him in every way they can. Mr. Maddy offers financial advice, looking over blueprints before he accepts jobs, while Mr. Arze is putting him in touch with a graphic designer to help with his logo, and just generally keeps Sebo on his toes
"The first time I met Nico, I thought, who is this crazy guy, running wire all over? He was going to burn the place down!" Sebo says, gesturing wildly with his Corona. "Here wasn't that bad. Every time he touched the fans, he damaged the fans. They go to garbage, go to shit. Main expression in the company is, whatever Nico touch…"
Mr. Arze cackles in his defense, then wanders off to another huddle. Sebo looks at me earnestly. "Everything I got is through those guys," he nods. "Everything is through them. We're like one big family."
Another family member is 34-year-old Abraham, who came to the U.S. 10 years ago from Ecuador, and is now married with a kid. When he hears I'm interested in writing a story about the American Construction League, he seeks me out to tell me how much he appreciates Mssrs. Arze and Maddy.
If these testimonials seem a little forced, I feel the same way at first. But when I watch the crew sing happy birthday to Mr. Arze in Spanish and then line up to give him hugs, one after another, it becomes clear that the affection is real—and mutual.
Abraham brings up the rear of the receiving line and gives Mr. Arze an extra-long hug. When they separate, Mr. Arze tells me, "In Ecuador, a hug means I will protect you, and you will protect me." A huge smile breaks across his face. "I'm so happy," he says.
***
By the middle of November the bar still hasn't opened (and won't officially serve its first drink until sometime in February, later this month, most likely). The current delay is due to the arrival—or non-arrival—of a letter of no objection from NYC's Department of Buildings, which will enable the guys to obtain a state liquor license. Huddling by the front entrance of 323 Franklin Avenue, out of a cold and spitting rain, Mr. Arze predicts the bar will open in a week or two, although Mr. Maddy is more skeptical. "I've been broken in," he sighs.
While the interior still looks like a construction site, with a few new touches, like a slushy machine and custom-made rotating windows, Mr. Maddy says the place is ready for business. "It could open tomorrow," he says. "We could turn this into a bar in four hours. But we could also spend another three years on it."
As work slugs along, I jump into the back of a Ford pickup truck and take a ride with the American Construction League bosses, who need to turn their attention to their next big job site, on the corner of Hoyt and State Streets in Downtown Brooklyn. This space, which will house an oyster and cocktail bar, run by Noah Bernamoff of Mile End and Black Seed Bagel and Julian Brizzi of Rucola, will have a more "classic and clubby" feel, according to Mr. Maddy, although they will still try to push the design envelope in small ways, such as upholstering the ceiling.
The guys are also eyeing a project upstate. Mr. Maddy is even planning to make a northward pilgrimage to the prospective town's Building Department to meet with the head of code enforcement, in order to loosen the pickle jar of resistance the local government might have to giving permits to outsiders.
(During their eventual schmooze session, Mr. Maddy would learn that the official actually worked in Brooklyn for years before fleeing north. "He said, 'I had to get out. There were too many cowboy contractors,'" laughs Mr. Maddy, after the fact. "And I just thought, that's 100 percent me—and now we're coming to you!")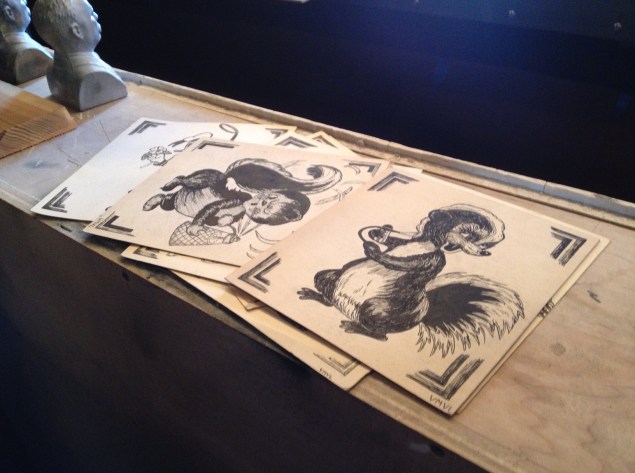 But really, the upstate official need not worry. Neither Mr. Arze nor Mr. Maddy anticipate many future "cowboy" tactics—and not just because they had their knuckles rapped at Franklin Avenue. "There's just less and less of those Wild West-y things happening as the years go by," Mr. Maddy explains.
"Definitely less," agrees Mr. Arze. "Less things you can do under the table."
The reason, Mr. Maddy says, is all about the Benjamins. "It's money," he says. "Just the process of enrichment of the whole city. Landlords are so enriched. It's why Bushwick is Bushwick. There are no more hidden storefronts where you can open a business on a wing and a prayer. Less storefront opportunities for first-timers to take a big risk with a business. Less maverick spaces to do maverick things."
In some ways, though, New York's newly sterilized landscape has only added urgency to the American Construction League's unofficial mission as anti-corporate builders in an increasingly corporate town—of working with those small-timers with big ambitions. Indeed, however much the city buttons up, however moneyed the Wild West becomes, it seems there will always be a maverick element—an anti-authority, punk rock attitude—burbling beneath the surface.
Like that one project, Mr. Arze recalls, when the "asshole money man" kept showing up and yelling at him in front of the crew. "I told him, Never come here again," says Mr. Arze. "It's my job site, my name on the permits. I will leave. I don't care about your money."
Mr. Maddy adds, "The pressure to become a kind of boring, sanitized, corporate entity is…" He pauses, searching for the words. I suggest, "Like gravity?"
"Yes," he nods, "but there's already a scourge of Chipotles in the world. We just want to build the places we want to build."