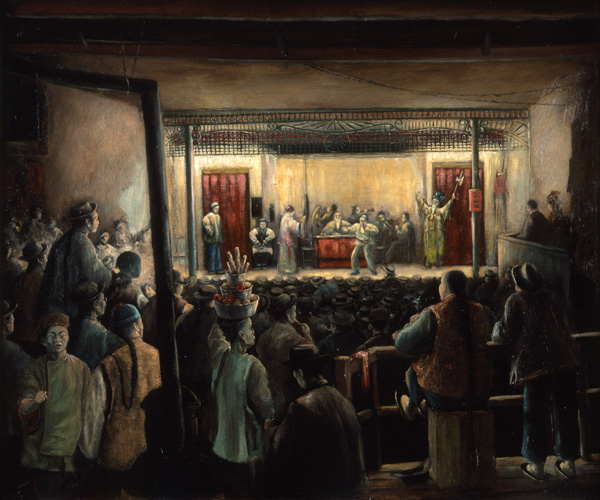 As today is the Lunar New Year—officially the year of the sheep (or goat, or ram, depending on who you ask)—it seems the perfect time to spotlight two concurrent exhibitions in New York that examine the evolution of Chinese and Chinese American culture.
"Waves of Identity: 35 Years of Archiving," at the Museum of Chinese in America runs through March 1, and "Chinese American: Exclusion/Inclusion" continues through April 19 at the New-York Historical Society. The two exhibitions are being presented in partnership with each other and feature work from the vast archives and object collections of the institutions.
MOCA, begun in 1980 as the Chinatown History Project, has amassed the largest Chinese American collection in the U.S. over the past 35 years, with over 65,000 letters, clothing, furniture, art, photographs, and oral histories. "Waves of Identity" features 200 objects from the permanent collection, with highlights from past exhibitions like "Fly to Freedom Collection: The Art of the Golden Venture Refugees" and "Recovering Chinatown: The 9/11 Collection." The show is split into eight sections, and viewers are encouraged to explore it through a set of interactive questions: "Where does Chinatown end?" "How do you become an American?" and "What does it mean to be Chinese?" among others.
"Exclusion/Inclusion," also featuring close to 200 objects, and spans the 18th century to the present focusing on the immigrant experience for Chinese and Chinese Americans across the country. It's split into three sections, and features pieces like movie star Ann May Wong's Certificate of Identity—official papers that Chinese immigrants were required to carry beginning in 1909. Highly personal artifacts like the Low Family Portrait, a collaged photograph, is an example of how harsh immigration laws separated families for years.
The New-York Historical Society has also created an interactive website and complimentary online exhibition, with images, historical background information, and a place for visitors to share personal stories and photos.