One of the country's Latino capitals, New Jersey claims a governor seeking higher office with the argument of an Hispanic-friendly narrative, front-line impact points of a national immigration debate certain to shape the dynamics of 2016 presidential politics, local battlegrounds reflecting changes in the relationships among Latino groups, and the ongoing slow motion reactions by party machines to the activities of 18% or 1.5 million of the state's population.
The latest significant elections dynamic unfolded in Paterson.
Defeated after two terms in office as mayor and relegated to daily white-knuckling a thankless professional commute from his home town down to Ocean County, Jose "Joey" Torres shook up some of his supporters last year when he announced his intention to seek a third term.
These supporters cared for Torres.
They got that Ocean was a long haul, but they also didn't want to see him run over by the county party machine.
But a determined Torres ran for mayor anyway, galvanized his own Puerto Rican base, took advantage of the presence on the ballot of At-Large Dominican candidate Alex Mendez, and built a citywide coalition, notably including Paterson's Peruvian community.
"We sent a message to Joey last time when we ran him out of office," a voter told PolitickerNJ where he sat on the front steps of his First Ward apartment on the weekend before Election Day.
"He got the message," the man added. "Now, let's see how he does a third time."
Torres' convincing win – (8,382 to his nearest competitor's 6,633) had a particular North Jersey resonance for Latinos, whose Newark champion, North Ward Councilman Anibal Ramos, a longstanding member of the county party establishment, had already dropped his own mayoral bid in Newark and backed losing candidate Shavar Jeffries in what became an all-African American contest.
A veteran Democrat who built grassroots connections he needed locally and relied on his own donor connections (including some Republicans) to defeat former allies in his own party, Torres made another political statement after the election when he aligned himself with Jersey City Mayor Steven Fulop and Mayor Ras Baraka, forging what one insider described as a "power broker holy trinity."
"There isn't a cohesive Latino political agenda in New Jersey," said veteran operative Idida Rodriguez, who was a senior adviser to the Torres Campaign. "There are pockets, interests, but the main thing is there is room for dialogue and hope and you have to give people a view of the horizon."
Torres was that horizon, the latest New Jersey storyline set against a broad backdrop of interlacing narratives.
"My friends in the Caribbean, whether it be Haiti or Jamaica, or down in South America, in Argentina, it doesn't matter," said Paterson's mayor. "The issues are the same. There's no Latino, black or white. What unites us as Latinos are our dialects and our customs. It's important for legislators and elected leaders to understand that we all face the same problems.
"The only ones talking about those problems right now are Democrats, and as I see them, they are women's rights, equal rights, college certification, fair minimum wage, sick benefits, and national healthcare. These are the issues that in one way or another shape or form the community interests we share."
In the lead up to the 2016 presidential election, "Clearly, the numbers across the nation show Latinos in a unique position," the mayor added. "We are considered that swing vote.
"But," he added with a laugh, perhaps with a recollection of the tactics he employed in his own election last year, "we don't swing so easily. We need leadership and we need a plan. Republicans have been a little late in recognizing the strength of Latino candidates to promote their agenda. Governor [Tom] Kean talked about being the party of conclusion years ago, but it hasn't gone that way, for the most part. The flip side of what is perceived out there is a Democratic organization that takes for granted the Latino community."
A Puerto Rican with deep family roots in Paterson, Torres reasserted the dominance and cross-over capacities of Puerto Rican politics, but his win was simply the biggest among numerous developing Latino story lines, some of which provide examples of the political empowerment of developing communities.
The Local Angle
Colombians last year elected sitting Elizabeth School Board President Ana Maria Amin (center, above). Municipalities with the most significant gain of Colombians between 2000 and 2010 include Elizabeth (+2,899), according to U.S. Census data. Whenever is slate is composed now in Elizabeth, an inevitable "Colombian consideration" arises. In that same, ten year period, Bergen showed the largest numerical gain (+53,904) of Colombians statewide.
In Paterson, Maritza Davila made history in 2014 as a Peruvian councilwoman. "A United Nations councilwoman," by her own reckoning, Davila is half Puerto Rican and half Peruvian, with a half Dominican son.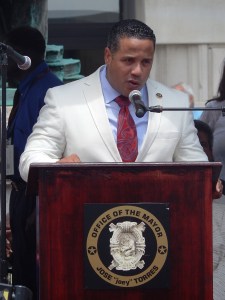 Also in Paterson, Alex Mendez, a Dominican, led all vote getters (save the simultaneously victorious Torres) with his at-large city council win. The largest growing Latino community in the state, the Dominican population increased in every county between 2000 and 2010, led by Passaic (+20,479), Bergen (+15,121) and Hudson (+13,465). Dominicans actually more than doubled in 17 counties during the past decade. Paterson gained more Dominican population (+12,095) than any other municipality, followed by Newark, according to U.S. Census data.
And just this week in North Bergen, Julio Marenco (below right, far right), in taking the oath of office as a commissioner, embodied the emergence of the Salvadoran community. Tapped by state Senator/Mayor Nick Sacco, Marenco – who's actually half Dominican and half Salvadoran – occupies a seat in the town that anchors the state's most Latino district, the 32nd, which is 50% Latino.
"The Hispanic community is very diverse, yet they share a lot of commonality," said Elizabeth Board of Education Member Carlos Trujillo. "We all migrate with the hope of a better life and that means a lot of things to many different people. What we are confronted with in urban cities like Elizabeth are language barriers discrimination and second citizenism."
The Elizabeth board that absorbed Amin once had a significant political relationship with the Republican governor. They backed him, in fact, when he ran in 2009.
But those relations soured when citywide troubles, including a school lunch fraud case that weakened the BOE organization, made it harder for Christie to stay close, as the governor's perceived reward for gripping and grinning in Elizabeth hardly seemed worth the toxicity of local politics.
Christie's Latino Groundwork
The emergence of former Florida Governor Jeb Bush as a presidential candidate already has Republican Latino sources doubtful about Christie's ability to burnish a key national selling point for the New Jersey governor: the fact that 51% of Hispanics voted for him in 2013.
"He's toast," a Latino GOP source told PolitickerNJ, speaking only on condition of anonymity, looking back on a political history in which Christie appeared to seize on every opportunity to demonstrate his closeness to Latinos, highlighted by his 2014 signing of the New Jersey Dream Act, which allows students who came to the US illegally to pay in-state tuition to public universities.
Christie followed up with a trip to Puebla, Mexico. His New Jersey Republican Party, too, heaped a steady diet of Hispanic-fangled headlines on the press: veteran Hudson County GOP Chairman Jose Arango became chair of the GOP chairs; the Burlington GOP swapped in Puerto Rican Maria Rodriguez-Gregg (pictured, left) for Scott Rudder in the lead-up to the 2013 elections; after Christie did not renominate Puerto Rican Judge Roberto Rivera-Soto to the state Supreme Court in 2011, he made sure in the balancing act afterwards to nominate Cuban Faustina Fernandez-Vina in 2013; and he rewarded longtime Middlesex County supporter Martin Perez with an appointment to the Rutgers Board of Governors.
The narrative of Christie and Latinos goes back to him famously criticizing then-Morristown Mayor Donald Cresitello for attempting to deputize his own local police officers as immigration officials, an unconscionable piece of demagoguery, Christie said at the time. In his appeal to Perez's group, the Latino Leadership Alliance, the former U.S. Attorney boasted of his advancement of the careers of Passaic County Prosecutor Camelia Valdes (pictured, at left) and Monmouth County Prosecutor Luis Valentin and early showed his campaign identification of Union City and Newark's North Ward as target rich Latino environments where he intended to compete.
As governor, he secured the considerable Democratic endorsements of state Senator Brian P. Stack (D-33) and Essex County Executive Joe DiVincenzo and spoke at the mayoral swearing-in ceremonies of Torres and West New York's Felix Roque (2011).
But for all that, and ironically now with Bush stepping forward, fluent in Spanish, an Hispanic wife by his side and with a record of pulling Latino voters in Florida, Christie still must confront the perceived indifference of his own party, according to attorney and Fairleigh Dickinson University Business Department lecturer Fernando Alonso of Bergen, a Cuban-American Republican who ran in 2013 and came 2,000 votes shy of beating incumbent state Senator Bob Gordon (D-38),
He basically agrees with Torres about strategy.
Latinos should not let Democrats or Republicans take them for granted.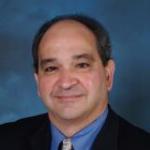 "We need to be like every other group that came here," Alonso (pictured, right) told PolitickerNJ. "You fight hard to get to the table. But I think it's important for Hispanics to know that the Cubans learned a lot about politics from the Jewish community. Jews occupied both parties and developed power in both parties. The Hispanic community has to do the same thing.
"If we're in both parties," he added, "we have a better chance of getting issues addressed. In my classes when my Hispanic students talk about things, they are very conservative. But ultimately they identify with the Democratic Party because the Democratic Party has done a better job of talking to them. The Republican Party wants instant gratification. The idea is, 'I said hi, now come and hug me.'
The issues for Alonso include education and, yes, school choice; government waste; and taxation, including a possibly pending 25 cent gas tax. "When I mentioned that to my students I thought I was going to have a riot in my class," he said.
Assemblywoman Marlene Caride (D-36) – a district that is 26% Latino and which includes Passaic City – argues that for all of Alonso's attempts to sell Latinos on a helpful agenda, the message fails in the din of an unhelpful national Republican Party.
"The Republicans have always been slow to act with Latinos, while the Democrats always look to include you," Caride said. "Republicans haven't pushed since Barack Obama's second election because of the numbers in Florida. Now they're saying they want to be an all-inclusive organization. But even Christie never really acknowledged our community. He opened up an office in Paterson [in 2013] because those [2012] elections put the spotlight on the Spanish community. But we're not a community that's sleeping at the helm. We're pushing.
"I'm glad the governor signed the American Dream bill, but what else has he done for the community?" Caride wanted to know. "It gave them something, which they didn't have. Undocumented aliens now have the ability to pay in-state tuition but there is still the fight for financial aid. Did we win the battle? Yes. Did we win the war? No."
Eighteen percent of the population makes Latinos the largest single minority in New Jersey, but the total community of registered voters only numbers 579,006.
The ill-defined or invisible nature of some constituents makes voter registration a thorny proposition. Paterson Councilman Rigo Rodriguez, once a promising up and comer in the Dominican community, crossed over the line, committed voter fraud, and last year ate a ban for life from public office.
But even his enemies questioned the timing of his conviction, which occurred after he ran for mayor last year in a field that included Torres, left alive perhaps to muddy the field and weaken the come-backing mayor. Rodriguez placed fifth in a field of eight.
Those who immerse themselves in party live at the mercy of machine politics in New Jersey.
The long anticipated axing of Assemblyman Carmelo Garcia in LD33 – the third most Latino district in the state at 39% – begs the question about who will replace him on the ticket. Garcia supplanted former Assemblyman Ruben Ramos of Hoboken, a teacher by trade and another one-time rising star who ran afoul of the organization when he refused to champion Christie's pension and benefits overhaul. One source worries, will the replacement of the replacement be Hispanic?
Will it matter?
In LD31 (22% Latino), the Hudson County Democratic Organization (HCDO) does not appear poised to seat an Hispanic, as the organization wrangles over the fate of African-American Assemblyman Charles Mainor.
And in Passaic County, the Democratic organization adjusted to the retirement of the first Latina freeholder in the county's history, Sonia Rosado, by tapping a non-Latina replacement.
Under all the firefights and political fisticuffs, has the word "Latino" or "Latina" simply become an annoyance to non-Latinos?
To the last question, veteran Elizabeth Board of Education leader Rafael Fajardo worked in the battle zone of Election Day in May of 2011. When informed of what looked like a well organized operation on his side of a bitter, district-wide rivalry, the political leader appeared momentarily doubtful.
"Really?" he said, eyes wide with concern. "Really?"
He was worried, truth be told, he confessed, about backlash against Hispanics.
This week, he amplified his continuing concern.
"This is happening in the country," said the local political leader. "People are skeptical of Latinos. There is no doubt about the influence of Latinos in this area, and in Florida, Texas and California. We are the largest minority group in the country. But when that was announced, I thought, that's going to create problems because people are going to say 'we are losing our country.' The fact of the matter is Latinos are assimilated. But in places like Elizabeth divide, you have a divide and conquer mentality.
"They tell the community quietly 'they're taking over,' which creates racial tension in our group," Fajardo added. "There is an anti-Latino feeling in the African American community. It's understandable. The African-Americans paid a heavy price. We have not paid such a price when we came to this country. There is resentment. There will be some tough years ahead but I believe in the greatness of this country."
Obama, Immigration Reform, and Menendez
In November of last year, after the elections in which his party lost control of the U.S. Senate, President Barack Obama moved by executive order to protect five million undocumented workers.
"We shall not oppress a stranger for we know the heart of a stranger — we were strangers once, too," Obama said.
The first New Jersey politician to react to the announcement, Menendez immediately issued a video-taped response in support of the President, whose decree would impact an estimated 528,000 undocumented workers in New Jersey.
"For as long as I've been in public life, I have been fighting for immigration reform," said the senior U.S. Senator from New Jersey.
"This is an important moment – not just for immigrant families and communities – but for all Americans. I believe the President's action to prevent the deportation of millions of people is about accountability not amnesty, about deporting felons not families, criminals not children."
His own NJ DREAM Act efforts marred by the president's dramatic overarching statement, Christie, for his part, complained that the president overreached with his executive power.
"I don't think what he's doing tonight, the method by which he's doing it helps to build a trustful relationship," Christie told CBS News.
Phil Alagia, a veteran Democratic Party operative and chief-of-staff to Christie ally
DiVincenzo, said he considered Obama's declaration a masterful political stroke. "I thought it was the first time in a while where he took the bull by the horns," Alagia told PolitickerNJ.
Long close to Christie, and the most prominent Democrat in the state to back Christie's 2013 re-election, DiVincenzo now had a substantial issue with which to firmly reconnect himself to his party.
The GOP started bucking early, and last month, a week after House Republicans voted to overturn the president's executive action, approving legislation to overturn Obama's plan to provide deportation relief and work permits to some 4 million immigrants in the country illegally Menendez joined U.S. Rep. Luis Gutierrez (D-Il) and members of the National Latino Evangelical Coalition to kick off a national tour aimed at protecting the president's immigration order.
"This is the civil rights issue of our time," said Gutierrez (pictured, right, with Meenndez), who likened the immigration fight to Selma in the 1960s. "We're going to go to Tampa, to Orlando, to Houston, to Charlotte.
"We will fight that in the Senate," said Menendez, arguing that Obama's executive decision amounts to protection of "family values."
"Family unification continues to be an American value," the senator maintained.
The roll-out had national and historic implications, but more than a few fretful groans greeted PolitickerNJ in the foyer of the old time movie theater turned evangelical meeting house.
Latinos have had to exorcise their own demons in New Jersey, and get past the roots of a rivalry to consider the long-term implications of the kind of Zarzuela-like outcome embodied by Torres' 2014 victory.
Those collisions go beyond the dimensions of a political civil war in Elizabeth.
As strong a presence as activists have been in this state, using the raw influx of human capital to make their case, in-fighting in Latino politics has for years made the community weaker than it is, a number of sources argue.
Undercurrents
There's a pecking order in North Hudson, a source told PolitickerNJ, based on length of time here. It goes "Cuban, Puerto Rican, Dominican, South and Central Americans, and Mexican – at the bottom."
Another source went off the record. Here's the problem, he said, and first of all, he cringed at the term "Latino."
"There are assumptions that are made," said the source. "The fundamental problem is that the term 'Latino' is used as a conclusion rather than a description.
"We're all thrown together and we are ourselves, and for defensive purposes we have allowed it to happen but the truth is the word should not be a conclusion but a description," the source added. "You're not saying anything other than describing those people who have a Spanish, likely Catholic background and commonalities. The conclusion presupposes that those commonalities bind us with a common purpose, and that's just not true."
The source said Puerto Ricans don't have the money base that Cubans possess.
They also don't have Menendez.
But they do have numbers.
According to the 2010 Census, Puerto Ricans lead the list of Hispanic groups in New Jersey –by far, with 434,092, followed by Mexicans (217,715), Dominicans (197,922), Colombians (101,593), Ecuadorians (100,480), Cubans (83,362), Peruvians (75,869) and Salvadorans (56,532).
Cubans are sixth on the list, the source noted – with an edge.
Sixth.
And yet, the group has a U.S. Senator (Bob Menendez), Congressman (Albio Sires, pictured, below right), Speaker of the General Assembly (Vincent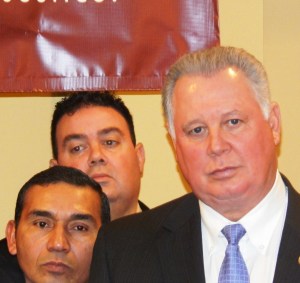 Prieto), federal district judge (Esther Salas), and Associate Justice with the state Supreme Court (Fernandez-Vina).
"We allowed ourselves to be defined as a monolith," said the source, arguing that Cubans appeal to the fire blanket designation of "Latino," while specifically prioritizing the empowerment of Cubans.
Puerto Ricans have always had their island – almost at arm's length, while Cubans, denied the land of their origin, have walked around her, forced to live with the island inside of them.
But as quickly as the immigration issue enabled Menendez to thump his chest alongside fellow Latinos, Obama undercut him with his December 2014 declaration of normalized relations with Cuba, pin-balling the baby boomer into a narrow corner occupied most emphatically by Cuban Republicans.
A stunned Menendez slapped at the president in the aftermath of the declaration.
"President Obama's actions have vindicated the brutal behavior of the Cuban government," he said.
Christie heartily concurred, and a Latino source, grumpy as ever over the optics, harrumphed that the so-called pecking order of New Jersey Latino politics had backfired on the elected official at the top of the pyramid.
"Menendez just got rolled on his number one issue: Cuba," said the source, noting that two thirds of Cuban Americans support lifting the embargo.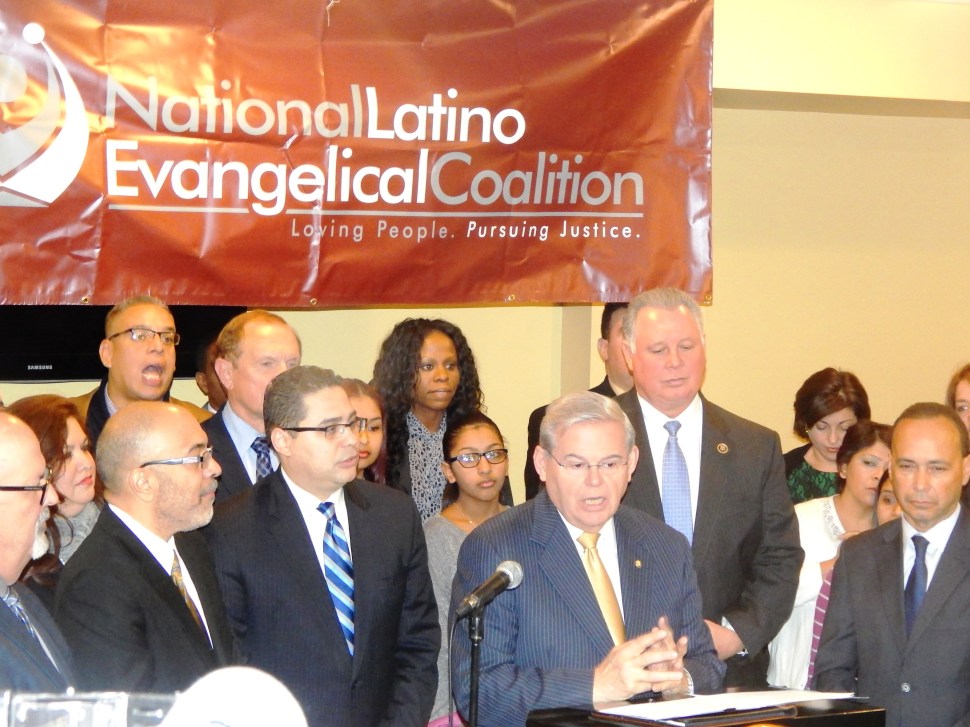 Irritated as the first source was about the greater political power of Cubans over Puerto Ricans, the source also decried the dual office holding of four non-Hispanic men in the four most Latino-dense Districts: Senator Brian Stack in LD33, Senator Nick Sacco in LD32, and Assemblyman Gary Schaer and Senator Paul Sarlo in LD36.
PolitickerNJ pointed out that since state Senator M. Teresa Ruiz (D-29) of Newark supplanted Menendez in 2007 after a 15-yearLatino drought in the upper legislative chamber, two more Latinas – also Puerto Rican like Ruiz – have occupied the state senate.
"It was a reflection that they had to do something," the source said of the 2011 redistricting map that hacked John Girgenti out of the 35th and enabled the promotion of Nellie Pou (right) to the senate, where upon assuming the oath of office in 2012 she became the second Latina state Senator in the state's history after Ruiz.
Following the advancement of Donald Norcross out of the senate to Congress, former Assemblywoman Nilsa Cruz-Perez (D-5) (below left) in December of last year returned to Trenton to become the state's third Latina state senator.
On paper the trio of Latinas in the senate represents an advance, the source conceded. "But ultimately what will they do with those positions?" the source added, fearing the worst influence of New Jersey's Democratic machines.
A non-partisan political action committee committed to increasing the number of Latinas in elected and appointed office in the State of New Jersey, LUPE PAC celebrates the addition to the senate of three Puerto Rican women in eight years. Additionally,  two Latinos are leading strong and diverse 501c4 coalitions advocated for priorities that affect everyone in NJ and the U.S. – one is Analilia Mejia with NJ Working Families Alliance (raised in Elizabeth of Dominican and Colombian parents), and the other is Edward Correa with Working Families United for NJ (immigrant from Colombia).
But longtime political operative Wendy Martinez of LUPE PAC said it's not enough.
According to the Pew Research Hispanic Center Tabulations of the 2010 American Community Survey, New Jersey has 677,000 Latino eligible voters, the seventh largest nationally, of which Latinas make up 52.9% of that population. However, the last Center for American Women and Politics Women in New Jersey Government Fact Sheet reveals disconcerting statistics that LUPE PAC is committed to change: Out of the 120 seats in the NJ Legislature, only seven Latinas occupy those seats; two (2) senators and seven (7) assemblywomen. Out of 137 County Freeholders, only two (2) Latinas occupy those seats.  Out of the 65 constitutional available positions in the 21 counties, only one (1) Latina serves in county constitutional office. Out of 72 cities with populations over 30,000, only one (1) Latina serves as Mayor.
That single Latina pioneering mayor noted above is Wilda Diaz (pictured, below) of Perth Amboy, a Middlesex County city with the state's second highest percentage of Latinos (78%).
"When I was a little girl, Perth Amboy was dominant Puerto Rican and Cuban, but with time that population has changed and now there is also a larger Dominican population, and you're starting to see another shift," said Diaz, who lived in public housing until she was 14, when her parents bought their own home. "How do we know? We see businesses and restaurants in the downtown area, and they are Mexican, Peruvian and El Salvadorian."
Diaz doesn't see any of the old divisions.
"We have to help each other," the mayor said. "United, we are a huge voting block. I honestly do everything in my power to unite us."
That process gets easier, the mayor said, as Latino families blend into one another. Diaz's own extended family is composed of mixes of Dominican, Puerto Rican and Mexican.
"People are losing sight of what is happening, which is that as their kids are getting older what's uniting us are the marriages," said the mayor, whose mother's side of the family was Republican and whose father's side was Democrat.
"My father never let my mother go into the booth by herself," cracked the Democrat.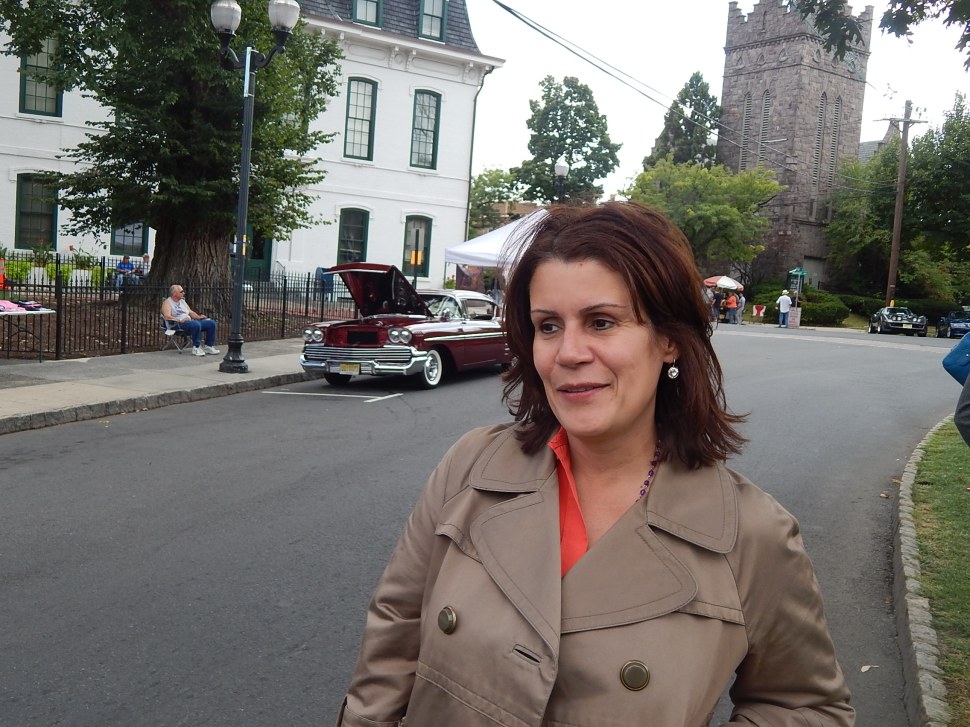 The Frontier
The first generation, the first group that comes, feels the greatest discomfort, said Caride.
"Your parents, who might have been uncomfortable, then their kids get educated, and those kids see what they can aspire to," said the Bergen County assemblywoman. "They realize the discrimination their parents faced, the language barrier. They become vocal, enjoying the rights they have, and I saw this, going to Trenton everyday to push for the DREAM Act. They're fighters. They understand how things work. If you don't have a voice they forget about you."
Senate President Steve Sweeney (D-3) and Christie warred last year over the fine points of the DREAM Act, Sweeney finally settling for a bill, signed by the governor in Union City, which lacked TAG grants but that enables the children of undocumented workers residing in New Jersey to pay in-state tuition at its public colleges and universities.
"The governor never misses an opportunity to disappoint," the senate president had said initially. "The Dream Act will reach the governor's desk and after he committed to the families from Vineland to Union City to sign the bill. He once again turns his back those who need us most. I will continue to fight this governor for these New Jersey families and their children."
Sweeney was responding to comments Christie made earlier on the radio. "They're [Democrats] overreaching and making it unsignable and making the benefits richer than the federal program, the federal Dream Act, that's simply not acceptable for me," the governor said on 101.5 FM's monthly Ask the Governor radio program.
For Caride, the persistent challenge is to serve that constituency that is her charge – those voters who put her in office, but the other responsibility is to those invisible who do not vote, because they can't.
Milly Silva, an executive vice president with SEIU 1199 and an unsuccessful candidate for lieutenant governor on Barbara Buono's 2013 Democratic ticket, sees maneuvering in both parties by aspirational electeds looking statewide and looking nationally – to snag the affections of Hispanics. She's aware of the "Latino vote," as commonly identified.
"But the reality is if you have income equality, that affects people of all nationalities," Silva told PolitickerNJ. "It is a white issue, it is a black, and a Latino issue. That is where we need to hold all elected officials accountable. How is there going to be economic equality for every person living in this country? I stand back and look and people may want to credential themselves as coming from a particular community or with a particular party affiliation but Latinos, and especially younger Latinos, don't consider themselves born to any one party. They consider issues like college affordability, which crosses party lines, and they are willing to call out the pandering and hypocrisy. Working people want a living wage and want to make sure that our children when they go to school, are not going to get shot."
Torres in office again in Paterson, on guard around both parties, and willing to manipulate either one, knowing they would do the same to him, says – and now he appears to be at that point in his career, a career as a survivor – where when he says he's hopeful for the future, he means it, at the same time never losing his veteran's pragmatism.
"The Democrats, the party of the poor, has taken us for granted, and they'd better start to address this population," the mayor said. "They lost both houses, now this [executive order of Obama's on immigration] is a way of pushing it out there. This is the only mode he has right now."
As for the future of Hispanics, "At the end of the day, it's about coalition building," said Martinez, a key Torres ally on his mayoral campaign in Paterson last year. "It really is a huge mistake to think we exist alone. It's a huge mistake to believe the issues belong to us alone. All of us come here because of different circumstances but once we come here we become part of a larger group. Once we're here we must build coalitions to survive. We must begin to create our own part of history. Local politics, Board of Education and city and town council politics, that's the next frontier, because that's where people experience immediate impact."
The challenge was the same – or almost the same – at one time for others, the Irish included.
Hispanics who know Brian Stack in Union City identify him as Hispanic on the strength of his attentiveness to constituent services.
He's not Hispanic.
But "every board is completely Hispanic," Stack told PolitickerNJ.
The Commissioners in Union City are Dominican, Ecuadorian and Cuban. Ninety-five percent of the mayor's appointments are Hispanics. And the Board of Education is completely Hispanic, made up of Ecuadorian, Dominican, Cuban and Puerto Rican representatives.
"All communities have a seat at the table," said Stack, a renegade Democrat who backed Christie's re-election. "Everything I do is for the Hispanic community other than change my ethic makeup. I'm the most Hispanic elected official in terms of offering services. Match any person against my record."
Elected mayor in 2000, Stack won his senate seat off the Hudson County Democratic Organization (HCDO) line in 2007, defeating a Cuban American.
At the height of that campaign, the HCDO hit him with a charge of muscling Union City residents, unleashing a roomful of media types into the streets, all of them armed with packets of the mayor's alleged worst transgressions.
Tracked down at a constituent services' event where reporters found him surrounded by Hispanic residents in an outdoor plaza, Stack denied everything, and said the HCDO was angry with him because he was "helping people."
In a moment between interrogations, PolitickerNJ asked the Irish-American politician if he knew of any relation of his family with Austin Stack, the late IRA leader.
The besieged Stack was already shaking his head before hearing the entire question.
"No," he said. "Was he Hispanic?"