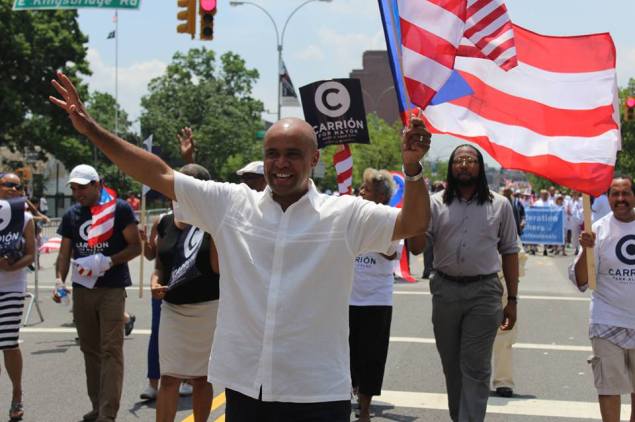 Former Bronx Borough President Adolfo Carrión Jr. is mulling a primary challenge against veteran Congressman José Serrano, a Bronx Democrat, sources say.
Mr. Carrión, who mounted a failed campaign for mayor on the Independence Party line in 2013, returned to the Democratic Party last year and is reaching out to donors and ex-staffers to gauge interest in a potential campaign against Mr. Serrano in 2016.
"He's meeting with people who used to work for him and give him money," said a Bronx Democratic source. "He's an excellent fund-raiser and where people don't have a taste for Adolfo, no one has a taste for Serrano anymore."
Mr. Carrión, now the executive vice president at Stagg Group, a development firm, said he was focused on his private sector career but would not rule out taking a future shot at Capitol Hill. "I'm only interested in running a successful business at this time," he told the Observer.
As much as Mr. Carrión alienated the Bronx Democratic establishment by attempting to run on the GOP ballot line for mayor–he was not ultimately successful and ran solely with the backing of the Independence Party–Mr. Serrano, first elected in 1990, is not much closer to the county organization. Last year, Bronx Councilwoman Annabel Palma considered challenging Mr. Serrano but dropped out before the deadline to hand in petitions. The Bronx Democratic Party refused to help Mr. Serrano carry his petitions, sources say.
Mr. Serrano, a vocal liberal known for inviting Fidel Castro to his South Bronx district 20 years ago, angered Bronx Democrats like the current borough president, Ruben Diaz Jr., when he opposed $3.5 million in public subsidies to entice FreshDirect to move to the South Bronx. FreshDirect eventually broke ground there on a new location in December 2014.
Mr. Carrión was never allied with Mr. Diaz, who is a de facto leader of Bronx Democratic establishment, but Democrats are not expected to close ranks around Mr. Serrano if Mr. Carrión runs. Mr. Carrión lives on City Island, well beyond the borders of the district, but would not be mandated under the U.S. Constitution to live in the district.
Even those wary of Mr. Carrión say the pro-development Democrat, once a rising star in the party, could out-raise Mr. Serrano. Mr. Carrión has maintained ties with the real estate and finance industries since leaving office in 2009.
Mr. Serrano did not return a request for comment.