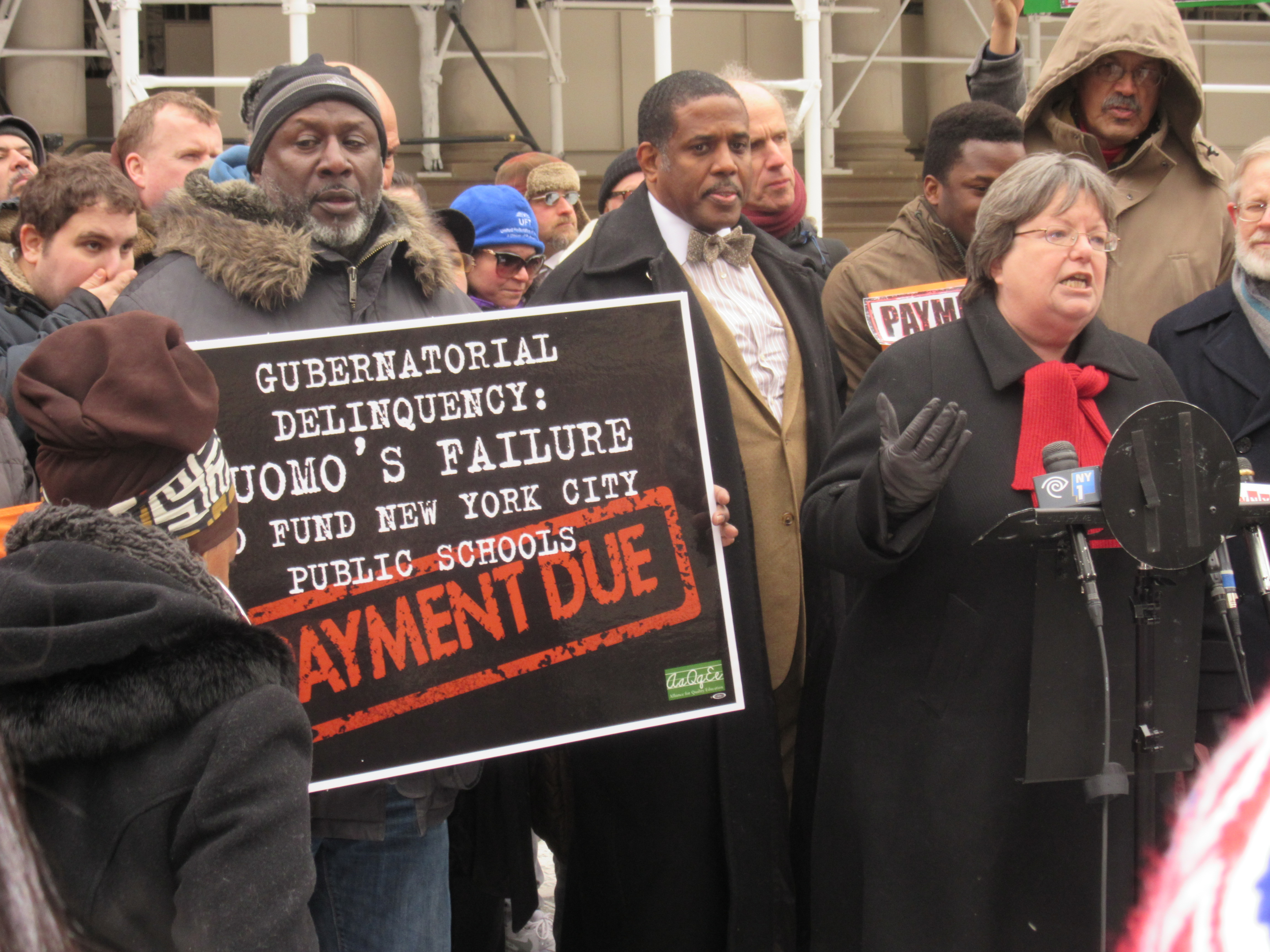 Legislators, union leaders and activists rallied outside City Hall today to attack Gov. Andrew Cuomo for what they alleged was his failure to honor a Court of Appeals decision in the Campaign for Fiscal Equity v. New York State case, which determined that Albany had shortchanged New York City schools some $15 billion.
The demonstrators touted a study by the teachers union-backed Alliance for Quality Education, which used a formula developed by Gov. Eliot Spitzer's administration to determine that the state still owes New York City schools $2.5 billion, or $2,667 per student. They argued that the fiscally conservative governor, in his effort to tie education funding to performance on standardized testing, has failed to fulfill the 2006 order of the state's highest court and allowed overcrowding and cuts to local schools' budgets.
"The court decision of a number of years ago said we have to provide our young people with a meaningful education and a good job for the future," said Queens Assemblywoman Catherine Nolan, chairwoman of the Committee on Education.
The 2008 economic crisis put former Gov. Eliot Spitzer's plan to meet the Court of Appeals order on hold, and advocates have launched two lawsuits to see the funding stream restored. Ms. Nolan argued that the state has rebounded enough to begin meeting the court order again.
"The economy has turned around, the funds are there, it's time to keep our promises to the children and families of New York, and for us as state legislators to continue to push for full funding for our wonderful young people," she continued.
Not everyone's rhetoric was so restrained. United Federation of Teachers' President Michael Mulgrew mocked Mr. Cuomo for his wealthy campaign contributors, a number of whom are tied to the privately operated charter school networks the governor has sought to empower and enlarge.
"This is not about breaking our promises, this is about breaking the law," he said, raising his arms to impersonate a marionette. "If we were a bunch of billionaire campaign contributors, the governor would here with strings on his hands."
The governor has allocated $377 million, or a roughly one percent increase, to education in his budget proposal to the legislature—but has said he would agree to boost that to $1.1 billion if the legislature passes his proposals for new test-based teacher evaluations, state takeovers of failing schools and charter expansion. This sets up a battle with the Assembly and its newly minted Speaker Carl Heastie. The Assembly is dominated by lawmakers from New York City and has traditionally been aligned with teachers unions and other left-leaning groups.
Assemblyman Francisco Moya of Queens, whose district suffers the worst school overcrowding in the state, predicted the CFE decision would play a part in the upcoming negotiations.
"It's a cornerstone for the Assembly to ensure we get the funding for the schools that is desperately needed in the City of New York," he said.
Mr. Cuomo's office declined to comment due to the ongoing litigation against the state over the funding issue. It did, however, note that by its calculations, New York spends more per student than any other state in the country, even as performance on standardized testing continues to lag.