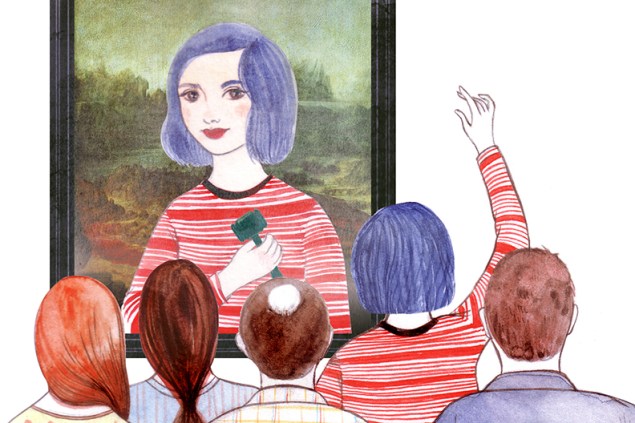 "Going…going…Sold to the billionaire in the front row!"
Art auctions are the stuff of Hollywood drama, be it spy thrillers or dishy tales of divorce and estate battles. Who could blame anyone for wanting to work in this world of seemingly nonstop glamour? And, if that's your dream, your goal might be more achievable right now than you might expect.
In 2014, Christie's auction house hired more than 115 people in the Americas and may surpass that number this year. "It's a reflection of the growth in the art market overall and increased participation from new and young collectors who have a passion for everything from fine art to design, jewels, watches and wine," according to the company.
Offering a variety of experiences, auction houses are one of the top employers for those hooked on art. Some jobs don't require a college degree and many don't call for a deep knowledge of Picasso's blue period.
With the help of eight art auction houses—Christie's, Doyle New York, Phillips, Skinner, Sotheby's, and Swann Galleries plus online auctioneer Auctionata—here's some suggestions:
Know What You're Getting Into
Auction seasons are cyclical and tightly defined, so auction house jobs tend to be marked by periods of insane busyness interspersed with total down time. Specialist positions, in particular, are not for people looking for predictable workweeks. And, as for that glamorous image of the business, experts warn there's lots of record keeping, some heavy lifting, a bit of client brown-nosing, and unusual amounts of dust.
You're Not in College Anymore
The same worn tweed jacket or sensible black turtleneck dress worn by teaching assistants at college art history departments isn't proper attire at many extremely style-conscious auction houses where the clientele can be the Forbes 400.
Consider one top candidate for a job who was brought back repeatedly for interviews due to his smart ideas, but was ultimately not hired. Among other weightier issues, the head of the division said, "Every interview, he carried in a beat-up, dirty, old backpack. He never noticed no one else on the floor had one."
There's No Room for Error
In some creative fields, a boss might overlook imprecision in order to get an employee with high energy or a particular knowledge base. An auction house isn't one of those forgiving fields. One typo in an auction catalogue can make a 1938 Joan Miro a 1968, cutting its value. So there's zero tolerance for mistakes on applications.
Gregory Reid, vice president and recruitment manager at Christie's New York, told us, "Misspellings and typos on a resume are a very big turnoff—especially when it's the candidate's own name. It always makes me laugh."
Cast a Wide Net
According to Swann president and principal auctioneer Nicholas D. Lowry, "Swann doesn't only hire specialists, we employ a whole team of people, from marketing and communications staff, to art handlers, to creative and IT folks. It takes a village." He added: "We also want to see candidates who are engaged and ask questions during an interview and, of course, have done their homework on our company."
Be Mobile, and Multilingual
The larger auction houses have several offices worldwide (Phillips, for example, is in Berlin, Zurich, Istanbul and seven other cities), and the willingness of someone to relocate or to get on a plane with little warning is welcome. It helps if you speak the language, whatever it may be.
---

Burn your backpack, do your research and expect to get dusty.

---
In the Interview, Talk Long-Term
Auction house employees tend to stay for decades. Trish Walsh, marketing and communications manager at Phillips told us, "People who join us with an interest in being specialists have a strong interest in art as a business, have studied art history and have interned at auction houses and galleries. So they have a good understanding of the business and a strong interest in having a career in an auction house."
Such devotion can pay off, she noted: "They have an interesting career ladder that takes them from department administrator to cataloguer or registrar to researcher and then specialist. They then build a client base that they enjoy working with and they are very interested in the art and design objects that they work with. It's a fast-paced, ever-changing and exciting business to work in."
Don't Play It Cool…
These are sought-after jobs, so sell yourself and your love of art. Jessica Phillips, human resource and systems administrator at Sotheby's, said, "We look for candidates who are passionate about the arts. Everyone goes through a rigorous process in his or her knowledge of the art world. We look for applicants who realize the scope [of working in an auction house], who are interested in seeing the art they've once studied." According to Kathleen Doyle, chairman and CEO of Doyle New York, "talented, smart and energetic candidates for employment are drawn to working in the art field because of their passion."
But Don't Show Off
Since the odds are someone in the auction house will know more about art or antiques than you do, your master's in English Regency-period porcelain is not necessarily your best selling point. Karen Keane, CEO of Skinner, for example, said she loves to hear that an applicant has bought art at an auction or online, and the applicant's ideas for marketing particular pieces online.
(Surprisingly) Be Nice
While many candidates looking for a job in the arts are under the impression that auction houses are snooty, formal, and well-to-do, Mr. Lowry told us, "Swann, like many auction houses, does not follow this model. A family-owned business since 1941, we are all about approachability and customer service, education vs. intimidation. Our team of specialists prides itself on personal relationships."