Off-Broadway's Second Stage Theatre has bought more time to expand onto Broadway.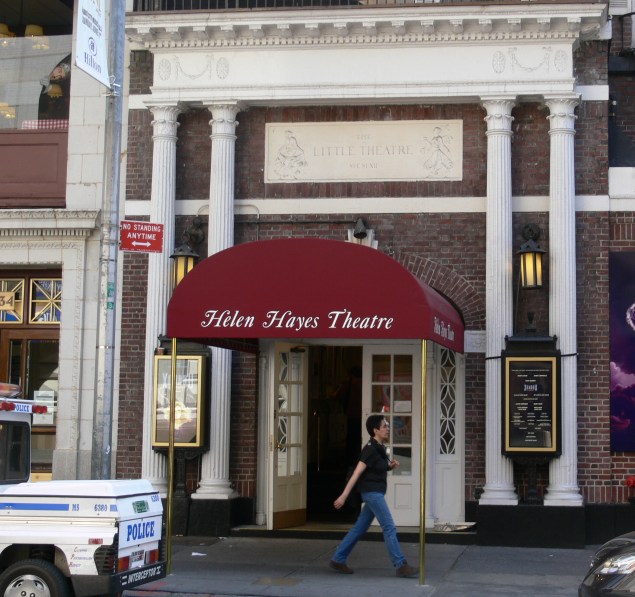 The nonprofit company and the owners of the 600-seat Broadway playhouse it seeks to buy on 44th Street, the famous Helen Hayes, reached an accord yesterday that gives Second Stage breathing room to pay the lion's share of the money it owes on the purchase.  A roughly $21 million balance exists on the total purchase price of $24.75 million.
Stage Second had previously agreed to pay as much as $175,000 for a 90-day extension before talks between the two sides broke down, according to papers filed in New York State Supreme Court. Jeffrey Tick, a co-owner of the theater, said in an interview Thursday night of the latest terms: "We agreed to give them an extension and they agreed to pay us for it." He declined to elaborate.
Second Stage's challenges raising money since early 2008, when it acquired the right to purchase Broadway's smallest theater, illustrate the risks when a cultural institution seeks New York real estate, especially when a worldwide financial crisis intervenes. With a Broadway venue, Second Stage could win Tony Awards, hire bigger-name stars and elevate the work — and pay — of American dramatists. For theatergoers, it would mean more new American plays on Broadway, which in recent years has been the preserve of British imports and star-driven revivals.
Broadway also raises the fundraising ante, especially for an organization that's struggled. Second Stage originally said it was seeking to raise $35 million to purchase and renovate the Hayes. That goal has grown to about $58 million, the nonprofit's leaders recently told the New York Times, which includes millions of dollars to put in reserve. (New York City has also pledged $7.5 million for renovations, according to a Second Stage filing.) In the year ending in August 2013, Second Stage's contributions, grants and revenue totaled just under $8 million, which was $600,000 short of its annual expenses. That season, Carole Rothman, Second Stage's artistic director and co-founder, lent the organization $42,750, to aid "cash flow."
After various extensions, last week Second Stage sued the Hayes' owners, seeking relief from what owners said was a Feb. 17 deadline to close the deal. In court papers, Second Stage called the 90-day notice it received of the closing "woefully inadequate." The date was triggered by the final performance on Jan. 18 of the Hayes' long-running tenant, the musical Rock of Ages. It was "incredibly difficult" to fundraise to buy the Hayes without knowing the closing date well in advance, Second Stage said. To be sure, in a 2013 state filing, it acknowledged that it had it "30 days to close on the purchase" after the last performance of Rock of Ages.
"Second Stage does have the money to close the deal," Robert Ward, a partner with Schulte Roth & Zabel and one of Second Stage's lawyers, said in court papers. Rothman said in a brief interview that the company has commitments from donors and the financing to close – just not immediately.
"I don't know what that means," responded Tick, whose family owns the theater with producer Martin Markinson, in the interview. "If they have it, we would've been done."
A nearly five-hour courtroom saga on Thursday wasn't A Few Good Men or even A Time to Kill. Instead of a hearing, Judge Joan Kenney ordered both sides to privately work things out. In chambers she met with Tick and his lawyer, Matthew Hearle; then Kenney conferred with Rothman and Second Stage's counsel. After a lunch break, Rothman and Tick had a spirited exchange in the hallway. Both sides reconvened together with Kenney, and then owner and buyer issued a joint statement.
"With the good office of Justice Joan Kenney, the parties have agreed to work together to resolve the issues before them, with the continued oversight of the court," Ward said outside the courtroom. He declined to elaborate.
Emails released as part of the litigation suggest a cordial, even warm relationship between buyer and seller, until the deadline approached. Second Stage had sought 90 days after the last performance of Rock of Ages to close the deal. The owners, known as Little Theater Group LLC, agreed to only 30 days. When Little Theater Group offered to return Second Stage's $3.65 million deposit and cancel the transaction, Second Stage accused the owners in court papers of trying to disadvantage a nonprofit institution and seek to sell the theater elsewhere for more.
Tick, whose late father, Donald, bought an interest in the theater decades earlier, acknowledged a change of heart and said he'd like to keep the Helen Hayes should the Second Stage deal collapse. He denied another motive.  "They're making me out to be this money-grubbing, not-honorable person," he said. "That doesn't feel good."