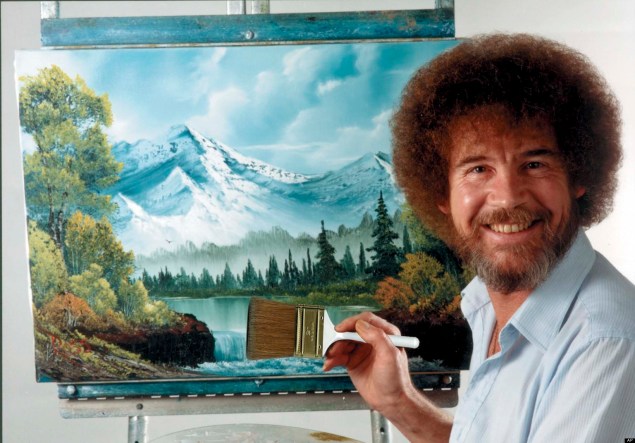 One of the best-known painters of his time, Bob Ross hosted the television show "The Joy of Painting" on PBS from 1983 to 1994.
The popular instructional program helped viewers become landscape painters over the course of a weekly half-hour by following Ross' easy wet-on-wet oil painting technique. The show not only made Ross a household name, it also made him rich through the branding of his image on how-to books and art supplies and a cult figure through a series of self-parodying promotional spots for MTV and television talk show appearances. Ross' July 13, 1995 obituary in the New York Times endearingly stated, "In a voice so soothing that its effect was once compared to Demerol, Mr. Ross encouraged viewers to paint 'happy little clouds' and 'pretty little mountains.'"
There are plenty of both of these backwoods subjects—along with the occasional log cabin, another favorite Ross motif—on view in artist Brendan Lynch's two-part "Mountains Collection" exhibition on view now at Lower East Side and SoHo venues. Nearly 20 years after the TV teacher's death, Mr. Lynch—one of the founding members of The Still House Group in Red Hook, Brooklyn—has resurrected Ross' popular technique to make paintings on a grand scale at the group's new Howard Street space (on view through March 1) and assembled a playful installation of paintings by colleagues that echo Ross' small-scale canvases at Untitled (running through February 26).
The artist's installation/group show at Untitled offers a domestic environment, in which the audience can recline on beanbag chairs while viewing more than two-dozen intimate landscapes amidst a variety of household lamps and rock-shaped audio speakers playing Ross' trippy instructional commentary. Lynch has painted a mural of puffy clouds in a blue sky on the back wall of the main gallery and displays influential books from his studio library along with his worktable, topped by a monitor screening "The Joy of Painting," in the front gallery.
Highlights from the Untitled part of the show include a vintage Bob Ross painting of a reflective pond in a tranquil forest, Jim Warren's colorful vision of a stairway that transcends both heaven and hell, a conceptual take on a cabin on an island in a river that gets repeatedly rendered on a canvas by Neil Raitt, a view of a mountain goat that echoes the form of distant snow-capped peaks by Nick Darmsteader, and Thomas Lynch's psychedelic portrayal of a portal floating in the sky over an equally fantastic beach.
Over at Howard St, Lynch offers a dozen of his new landscape paintings in the gallery's well-appointed, 1800-square-foot space, which was designed by fellow Still House Group artist Isaac Brest. A single painting suspended by wires floats in the entranceway of the former-Chinese-restaurant-turned-white-box while eleven additional canvases—all painted in 2014 and 2015 and measuring 5 ½ x 6 feet in one direction or the other—wrap around the large inner space to create a panoramic view of vibrant, make-believe scenes.
Rounding out the two-part show is a third component, a free artist book. Wanting to learn to paint in oil, the artist made small works by following Ross' instructions from episodes from his "Mountains Collections" DVD set. Like Ross, who had donated his canvases to individual PBS stations, Lynch gave his initial paintings to New York businesses—ranging from a laundromat, Puerto Rican restaurant, and Chinese signage company to a downtown nightclub and Harlem Goodwill store—before documenting them in situ for the book and painting them at the larger scale for the solo show.
Taking the magic of Ross' simple vision to new heights, Lynch adds a bit of whimsy to the existing language of art appropriation, while mastering a skill to become a maker of beautiful—yet dangerously kitsch—pictures in the process.
Closing soon, the shows are worth catching, if only in ode to Mr. Ross.